Barbara Has Lost Over 10kg
Mum of two, Barbara Dixon, has lost an amazing 10kgs with The Healthy Mummy weight loss plans and is loving the healthy lifestyle change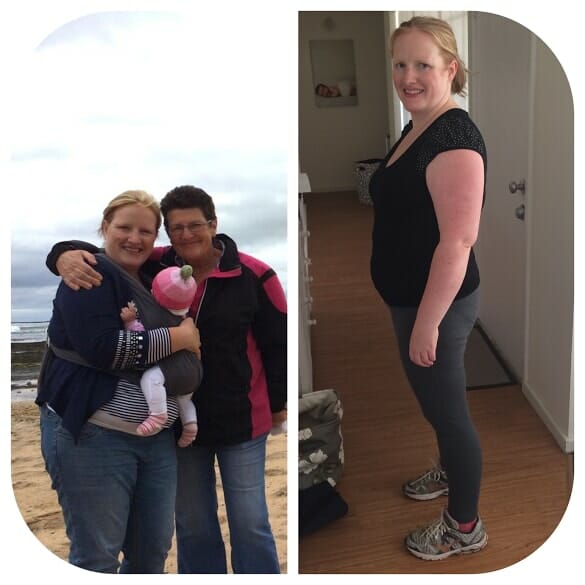 I am so excited to be starting the 28 Day Winter Weight Loss Challenge as another chapter in my lifestyle change.
Since starting the Healthy mummy Plans I have lost 10kg but more than that all the lives in this house have changed for the better! Now we sit, eat and chat rather than grabbing food on the run, my daughter is not even two and she knows the names, look and taste of such a range of foods because I am cooking new and interesting things.
I feel so much better, the scientist in me likes to experiment with different Healthy Mummy Smoothie recipes and every day I am excited about baking or cooking new things and feeling prepared.
Just the whole journey so far has been amazing and my body is stronger, slimmer and looking much better. I have no issues with breast milk supply and I put that down to a better digestion system from the natural Healthy Mummy Smoothie mix and eating close to nature with the foods the body can recognise and digest easily.
After having two babies within 15 months I need to be a little patient with my belly but I know if I continue it will get smaller, I gave birth 5 short months ago after all! I am hopeful that mixing it up in 28 Day Winter Weight Loss Challenge and targeting exercises that challenge my core will make a difference.
The closed Facebook Healthy Mummy and Lose Baby Weight Private Support Group is a great place to go for ideas and motivation, I don't know another company that you have access to lots of participants who can speak freely and can feedback to the CEO daily!
If you thought you needed a personal trainer or health coach to be motivated and inspired well there are over 2000 coaches waiting online and the best thing about that is they are mums too, they have been where you have been and know what it's like on days when you have had broken sleep and poonami nappies and a teething toddler that won't let go of your leg. When life gives you lemons… use your toddler as a leg weight!
I feel on my way. With some of the "diets" I have tried I would be depressed if you told me I was still eating that way in 6 months time – but with the Healthy Mummy Plans I know this is not temporary for me.  I could not be more onboard. Watch this space!!!
Barbara Dixon
GET YOUR 10% DISCOUNT
If you are ready to lose weight then The Healthy Mummy plans offer a healthy and safe exercise and diet plans that are safe if you are breastfeeding and you can use code LOYALTY for a 10% DISCOUNT at the checkout. Plus we have Cookbooks, Calorie Bibles, Exercise DVD's, Meal Replacement Smoothies and Our 28 Day Plan in our shop.