We adore black beans in our house so we prepare black beans and rice recipes for all of you.  It a Delicious, nutritious, easy, and cheap. How can you go by it each week? You can't. Healthy eating is cheap! Did I say cheap!
healthy chicken and black bean recipe bonanza!
Serves 6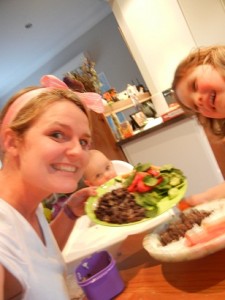 Ingredients
500grams of black beans
2 tbs of oil
1 onion
2 cloves of garlic
Directions
Sautee the onion and garlic in a pan with the oil.
Once aromatic, add the black beans and cover with water and a few inches more. Put a lid on, bring it to boil.
When at boiling, take lid off and leave to cook. Keep adding water when you need (kind of like with risotto and stock).
Once cooked, blend ¼ of the beans either with a hand mixer, blender or mush it with a fork on a flat plate.
Serve with cooked rice and salad and you have yourself an amazing meal. Enjoy our healthy chicken and black bean recipes!
Just the beans have 26grams of protein; 16 grams of fibre; 334 calories. I super house of energy and sustenance.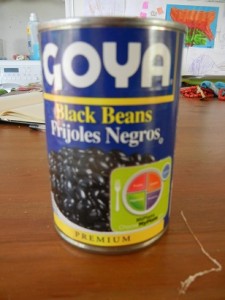 I also buy these beans in a can. Like the ones in the picture. You can get the reduced salt kind as well but they use potassium chloride as a salt replacement and I can really taste it. In my past life in product development the company I worked for went on a salt crusade and we tried a lot of potassium chloride to sub out the sodium (or salt) and my palate is really sensitive to it now. you can also try the Mexican beans recipe!
What I do love about the can of black beans pictured is the inclusion of the My plate or Mi Plato in Spanish for the American government. It really gels with my sentiments on how you should get your plate to look like when you have dinner or even a cooked lunch. A bit like the plate I put in this post.
If you are not into beans, have a look at our other recipes you could try!
Mandy dos Santos (BSc. Food Science and Nutrition, Grad. Cert. Human Nutrition)
Don't forget to post me a question on Facebook about food or nutrition so you can read more about what you want to read about