Blogger's Touching Tribute To Mothers Everywhere Goes Viral
We all have those days when you feel overworked and underappreciated, when the exhaustion is just too much and when life just doesn't seem fair. And while it may seem like no one sees our struggles and cares about our daily effort, one father is proving this is not the case.
Come and read his powerful Facebook post that not only pays homage to the great job mums do every single day, but also offers some pretty powerful advice on how to find peace, harmony and equally in our households.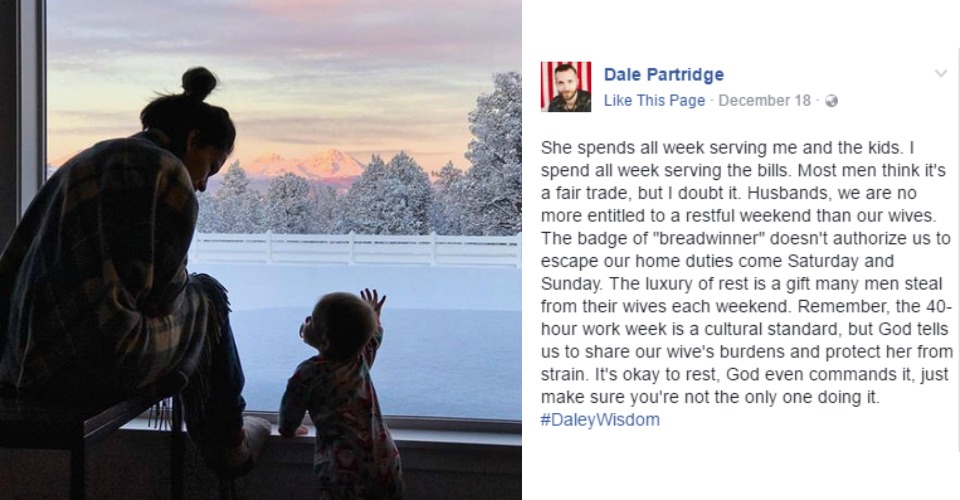 For many, weekends are the time to rest, recover and get ready for another work week. For mums, too often, weekends are a time to do all those chores they didn't get a chance to do before another work week begins.
But is this really what it should be like?
A Mother's Work Never Ends
One father has written a Facebook post criticising the way modern day society works and calling on everyone to see things from a different perspective.
"She spends all week serving me and the kids. I spend all week serving the bills," blogger, Dale Partridge starts out. "Most men think it's a fair trade, but I doubt it." 
"Husbands, we are no more entitled to a restful weekend than our wives." 
Dale goes on to explain that husbands often spend the weekends resting while wives don't get this luxury. Their roles continue through every weekend, every evening and every public holiday.
While this is what motherhood entails and is it incredibly fulfilling and rewarding, let's face it, it's also a little bit exhausting.
"Remember, the 40-hour work week is a cultural standard, but God tells us to share our wife's burdens and protect her from strain," Dale writes.
So, husbands, share our burdens and pick up the toilet brush every once in a while.
Let Her Rest. Share The Load
The blogger is also quick to point out that, "It's okay to rest, God even commands it, just make sure you're not the only one doing it." 
The message is one that clearly resonates with countless families. His post has been shared close to 60,000 times with over 4,000 comments of support.
And while every situation is different and not all households operate in this way, Dale's message is one that has universal appeal.
No matter who is making the money, who is caring for the children, who is in charge of doing the chores, who is responsible for doing the cooking, both parents deserves a break.