Blueberry and Ginger Smoothie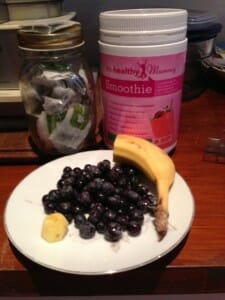 When the lurgy is lurking around your home, it is important to pack a punch of nutrition in every meal.
This Healthy Mummy Smoothie is just that. Blueberries are an anti-oxidant superhouse and high in vitamin C.
Ginger is thought to alleviate cold and flu symptoms.
How to make this smoothie:
2 tbs of strawberry Healthy Mummy Smoothie mix
1/2 cup of frozen blueberries
1/2 banana (frozen if you like)
1 thumb of ginger
200ml of green tea (cooled from the night before)
Blitz it and you are ready to be wowed by flavour and nutrition.
Special Offer & 10% Discount
If you are ready to lose weight then The Healthy Mummy plans offer a healthy and safe exercise and diet routine that are safe if you are breastfeeding and you can use code LOYALTY for a 10% DISCOUNT at the checkout