Hi Mummies!
It's been an interesting experience being a Motivating Mum for February. It has made me try new heathy mummy smoothies, recipes and new exercises.  Having all the tools is important such as the Calorie Bible which has excellent ideas on snacks and very convenient to have in your bag! It'd been my go – to when stuck for snack ideas or the calorie content on a food.
I've challenged my comfort zones especially tried to exercise more as its never easy for me to sum up the motivation to go and just do it especially when you aren't feeling the best, rest is important too. This past fortnight I have pushed myself. This week I have lost 500g which I, ecstatic about!
Since being on The Healthy Mummy weight loss plans and products I've lost 38 kg in 7 months and gone from a size 22 to 12! Last week I lost 400g which got me into the 60's!
The last 5 kilos have been a lot harder than I anticipated but it's coming off and I'm very happy about that. The now photo is of me in my very first pair of size 12 jeans and it feels AWESOME!!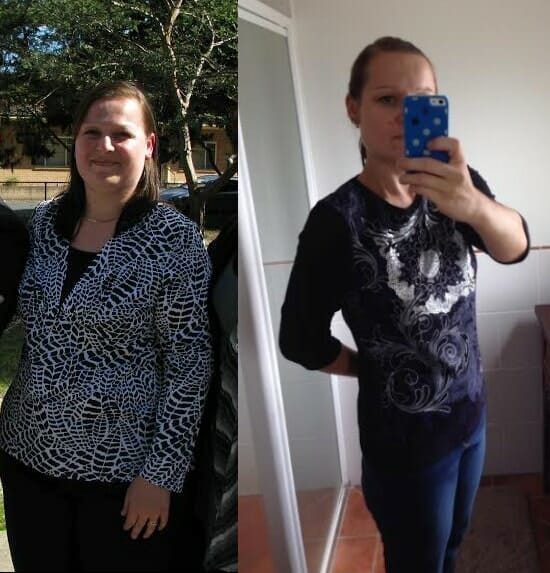 I have been doing the Eat Move Lose Challenge and found the wall sits challenging and felt it the next day! The trick is to keep doing it and pushing yourself and you will find it rewarding which is true for any exercise.
My favourite recipe from the 28 Day Plan is the Bircher Muesli for breakfast. and the Chicken and Pear Salad from the Healthy Spring & Summer Cookbook which you can check out here
My snacks are usually ideas from the 28 Day Plan or the Calorie Bible, the humble boiled egg or piece of fruit and nuts is a fast and easy snack for me. My favourite smoothies usually consist of low fat milk, frozen banana and frozen berries. Yum!
My daily meals consist of either a healthy mummy smoothie, bircher muesli or eggs on toast for breakfast. Lunch when I'm at work is a smoothie or wrap from the 28 day plan and the dinner is from the Healthy Mummy website recipes or the 28 day plan. I like to vary my meals so I don't get bored and stuck with the same routine.
For the next fortnight my aim is to yet again try to increase my exercise, try more yummy Healthy Mummy recipes that my hubby and daughter will love too and hopefully get as closer to my goal weight. Only 4.1kg to go! Good luck to everyone for the week ahead! We just need to take it a day at a time and we will get there ?
Starting weight 107kg
Now 69.1kg
Total cm lost 118cm overall
Total lost – 38kg
Bozana Smith
If you are ready to lose weight then The Healthy Mummy plans offer a healthy and safe exercise and diet routine that are safe if you are breastfeeding and you can use code LOYALTY for a 10% DISCOUNT at the checkout