How The Healthy Mummy App is 4 Apps in 1!
The Healthy Mummy App has helped 100s of thousands of mums take control of their health and fitness, and now there are some even more incredible new features to for you to get the most out the App. If you're not yet a member, check out our latest AMAZING offer on our 28 Day Weight Loss Challenge TODAY.
The 5 Star Healthy Mummy App is literally 4 Apps in 1! Here's What You're Getting:

Recipes and Meal Planning App: With over 6000 family friendly recipes and customisable meal plans, the App takes away all the stress of thinking 'whats for dinner?' Meal planning is taken care of for breakfast, lunch dinner, snacks is all done, it even organises personalised shopping list!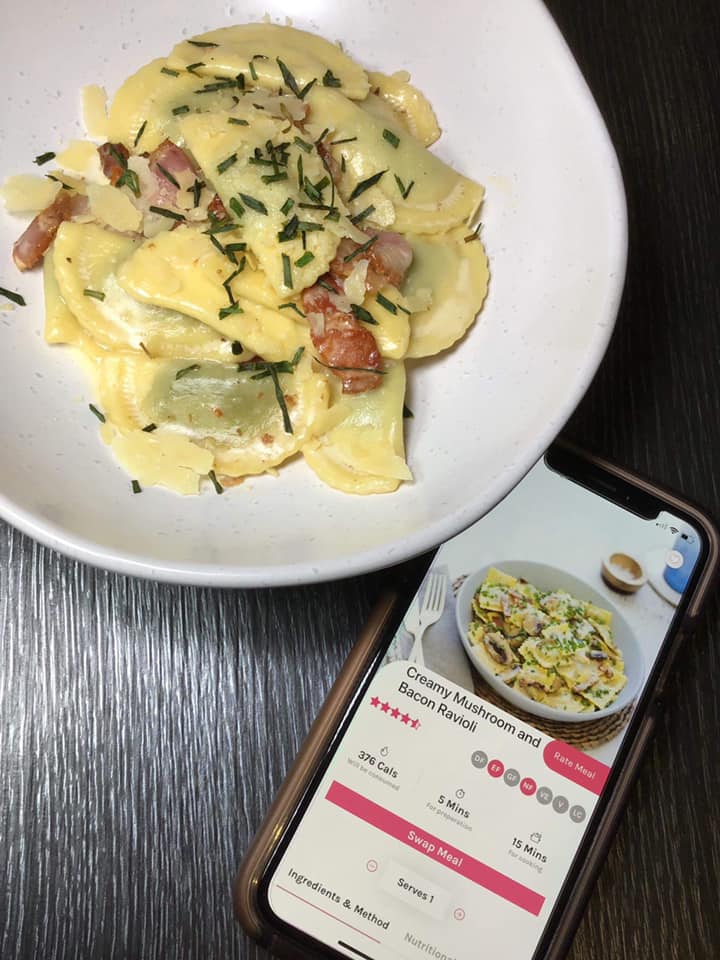 Complete Fitness & Exercises App: Forget the cost of a personal trainer of gym fees, with over 550 different at home workouts in the Healthy Mummy App and over 35 different programs to choose from! Whether you want a quick 10 minute workout, or and intense workout with weights, there's one to suit you!
Weight Loss Tracking App: The Healthy Mummy App tracks your daily calories keeping you on track with your personal calorie plan. It'll track your measurements, document your progress and provide food and exercise reminders throughout the day. Plus you can even sync the data with our own fitness gadgets!
Wellbeing & Mindset App: Health and Fitness is not just about the food we eat and exercise we do, our mindset and overall wellbeing plays an integral part. The Wellness area in the Healthy Mummy App covers everything from psychology and aspects surrounding self sabotage, motivation and mum guilt, to practical cooking support, entertaining podcasts and how to focus on self care.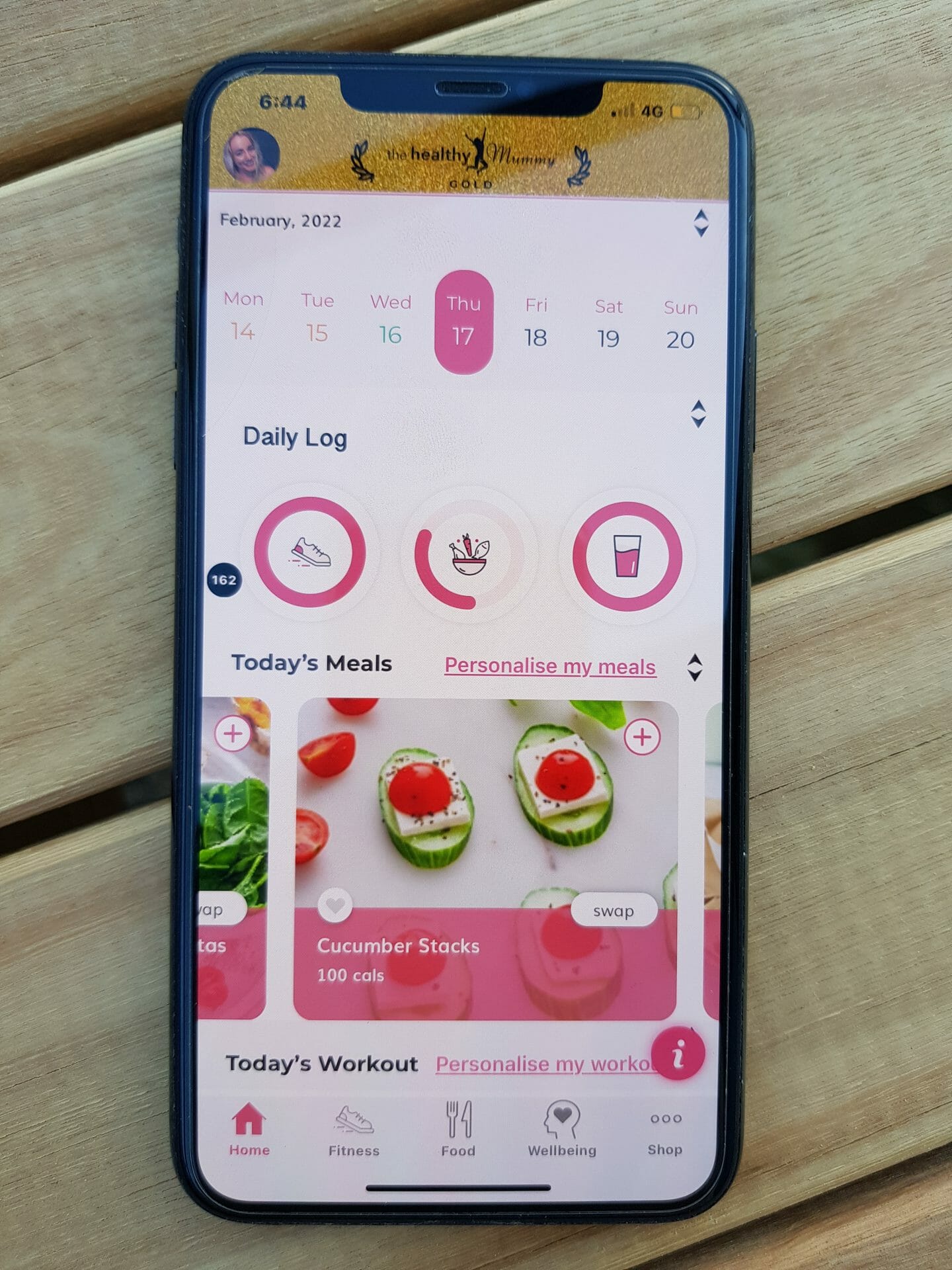 What else is there to love about the Healthy Mummy App?
Track your Macros, meals, water and steps
Sleek design that's streamlined with easy to use functionality

Make your journey your own by customising your home screen to suit you! Set it up so you get access to what you use in the app quicker

Get easy access to new inspirational community and news articles that will motivate and inspire you

Access to exclusive product offers & member benefits and rewards

Easy to set up and get started with personal preferences and new customer onboarding process

S

tep by Step guide to getting the most out of the App and how to use it!!

New Content INCLUDING by popular demand amazing new Air fryer recipes – get a sneak peek here 
If You're Using an Old Version of the App, Here's How to Update the New Healthy Mummy App:
If you are a member, simply go the App Store (for IOS users) or Play Store (for Android users) and Update your app.
The latest versions are:-
iOS – 3.9.10 (1)

Android – 

2.9.2 (205)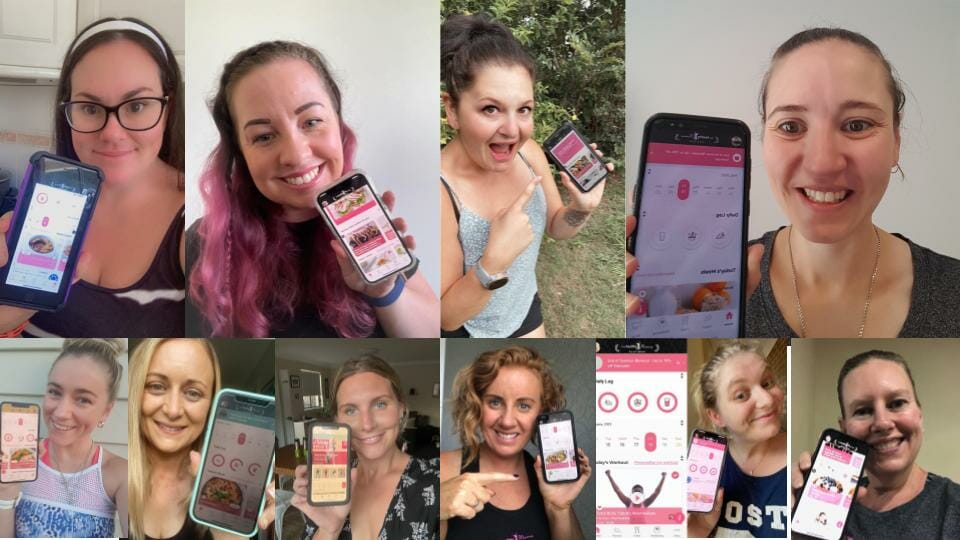 What Mums Have Been Saying About The Updated Healthy Mummy App!
Belinda Tonkin says  'I give a big thumbs up for the updated Healthy Mummy app!! I love the new features like customising my Home Screen so I can choose what order I see my icons and it's super easy to navigate. My favourite features are still there like being able to upload progress photos & having a favourites list for our favourite meals.'
'I also love how you can personalise everything including your meal plans, workouts and my favourite part is how you can customise the main page and rearrange it.'
Cicily Goodwin says 'I absolutely love the New Healthy Mummy app! It's so much faster. It's really easy to use, it's customisable, it still has all the same amazing features but so much new great stuff added like air fryer recipes, Real Mum Stories on the app and just a great community feel!'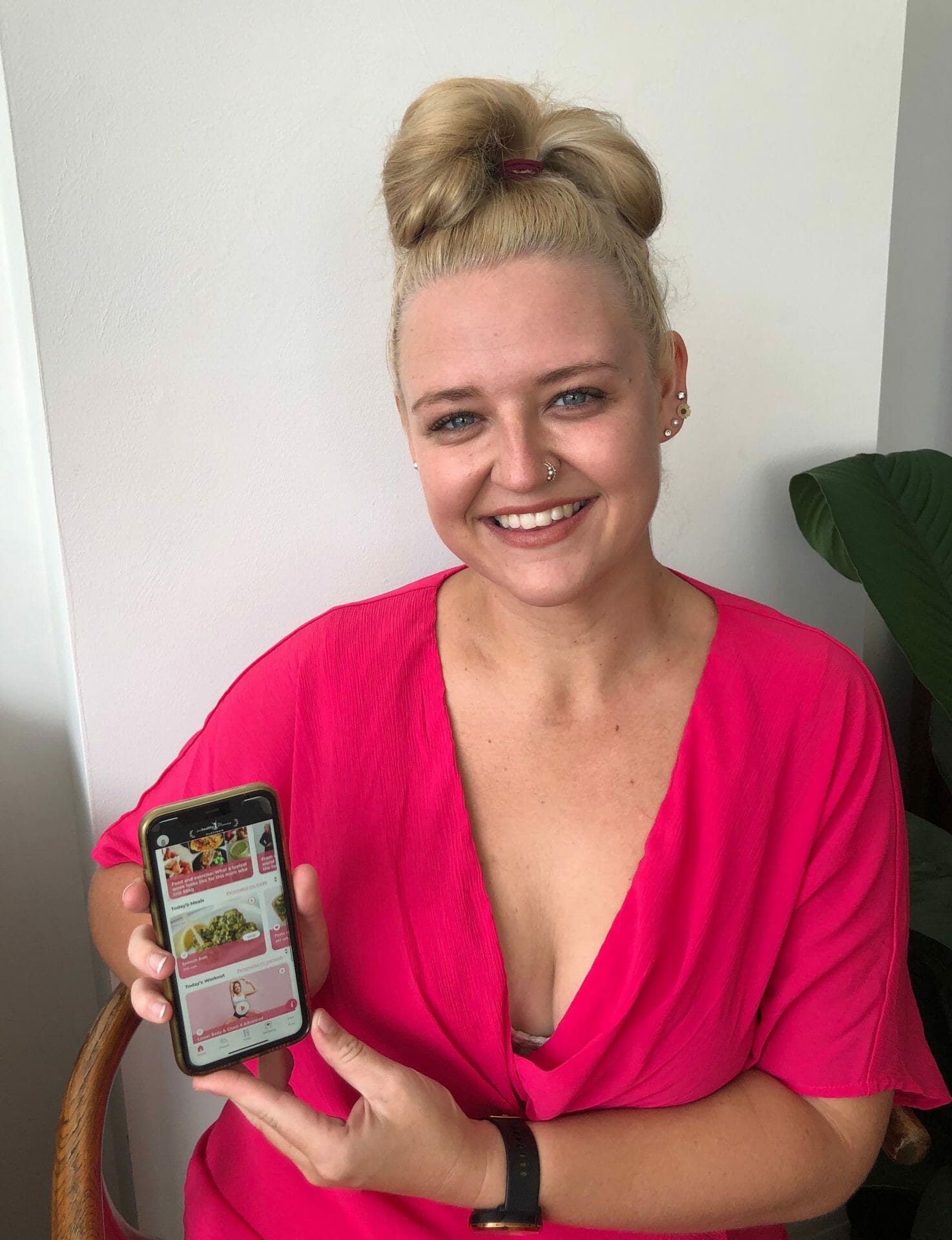 Hear what Mum of 5 Hannah Pech ways about the new App!
Check out the Results from Mums Using The Healthy Mummy App
Chelsea Dixon has lost a massive 60 kilos with the Healthy Mummy and gives the APP  5/5 stars!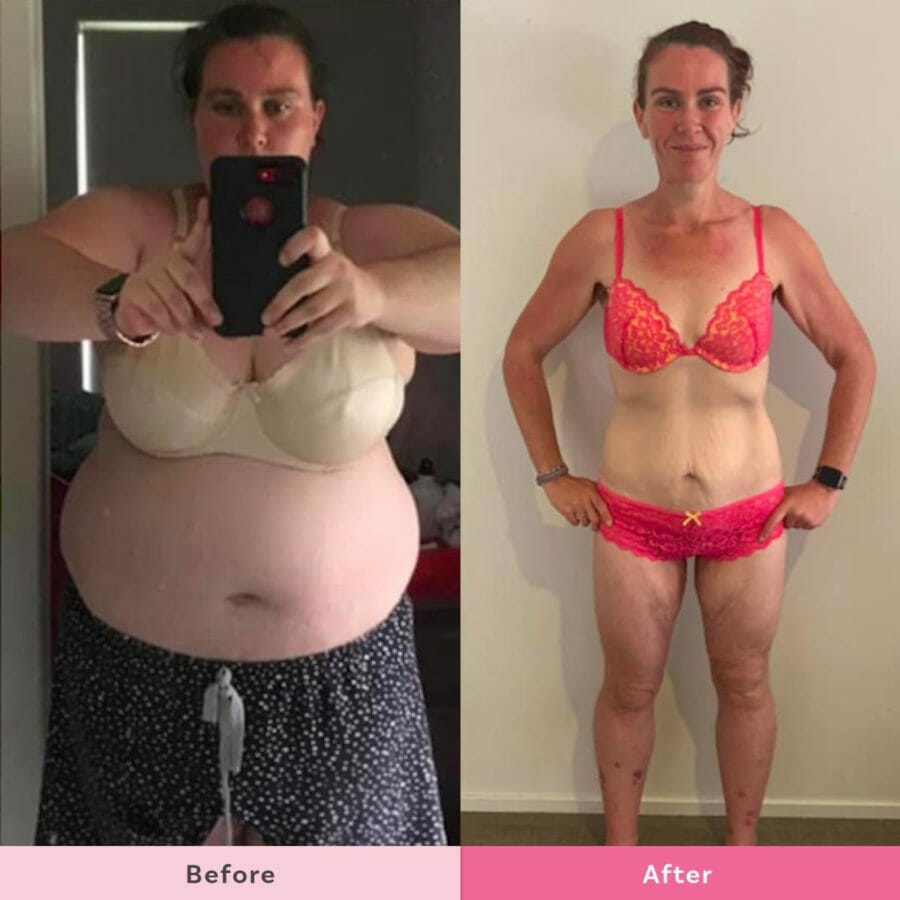 "It truly has changed my life, I find it easy to track my calories, water intake & movement. 
I love that the app has over 6000 recipes and I love that I am now willing to try new foods all the time.
My family love the snacks and slowly converting to the food, the recipes are super simple and quick and budget-friendly.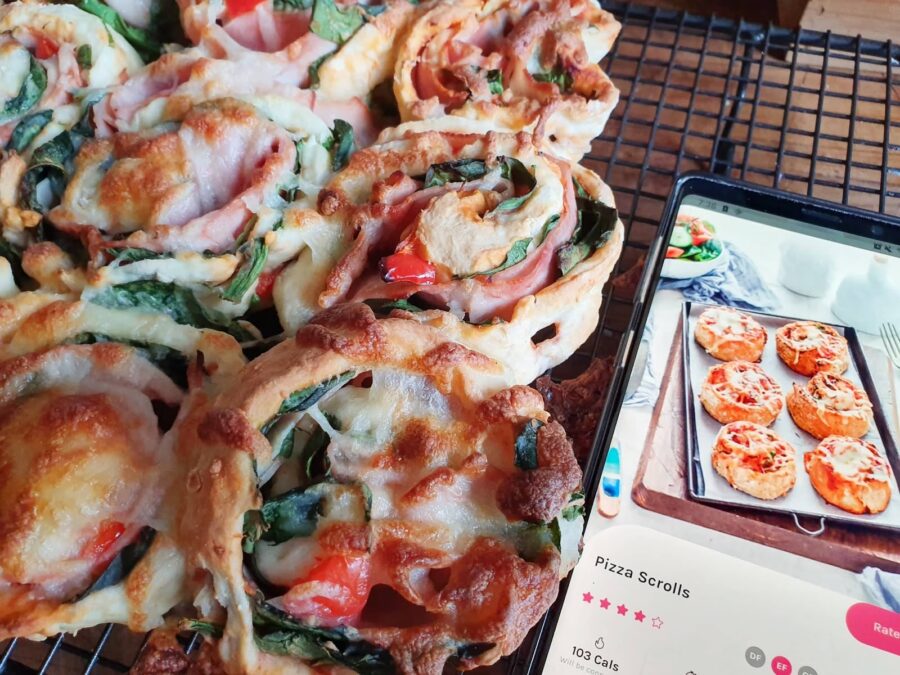 Exercise, I absolutely am a huge fan of dance strong-arm attack and since starting to use it have lost over 5cm off each arm. I also love Tabata & HIIT."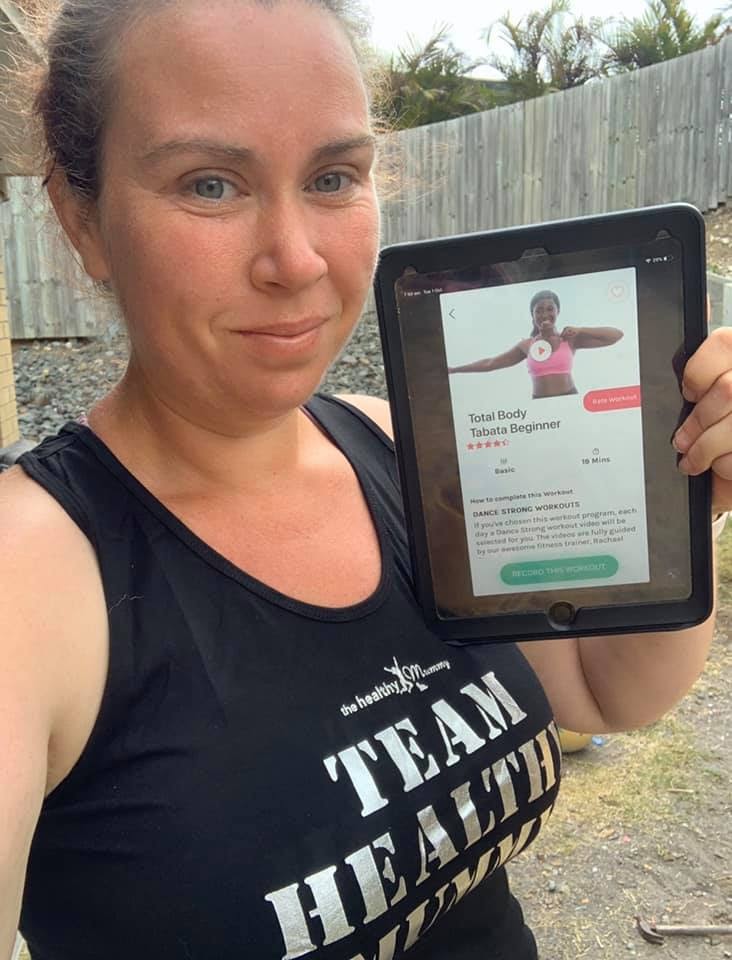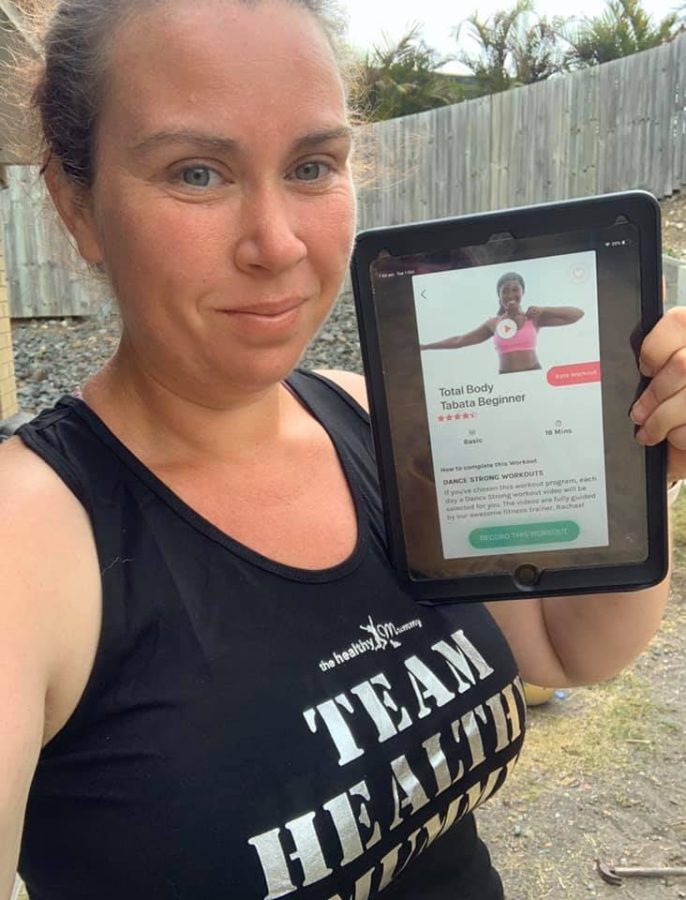 "The support from the main group is amazing I have made so many friends everyone always encourages me to be the best I can be.
Making the choice to be a Lifetime member was the best decision I have ever made."
Lauren Kolstad has been a 28 Day Weight Loss Challenge follower for five years and has lost 27 kilos and maintained her healthy lifestyle with the help of the Healthy Mummy App.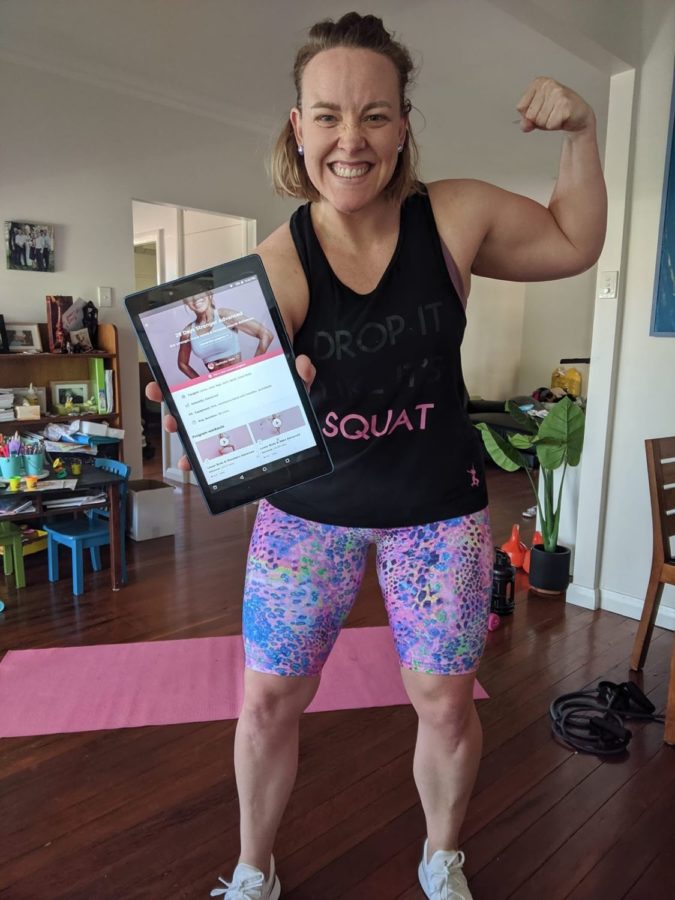 "How awesome is the Healthy Mummy app?!? My family and I rate it 5 STARS!
So many workouts to choose from – I can find one whether I have 4 or 30mins to fit it in.
We love the family-friendly food too!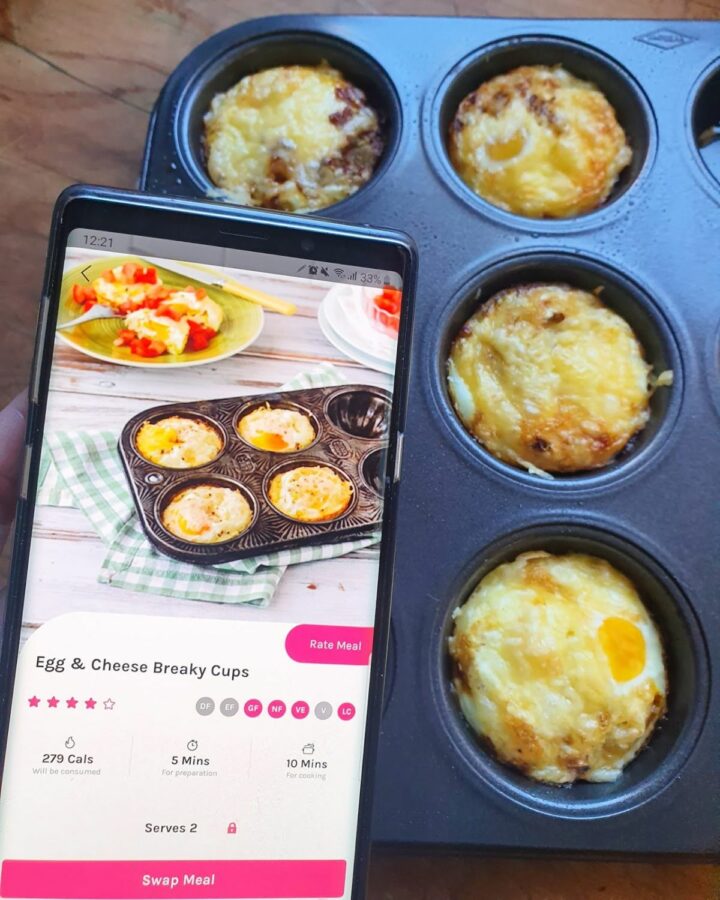 I love having everything at my fingertips in the app and as a busy working mum, it is such a time saver"
Why Mum's LOVE the Healthy Mummy App
Over 6000 Family Friendly Recipes!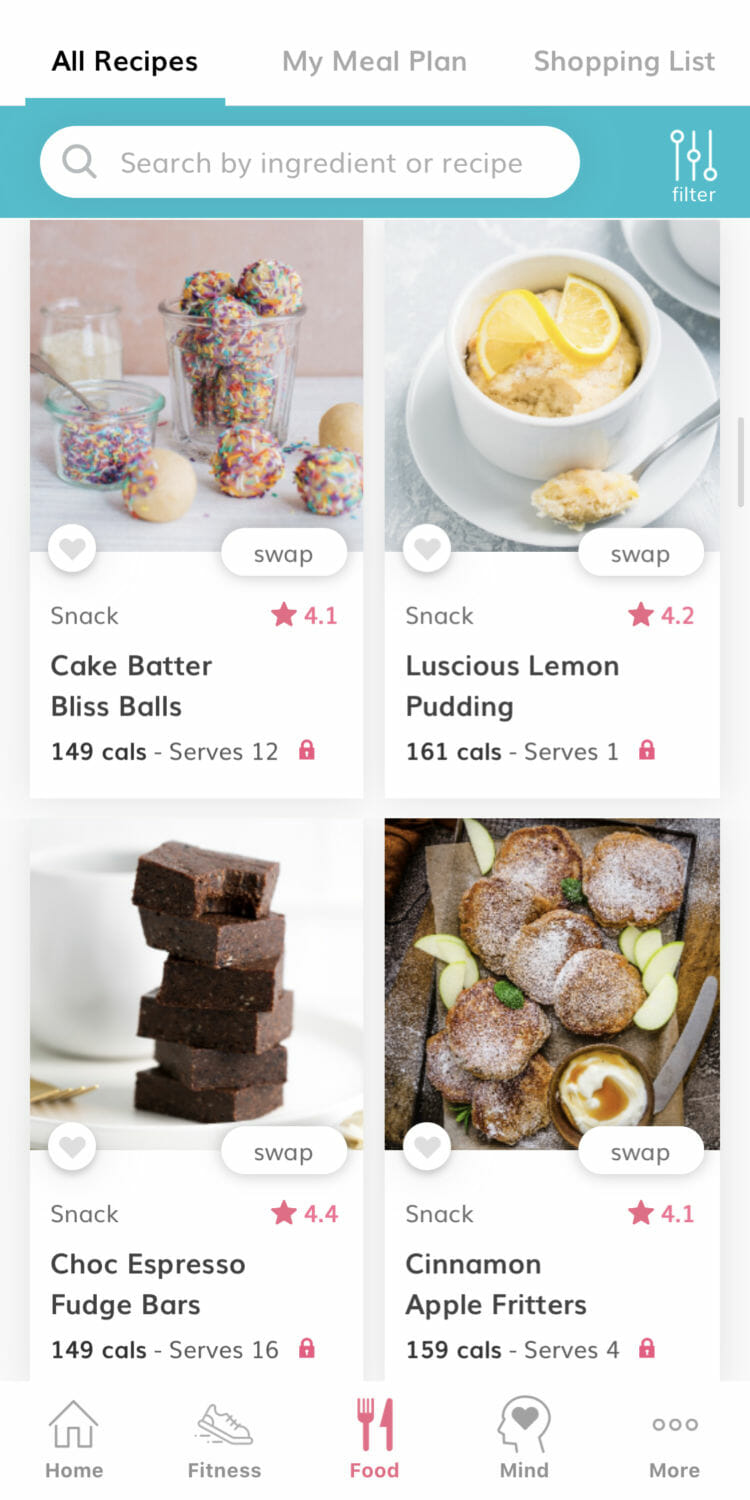 We know that mums are juggling the needs of their family, along with their own health and weight loss goals. That's why the recipes in the Health Mummy App are all FAMILY FRIENDLY making that juggle so much easier! Not only that, they're budget friendly and perfect for time poor mums.
The filters in the Healthy Mummy App make planning your meals easy. If you are after something specific like 'Freezer Friendly' or  'Express' or '5 Ingredients and Under', the filter feature allows you to search over 20 different categories!
What's more, as part of the 28 Day Weight Loss Challenge, not only do the challenge themes change each month, you also get access to different meal plans. New meal plans types will occasionally be added or change, but looking at the options available and customising them to suit you is really easy in the Healthy Mummy App.
Lots of Meal Plans Available
On top of the monthly Challenge themes, there are also over 17 different Meal Plans to choose from! From Keto, Beginner, Budget/Timesave, Pescatrarian and Hormone Balancing, whatever your personal and family tastes, we have a recipe or meal plan to suit you in the Healthy Mummy App.
Find out more about the different Meal Plans in the Healthy Mummy App
Over 550 At Home Workouts!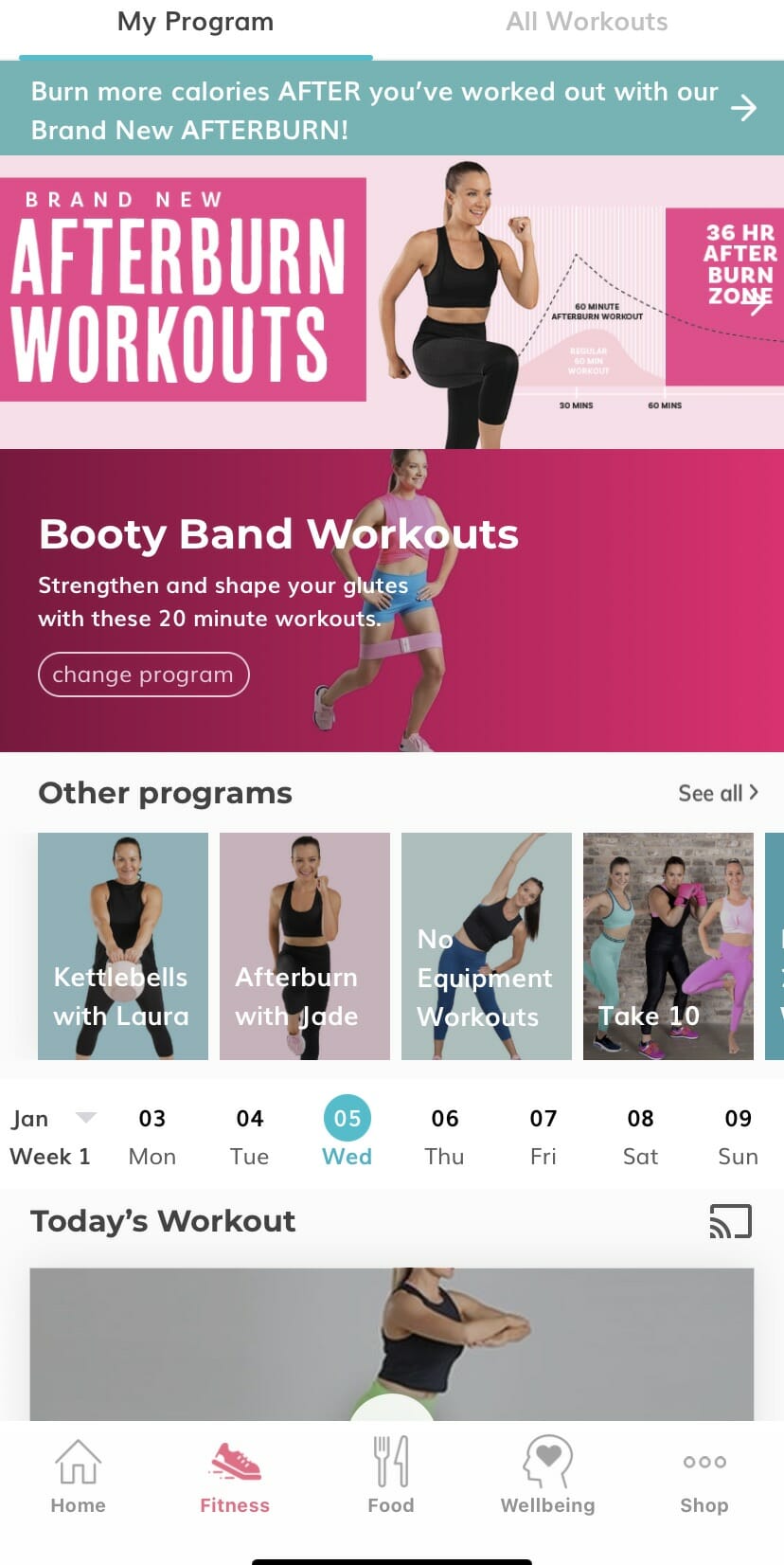 Along with adding new recipes to the Healthy Mummy, we have a heap of new workouts. In fact, there are now over 35 different programs to choose from with more than 550 individual workouts. No matter what your fitness level, there is a program and workout perfect for your needs. No need for expensive gym memberships, our at home workouts mean you can pop in any of our different types of programs and workouts in to your busy day.
Recipes aren't the only thing we made express, we also have express workouts to help you get fit and healthy in just 10-mins.
We also have the new AFTERBURN workouts, which help you to burn more calories for up to 36 hours after you've worked out.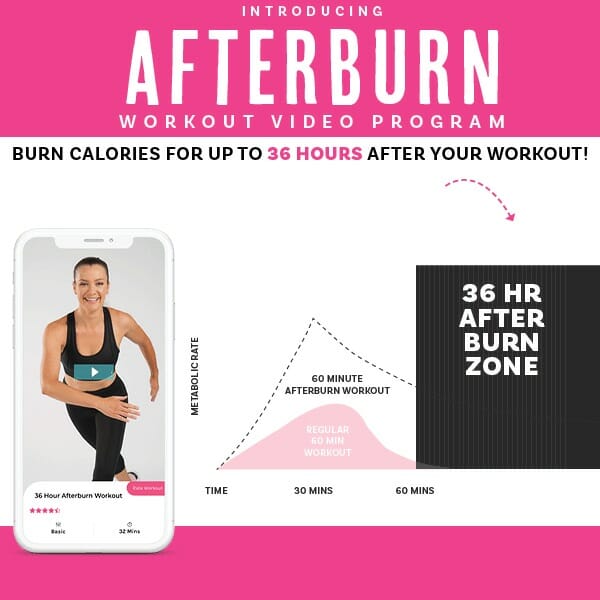 We have added new Kettle Bell workouts which are a great form of strength and cardio whilst being a fun and different type of workout.  These type of workouts can improve endurance and strength, whilst burning calories and fat.
Along with these new workouts, there are HEAPS of others to choose from such as:
Booty Band Workouts
No Equipment Workouts
Workouts with Kids
Pilates
Dance Cardio
Express Boxing
Power Yoga
To name but a few! Whether your after a 10-minute boxing workout, pregnancy or post natal workout, or an intense HIIT workout, with over 550 workout videos to choose from in The Healthy Mummy app  you can get fit if you can just find 10 minutes in your day.
Wellbeing Area in the Healthy Mummy App
Along with your Home screen for tracking your activity, calories and water, your Fitness  and Food areas, we now have a WELLBEING area full of amazing content to guide and support you through your health journey.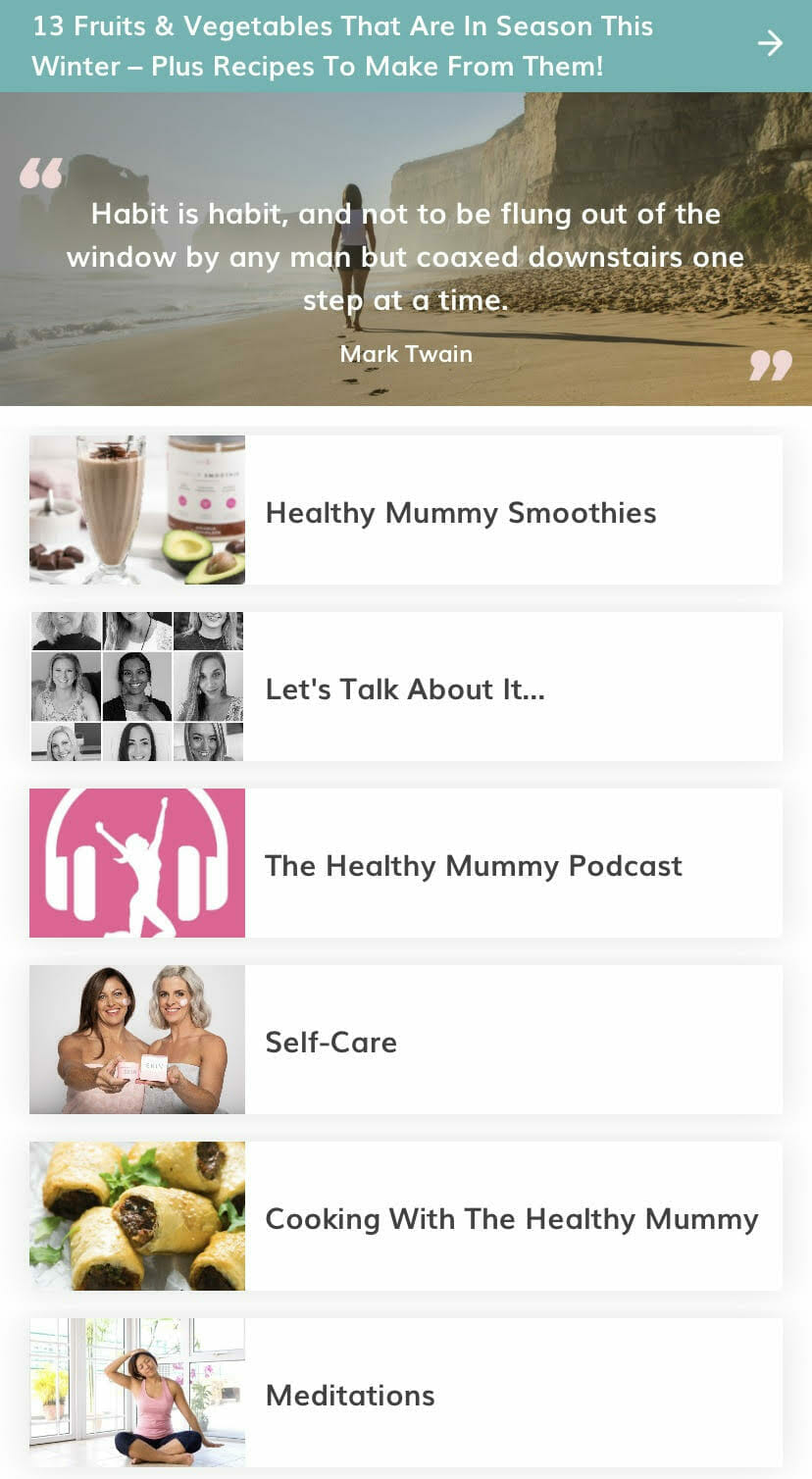 Wellness is not just about the food we eat and how much exercise we get. It is as much about our mental health as physical health, and feeling supported in our overall health journey plays a huge part in reaching our goals.
This area covers everything from pyschology and aspects surrounding self sabotage, motivation and mum guilt, to practical cooking support, entertaining podcasts and how to focus on self care.
Find more about the Wellness Area here
Meditations in the Wellness Area
Self-care is integral to looking after your overall health and a great way to have some self-care and destress is through meditation.
The Healthy Mummy app has a range of meditations to help mums destress, take some me-time and generally just chill. We have just added some new amazing meditations available to help you take time for you and destress.
Find out more about our meditations here
Are you ready to join the 28 Day Weight Loss Challenge and get access to this INCREDIBLE APP??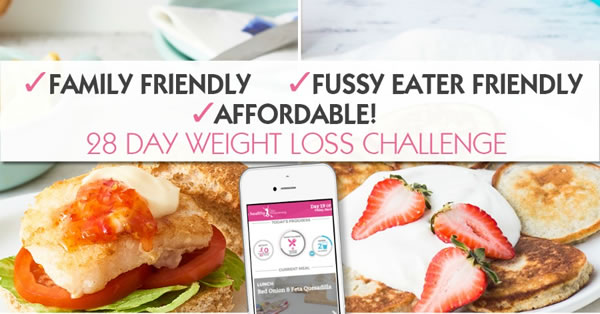 Each month our 28 Day Weight Loss Challenge gives you a meal plan, exercise routine and tips and advice to help you be the best version of yourself.
Do you find yourself victim to emotional eating? Take the stress out of putting so much emphasis on food and diet and try our 28 Day Weight Loss Challenge which has been described by 100,000's of mums as a lifestyle change!
With a weekly meal plan consisting of 3 main meals and 3 snacks – The Healthy Mummy's 28 Day Weight Loss Challenge can help you stick to a healthy food plan and hit your weight goals.
To learn more about our 28 DAY WEIGHT LOSS CHALLENGE CLICK HERE or purchase our Smoothies.