Calamari Cous Cous Recipe
I adore calamari and it is a food which you can easily buy and keep in the freezer. This Calamari Cous Cous Recipe is a little inspired by Spanish paella.
It is incredibly nutritious if cooked in the right way (i.e. not deep-fried). It is high in iron and B vitamins as well as omega 3 fatty acids.
It is also very quick and easy to cook hence why I wanted to share this delicious recipe you could eat on a weight loss diet too.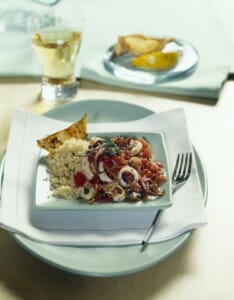 Prep time: 10 minutes
Cook time: 15 minutes
Serves 4
Calamari Recipe: Ingredients
400 grams of calamari (if frozen defrost pre-cook)
2 cups of cooked wholemeal cous cous
1 red onion finely sliced
2 cans of diced or crushed tomatoes
¼ cup of diced pitted olives (black or green)
1 zucchini chopped
1 red capsicum chopped
2 tsp of paprika
1 handful of fresh parsley
2 garlic cloves crushed
1 tbs of oil
Calamari Recipe: Directions
Cook the cous cous as per the packet instructions and set aside.
In a hot pan, heat the oil and pan fry the crushed garlic.
Add in the chopped zucchini and capsicum and heat through and slightly soften.
Add in the calamari, olives, canned tomatoes and paprika. Bring to a boil and then lightly simmer for a few minutes.
Turn off the mixture add in your cous cous and red onion and lightly toss through to serve.
295 calories per serve
Our best selling 28 DAY DIET & EXERCISE PLAN which is now available in a PRINTED & GLOSSY 84 PAGE BOOK comes with a FREE COPY OF OUR WINTER WARMER PLAN which is perfect for the cooler weather! You can preview the book ($39.95) and plan here
If you are ready to lose weight then The Healthy Mummy plans offer a healthy and safe exercise and diet routine that are safe if you are breastfeeding