This Calamari Salad Recipe is the perfect addition to a fresh Spring or Summer Salad.
As well as providing a mild, pleasant flavor it also adds a generous serving of protein, essential for healthy weight loss. The chosen ingredients for the salad add aromatic seasoning and crunch to compliment the calamari.
This Calamari Salad Recipe is a highly nutritious dish that's bursting with character.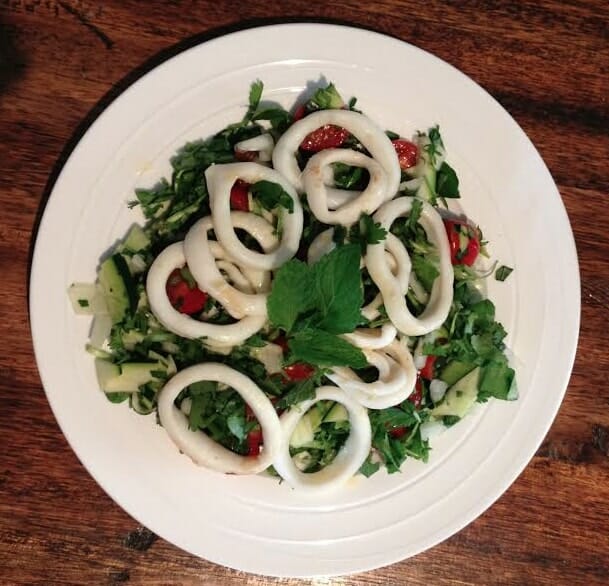 Ingredients
350g fresh squid, sliced into rings approx. 5mm thick
1 lime
1 clove garlic, crushed
1 tbsp. butter
150g watercress, chopped
1 cup coriander, chopped
½ bulb fennel, finely sliced
¼ cup fresh mint, chopped
1 tbsp. fresh basil, finely chopped
1 zucchini, ribboned and roughly chopped
200g cherry tomatoes
Calamari Salad Recipe: Method
At least 1 hour prior to cooking (longer if time allows) place sliced squid into an airtight container with lime and garlic and refrigerate.
Chop watercress, coriander, fennel, mint, basil, zucchini and cherry tomatoes and mix together in a large bowl, before placing evenly in the centre of two plates.
Remove calamari from the refrigerator.
Melt the butter in a saucepan over a high heat. Add calamari and marinade. Stir and cook for approx. 3-5 minutes, until just cooked through.
Place rings on top of salad to serve. Drizzle with extra lime if desired.
Serves 2
209 cal per serve
Fat: 2g
Protein: 33.5g