Cat Has Lost 30kg With The Healthy Mummy
Hello Mummies!
My name is Cat and I am one of the Motivating Mums for September- I am sooo excited! I am a wife and Mum of 2 kidlets, Ava (6) and Braxton (2).
My healthy mummy weight loss journey started about 5 years ago after the birth of my daughter. I was a young mum trying to find her feet with a newborn, like any new mum- and then I turned to food.
Back then my day would consist of sitting in my pyjamas all day, NOT eating breakfast and snacking on random CRAP all day.  The only exercise I did was walking to and from the train station when I would go to young mum groups, but even then I would think of any excuse not to go.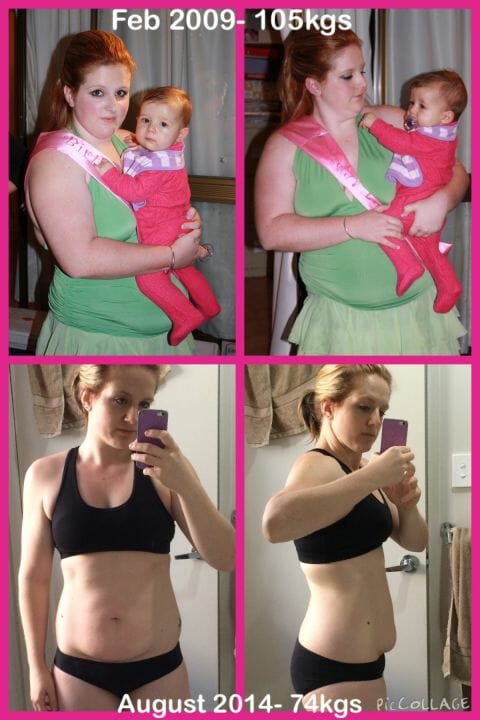 After seeing photos of myself at my birthday, I knew something had to change. I saw pictures of myself, my daughter and my partner and thought they really do deserve better!
It wasn't just about me anymore. To my knowledge I was 105kgs at my heaviest although I'm sure it could have been more before I was game enough to weigh myself. I am 164cm tall so that's a massive amount of weight for my frame to hold.
I googled "Lose Baby Weight" trying to find a quick fix solution when I came across The Healthy Mummy's weight loss plans and website. I was such a sceptic at first, more shakes? Really? I read the testimonials and thought I don't really have anything to lose except the weight I would know hide under baggy shirts of my partners and the same 2 pairs of shorts, as nothing else was able to fit me anymore.
I ordered the 28 Day Plan Ebook to start off with and then ordered the healthy mummy smoothie mix later on. Vanilla is my absolute favourite, it is so versatile and delicious. They taste so much better than other meal replacement shakes I have tried in the past, and they are filling!
I also joined an all-women's gym which helped me step outside of the house and dedicate time to myself and exercise.  Through the combination of my gym workouts and using the Healthy Mummy tools I have now lost over 30kgs.
Fast forward and I have been fortunate enough to get a job within an all-women's gym and put my passion of helping other women, especially mums, get healthy and feel GREAT about themselves. I work 4 out of 5 nights a week as well as a rotating weekend so I totally understand time restrictions with the combination of housework, meal planning, kids, husband and exercise. I have a few tips and tricks I will be sharing along the way during my time as Motivating Mum, I hope you find them as helpful as I do.
I am sitting around 73.7kgs –  74kgs at the moment. My ultimate goal is to reach 70kg. My body shape has changed dramatically and I can see muscle definition which is so exciting but also reminds me not to focus on the scale numbers and really watch my measurements and how my clothes are fitting.
Remember Mummies- You don't have to be great to start, you have to start to be great!!
Let's do this!
Cat xx
Need to stock up on Healthy Mummy Smoothies? Then see our shop here
And join our 28 Day Weight Loss Challenges here