I have been exercising when and where I can – mostly in my lounge room with the Healthy Mummy DVD. It is the most convenient form of exercise when it's too hot outside to take the kids out and also perfect for during nap time.
If you haven't bought the DVD, I highly suggest trying it! It works wonders- using all muscles groups and perfect for busy mums
I am very almost at my 78kg goal, only 700grams away and I have lost 26.3kg with the The Healthy Mummy weight loss plans!!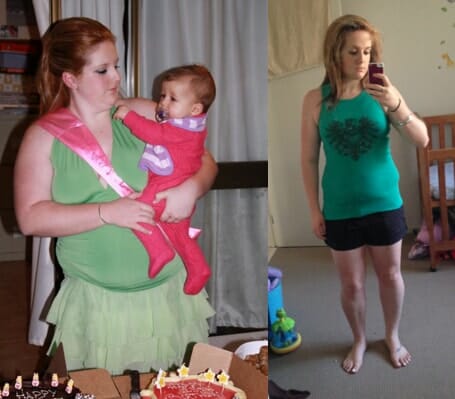 Now that I am almost there I have decided I would like to push for 75kgs just so I can have the nice round number of 30kgs lost.
It still seems so surreal to me. Only the other day I was at the gym entering my weight into one of the machines to do one of the programs and I hesitated. I went to push the "9" but then pushed the "8" thinking I was still well into the 80 kilogram range. That was a massive high five moment for me. I don't even remember the last time I was this weight!
I am so excited and feeling very blessed to have the opportunity to share my journey with you all.
Weight- 78.7kgs – 26.3kg down
Bust- 97cm ( 1 ½ cms)
Waist-101cm (1/2 cm)
Hips- 107cm (no change)
Thighs-61cm (2 cm)
Arms- 29.5cm (2 ½ cm)
Cat Kroon
If you are ready to lose weight then The Healthy Mummy plans offer a healthy and safe exercise and diet routine that are safe if you are breastfeeding and you can use code LOYALTY for a 10% DISCOUNT at the checkout