While on holiday I have experienced some different ways of eating chia seeds.
They are very popular in my husband's home country of Brazil. I thought I would share how they are eating them as they are a great addition to your healthy eating plan.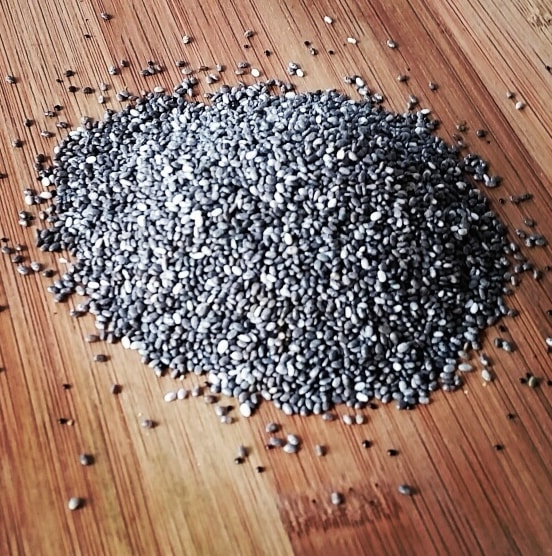 Benefits of Chia Seeds
Chia seeds are originally from the mint family and originate from Mexico.
They are deemed a super food as they are incredibly potent in omega 3 fatty acids, they are actually 8 times higher than what is found in salmon. Of course you do not eat 100 grams of chia seeds in one sitting like you would salmon, but they are still a nutrition super house.
Chia seeds are full of antioxidants as well as minerals calcium, potassium and iron. They are  good source of vitamin C and protein.
Some of the ways in which we commonly eat chia seeds in our house are by:
Using them as an egg replacement in baking. When water is added to the chia seeds they swell and form a gel. It is the protein in the chia seeds and the egg, which aid in the binding of the ingredients together when making a cake. Chia seeds are a great egg replacement for people who have intolerances of allergies to eggs.
We also add them to smoothies. Chia seeds are a great adding it to your Healthy Mummy Smoothie.
We also add them to our cereal or muesli.
The new ways in which I saw the chia seeds used here in Brazil were:
Sprinkled on top of yoghurt.
In a fruit sorbet at an ice-cream shop
In rice. My sister in law places a few tablespoons of chia seeds in with the rice when she is cooking it as if it is like a herb. It was yummy. She actually did this with quinoa grain as well.
And as a pudding, which I have included a quick recipe for down below. OF course these are in Australia too but this is the first time I have eaten it. These are great little puddings as they are high in nutrition and also protein which will be a great sweet fix and keep you satisfied until your next meal.
Coconut chia pudding
Prep time: 5 minutes
Cooling time: 4 hours or overnight
Serves 1
Ingredients
1 cup of coconut milk
2 tbs of chia seeds
2 tbs of maple syrup or honey
½ tsp of vanilla essence
Directions
Mix it all together until refrigerate for around four hours or even overnight.
Around 50 calories per serve.
If you are ready to lose weight then The Healthy Mummy plans offer a healthy and safe exercise and diet routine that are safe if you are breastfeeding