A favourite soup in many families. This Asian-inspired Chicken and Corn Soup Recipe is delicious and nutritious.
A great healthy recipe that is DIRECT from the 28 Day Weight Loss Challenge and is EASY to pre-prepare so you have a healthy dinner organised ahead of time.
Easily increase the ingredients to serve the whole family or to have leftovers that can be frozen or refrigerated for another meal.
Serve with a side of quinoa, brown rice or noodles to increase calories if needed.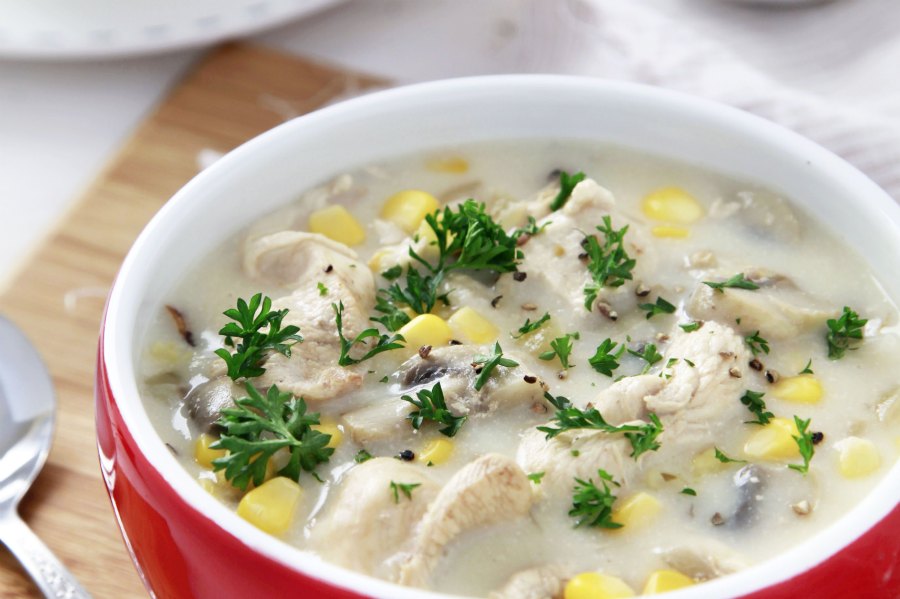 Ingredients (Makes 1 serve – use the app customiser to increase serve size)
1/2 teaspoon extra virgin olive oil (2.5 mls)
1/4 brown onion (25 grams)
1 cup sliced mushrooms (75 grams)
1 cup liquid chicken stock, salt reduced (250 mls)
100 grams of chicken breast fillets
1/4 cup corn kernels, fresh or tinned (20 grams)
2 teaspoons cornflour (5 grams)
1/3 cup reduced-fat milk of choice (100 mls)
1 tablespoon fresh parsley (5 grams)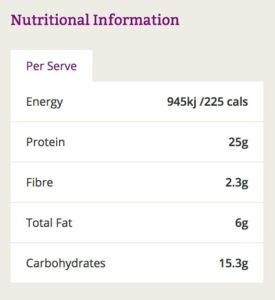 Chicken and Corn Soup Recipe: Method
Heat oil in a medium-sized pan. Finely chop the onion. Cook onion over low heat for 1 or 2 minutes. Add sliced mushrooms and continue cooking for another minute or two.
Add stock and sliced chicken breast, bring to the boil, stirring, then reduce heat and simmer for 10-15 minutes until chicken is cooked through, then add corn kernels and cook for a further 3 minutes.
Mix cornflour with a little milk to dissolve and then add to pan with remaining milk. Heat and stir to thicken slightly. Do not let it boil.
Stir in chopped parsley and serve. enjoy our chicken and corn soup recipe!
Get over 3,000 recipes on the 28 Day Weight Loss Challenge
Each month our 28 Day Weight Loss Challenges run. It is like having a chef, personal trainer and motivator in your pocket-and everything is budget friendly
Take part in our Challenges HERE.