This Vanilla Creamy Healthy Mummy Smoothie is one of our absolute favourite smoothie recipes.
It is jam packed full of nutrients for your health and well being but also super tasty and creamy so you feel satisfied and actually enjoy being healthy!
We are using a combination of oats, pear and Greek yoghurt in this vanilla creamy recipe and it is delicious!
The oats are a great addition for bulking your Vanilla Creamy smoothie out and the yoghurt is a great way to add extra calcium and protein and the pear is a low GI fruit with nutrients too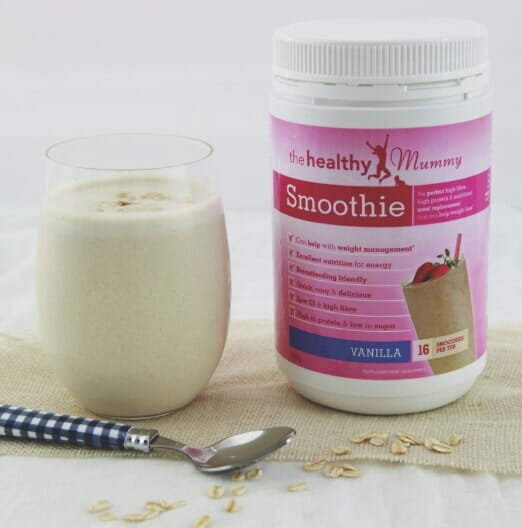 2 x tbsp of Vanilla Healthy Mummy Smoothie
1/2 a pear
1 x tbsp of oats
2 x tbsp of Greek yoghurt
3-4 ice cubes
250ml of milk (we used unsweetened Almond Milk)
Blend for 2-3 minutes and enjoy!
GET YOUR 10% DISCOUNT
If you are ready to lose weight then The Healthy Mummy plans offer a healthy and safe exercise and diet plans that are safe if you are breastfeeding and you can use code LOYALTY for a 10% DISCOUNT at the checkout.
Plus we have Cookbooks, Calorie Bibles, Exercise DVD's, Meal Replacement Smoothies and Our 28 Day Plan in our shop.