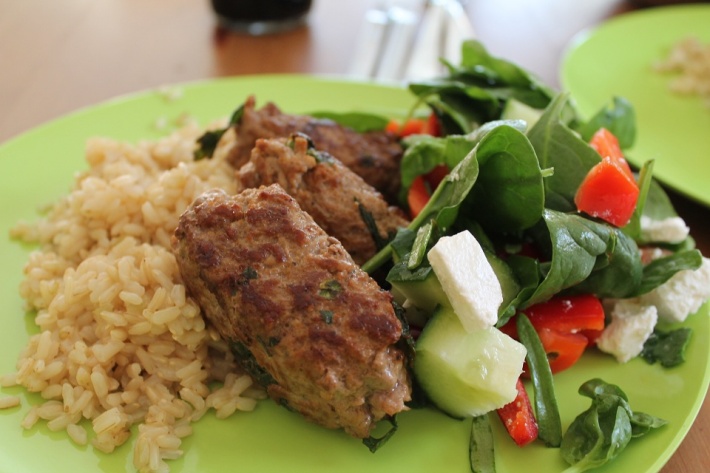 I love lamb. But do not eat it that often as lamb chops can be quite expensive. This delicious lamb kofta recipe is great as it is relatively cheap, delicious, easy and the kids love it. Oh, it is also quick and healthy!
Lamb is also very Australian and although this is a traditional Greek recipe, the combination is perfect for this Australia day.
Lamb Koftas Recipe
Prep time: 5 minutes
Cook time: 10 minutes
Serves 4
Ingredients:
400grams of lean lamb mince
½ cup of chopped mint
1 tsp of cumin
1 tsp of coriander seeds
1 tsp of pepper
1 tsp of paprika
1 garlic clove crushed
1 tsp of oil
Lamb Koftas Recipe: Directions
1.       Mix all the ingredients (except oil) in a bowl together and divide out into 8 little oval balls using your hands
2.       In a medium heated pan put the oil in and cook the koftas, turning once brown on each side. You could also cook them on the BBQ
3.       Place koftas once cooked on a plate lined with paper towel to absorb any excess fat
4.       Serve with some lemon cous cous or rice and a delicious greek salad and tzaziki.
The Lamb koftas themselves are 280 calories per serve which is 2 pieces.
We have some other great recipes on our site. You can check out here.
If you are ready to lose weight then The Healthy Mummy plans offer a healthy and safe exercise and diet routine that are safe if you are breastfeeding.
And don't forget to check out our current promotions and discounts page to see what specials we have on this week on our Healthy Mummy product range