My name is Donna, I am Mum to 2 year old twin boys.
I have always struggled with my weight and I suffer from PCOS, but I have tried many different weight loss diets and weight loss strategies over the years and I would lose a few kilos here and there but I could never maintain it.
My weight started to get out of control when I broke my foot in January 2011 and was in a moon boot unable to do much exercise, shortly after I then started fertility treatment and the ups and downs and hormones caused my emotional eating to get out of control.
I then found out I was pregnant with twins and the weight piled on. I didn't weigh myself but estimate I would have gotten to around 120kgs. Once the twins were born finding time for exercise and cooking was difficult and it was just whatever I could eat that was quick and easy.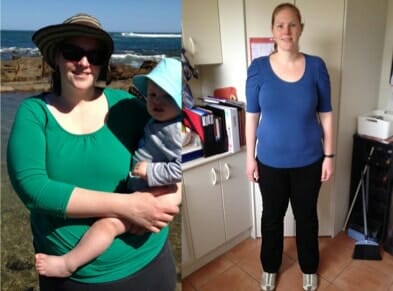 Once my twins turned 2 and I turned 30 in May this year I decided enough was enough and it was time to do something about it, which was when I luckily found the Healthy Mummy weight loss plans.
I signed up on the 17th of June at 117kg and joined the July 28 Day Challenge which really kick started things for me my whole family enjoyed the food and I started to exercise again and I lost 4.9kg that month, in August I did a tone up challenge and focused on upping my exercise and my fitness and energy levels improved, I made a meal plan using recipes from the website and ones I didn't get around to trying during the challenge, with a Healthy Mummy Smoothie on days I needed to get out the door quickly or I couldn't be bothered cooking (stops me eating something bad ), I then decided to subscribe for the future challenges as I had so much fun trying all the new recipes and the exercises and I still had more weight to lose.
I have loved the September 28 Day Challenge, being able to try even more new recipes, exercises and the addition of desserts! I find the exercises in the challenge really push me and sometimes when I think I can't be bothered today I say to myself just do 1 round and then I end up doing all 3 as I don't like seeing the empty boxes and now I can't go to bed until I have done "my exercises" for the day.
So far I have lost 15kg following the Healthy Mummy weight loss plans and 28 day challenges and I would like to lose another 17kg so almost half way! But already I have so much more energy and am getting fitter and stronger every day. As a busy Mum I love that I have been able to achieve all this without having to go to a gym so I can fit it in when it suits me.
During October I am looking forward to trying some of the meals from the Healthy Spring & Summer Cookbook and the meals & exercises from the28 Day Diet & Exercise Plan. Gearing up for the November 28 Day Challenge.
My tips for anyone starting on their weight loss journey:
Start Now – even making small changes each day will improve your health and fitness which will help give you the energy to keep going
Get your partners support – my husband knows not to bring bad food into the house as it is not temptation if it's not there, and he will often ask me have you done your exercise today so he really helps me keep on track
Use all of the tools that the Healthy Mummy has to offer, fantastic recipes, yummy smoothies, a workout DVD you can do in the comfort of your own home, amazing challenges that include all the tools you need and a wonderful Facebook support page for added motivation.
So what are you waiting for….
Need to stock up on Healthy Mummy Smoothies? Then see our shop here
And join our 28 Day Weight Loss Challenges here