I began using the Healthy Mummy plans in September after giving having my baby in August.
I was lucky enough to be a motivating mum in October and I am very pleased to report that I have reached a great milestone – the realization that my body is getting back to my version of "normal"; I am able to run, I feel healthier, more energized and far more confident.
I have also achieved a 10kg loss of weight by following the weight loss plans here
That's 10kg lost in two months (and 22kg in total) – I'm healthy and happy!
My BMI is now 23.2… so is within the "healthy" weight range. It's a great feeling!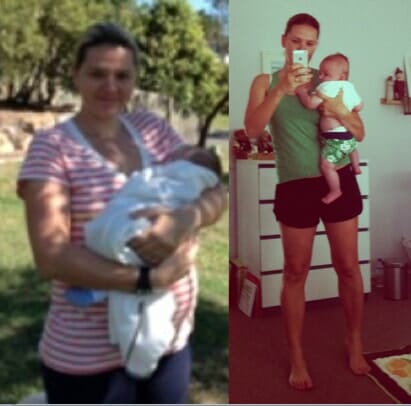 My current measurements are:
Bust – 88cm
Waist – 73cm
Hips – 99cm
Thighs – 56cm
Weight – 72kg
(Height: 176cm)
That's just a result of having the healthy mummy smoothies, eating healthy from the 28 Day Exercise and Cookbook, the Summer Cookbook and following the exercises DVD for about 20 minutes each day. It's been that simple…
Having digested all the handy information in the cookbooks and calorie bible, I'm much better informed about making healthy choices and I no longer feel the need to snack on chocolate bars and chips – instead my fridge is full of the healthy snacks I've made myself!
I'm really happy with the way my life is changing and, although I know I still have a way to go, the support that I receive from The Healthy Mummy team really help me stay on track as I am towards my final goal of 60 kg.
Emma Grigson
If you are ready to lose weight then The Healthy Mummy plans offer a healthy and safe exercise and diet routine that are safe if you are breastfeeding and you can use code LOYALTY for a 10% DISCOUNT at the checkout