Finding the time to exercise when you have children can be difficult – and it is only really possible if there are no fixed rules. Having children can derail the best-laid exercise plans, but so can the weather – especially if it is snowing or raining.
If your little ones are sleeping, if they are ill or if the weather is too bad for you to step outside your front door, we can help. We've come up with five exercises that you can do at home with the children around. And if the weather brightens up? You can take these exercises into the garden.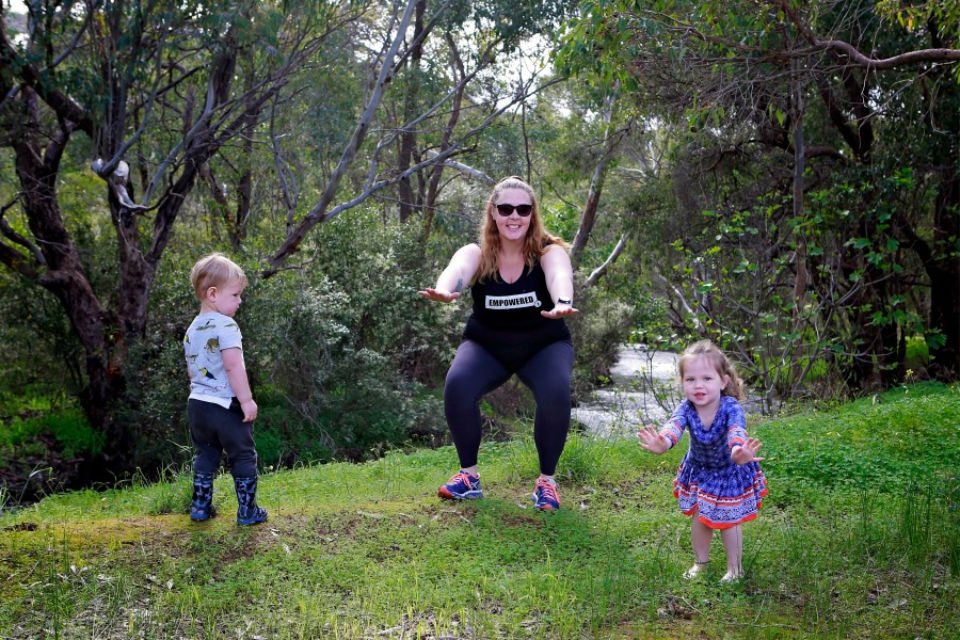 Exercise with kids with these workouts
Dance
Have a dance to your favourite party CD or pop on your children's favourite music and have a boogie together. Dancing is one of the most fun exercises to do – and if you get your arms involved, it's a great all-round exercise. If your children join in, it's also a great way to bond with them.
Set Up an Exercise Circuit                                                                                                                                                  
An easy peasy exercise for you to do at home, an exercise circuit basically involves doing lots of small exercises in a small amount of time, then repeating the process. Work out which areas of your body you want to target and then write down 10 exercises to target those areas, such as weights, leg lifts and squats. Do each of those exercises for 1 minute each, then repeat the circuit three times. The great thing about this exercise is that you can easily stop halfway through and come back to it later.
Use Equipment
Home gym equipment is an excellent way to exercise and if you can afford it, they are incredibly useful as you can hop on them or use them at any time of the day or night, meaning that you can fit your exercise around your children. Exercise bikes, cross trainers and air walkers are good all-round pieces of equipment, but you can use weights, fitness balls, a skipping rope, a fitness game such as the Wii Fit or even simple resistance bands.
Use the Stairs
If you have stairs at your house, use them! They are a great tool – running up and down the stairs will get your heart rate up and your blood pumping.  Run up and down the stairs multiple times to burn off the calories, or use running up and down the stairs for 1 minute as one of your circuit exercises. You could also use the bottom 3 stairs – run up and down them as quickly as possible for a quick calorie burn. You could also do step-ups off the 2nd or 3rd step – this will work your thighs and bottom.
So How Many Calories Could I Burn?
On average, for a person weighing 70kg, during 30 minutes of exercise you can burn off:
Moderate cycling: 280 calories
Dancing: 158 calories
Circuit training: 280 calories
Aerobics: 210 calories
Yoga: 140 calories
Moderate weight lifting: 105 calories
There are so many exercises that you can easily do at home, you have no excuse not to do it! If you like, you can do only a little exercise, or you can do a lot. It's entirely up to you!
If you are ready to lose weight then The Healthy Mummy plans offer a healthy and safe exercise and diet routine that are safe if you are breastfeeding.
And don't forget to check out our current promotions and discounts page to see what specials we have on this week on our Healthy Mummy product range