While yoghurt may seem like a healthier option than ice cream, a recent analysis on some of the country's favourite yoghurts has revealed that many may have just as much sugar (if not more).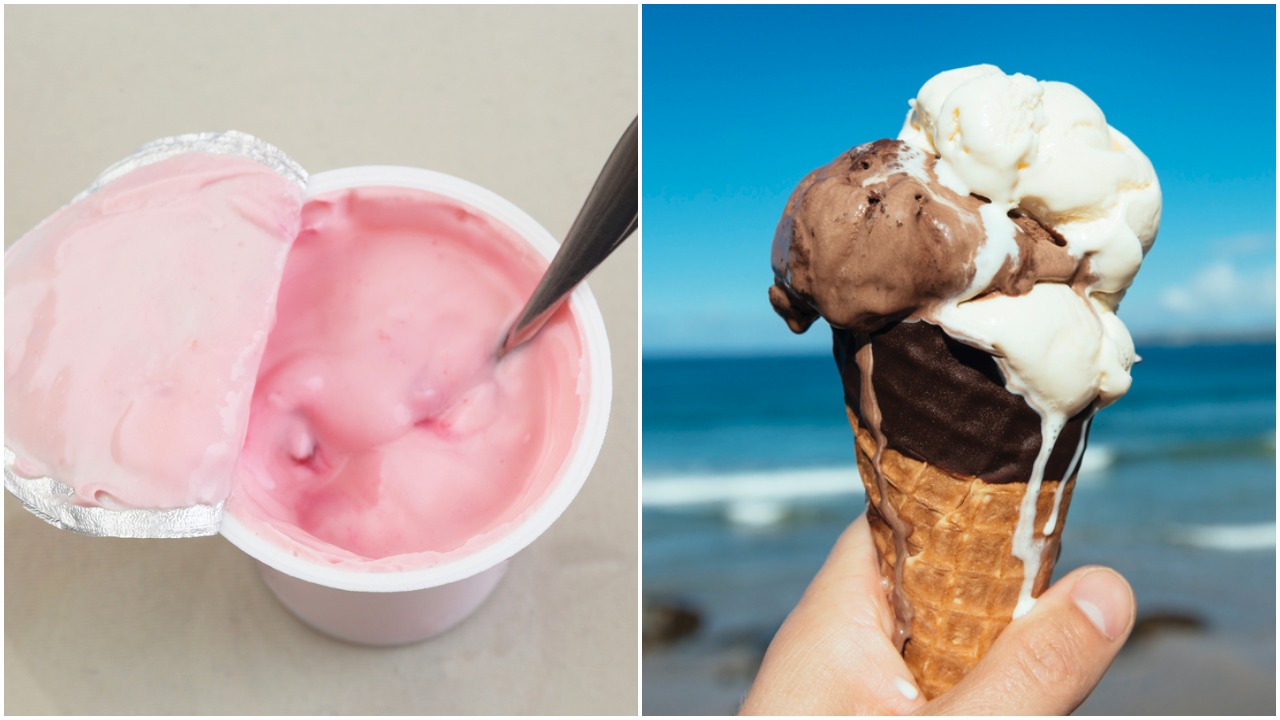 Yoghurt Has HOW Much Sugar?
In a campaign for Livelighter, run by Cancer Council Victoria and the Heart Foundation, 197 flavoured yoghurts were analysed – including 55 children's yoghurts – from Coles and Woolworths.
Results showed that 55 per cent of these yoghurts had more than 12 grams of sugar per 100 grams in them.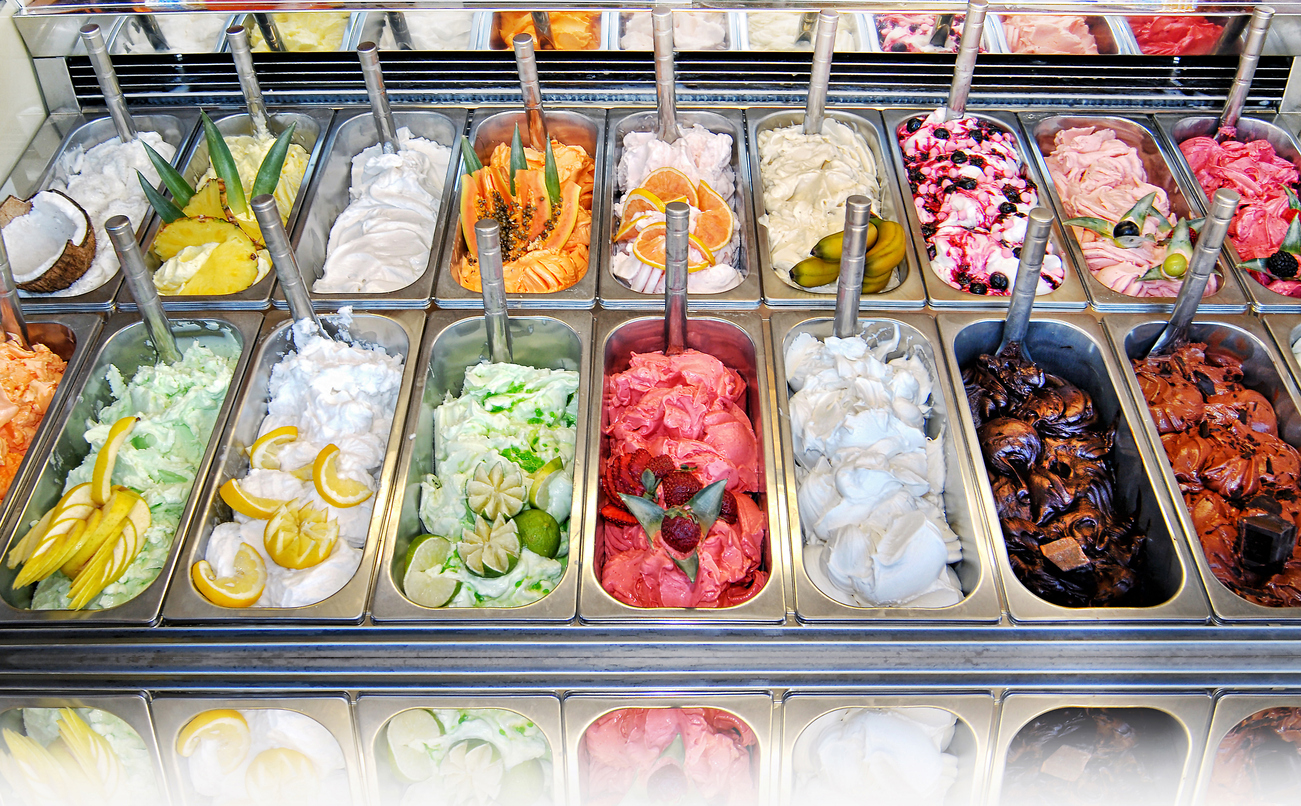 In a media release, the World Health Organisation (WHO) suggests adults and children reduce their daily intake of free sugars to less than 10% of their total energy intake.
A further reduction to below 5% or roughly 25 grams (6 teaspoons) per day would provide additional health benefits.
With the Livelighter campaign in mind, half of the tested yoghurts account for nearly HALF of your daily recommended intake of sugar.
10 Most Sugary Yoghurts From The Data: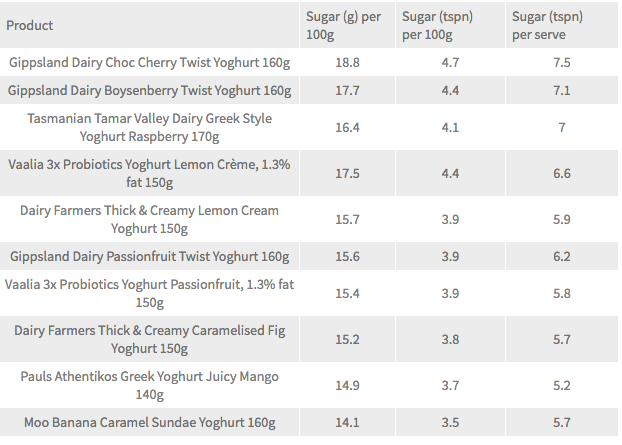 Gippsland Dairy's Choc Cherry Twist Yoghurt was found to have 4.7 teaspoons of sugar per 100 gram, while Gippsland Dairy Boysenberry Twist Yoghurt has 4.4 teaspoons of sugar.
Tasmanian Tamar Valley Dairy Greek Style Yoghurt Raspberry contains 4.1 teaspoons of sugar per 100 grams and Vaalia 3x Probiotics Lemon Creme Youghurt has around 3.9 teaspoons of sugar per 100 grams.
A spokeswoman for Danon, whose Danone Ultimate Greek yoghurt also performed poorly on the study, says many of their products are considered a treat.
"Danone Ultimate Greek yoghurt offers an alternative to packages desserts, with 4.2 teaspoons in each 125-gram serve, which is significantly lower in sugar than many of the desserts and ice creams on the market," the spokesperson told the Sydney Morning Herald.
Following the research, many dieticians are urging people to treat some yoghurts as a dessert-treat as opposed to a healthy snack.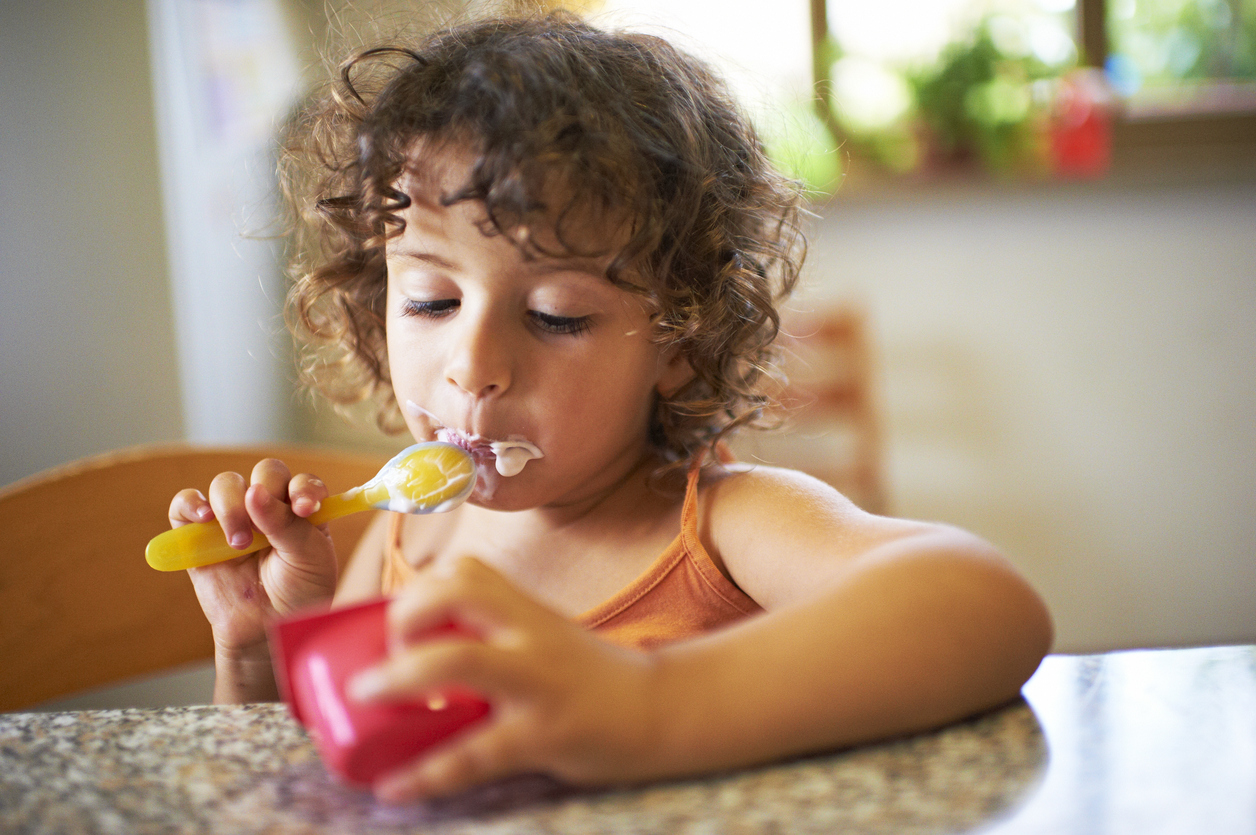 "Our research has found that some manufacturers are turning yoghurt — which is a healthy food — into a dessert by adding excessive amounts of sugar or cream.
"Some yoghurts contain a whopping 7.5 teaspoons of sugar in just one small 160g tub, or 4.5 teaspoons of sugar per 100g, which is almost as much sugar as ice cream 2, while other yoghurts contained added cream," says Alison McAleese, manager of the Livelighter public health campaign.
"What's more, manufacturers are promoting these yoghurts as low in fat, diet, natural and high in probiotics, so it can be really confusing for shoppers to know which ones are genuinely good and which are desserts in disguise."
This comes as state and federal  health ministers are planning to discuss sugar labelling on Friday at the Forum of Food regulation meeting.
"At the moment you have to be a food scientist to identify added sugars in processed foods," says Katinka Day, who is from consumer advocacy group Choice.
The study found that yoghurts which have less sugar than the others are: Rokeby Farms whole protein Swedish style quark yoghurt coconut, which only has 2.8 teaspoons of sugar per 170g tub and Ski DLite real yoghurt has 3.4 teaspoons of sugar in a 150g tub.
Who would've thought so many yoghurts contained so much sugar?! We'll definitely be more aware of yoghurt food labels in the future as we plan our healthy snacks snacks. Here's our guide to which plain yoghurt is the best.
Meanwhile, here are five 'healthy foods' that contain more sugar than a Tim Tam. If you liked this blog, be sure to check out 5 Types Of Baby Food Without Added Sugar.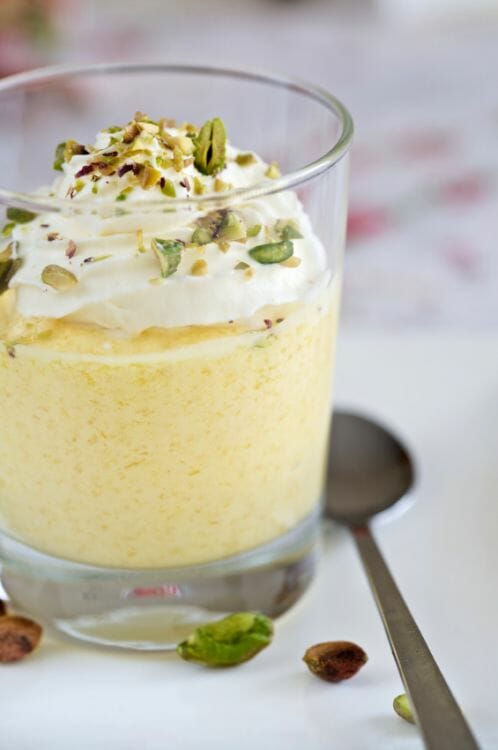 Try our low-calorie Mango Yoghurt Pudding for a yummy dessert.
How To Detox From Sugar
Reducing your added sugar intake is one of the FASTEST ways to lose tummy fat, reduce calories,increase energy, improve your skin and lose excess kilos.
But today, there are added sugars EVERYWHERE and we can be addicted to the white stuff.
BUT never fear – we run SUGAR DETOX Challenges that run for 28 Days and the next SUGAR DETOX starts THIS MONDAY so if sugar is your issue and you need to detox – get the mega deal here.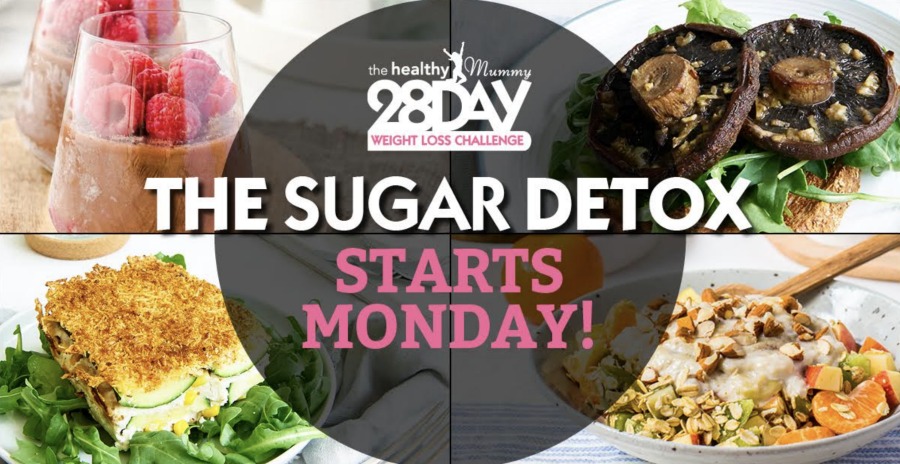 Be INSPIRED By Mums Who Have Reached Their Goals
1.Rae Willingham

Mum of three children young children, Rae, has overcome negative self belief in the face of  some very big obstacles. After losing 25kgs* and maintaining her goal weight with The Healthy Mummy 28 Day Weight Loss challenges she says:
"I am no longer the girl who suffered debilitating anxiety and regular panic attacks. The one full of excuses not to go out and enjoy life. I am now this amazing butterfly who loves her life and lives it with no worries (well far fewer, I am still a woman after all!)".
2. Jo Hart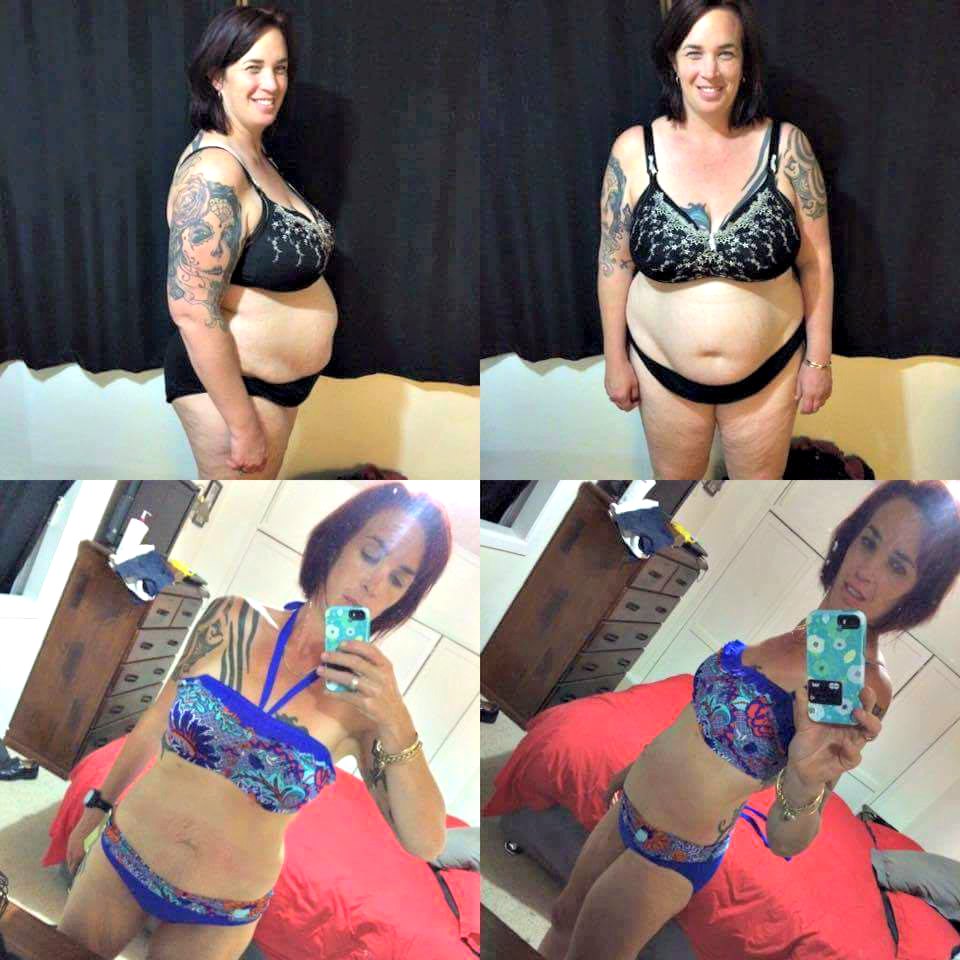 Jo Hart not only rocks her new bikini, she has lost 38kg* with The Healthy Mummy 28 Day Weight Loss Challenges.
She says:  "I am proud of the change I have made for not only me but for my family too".
3. Renee Harrison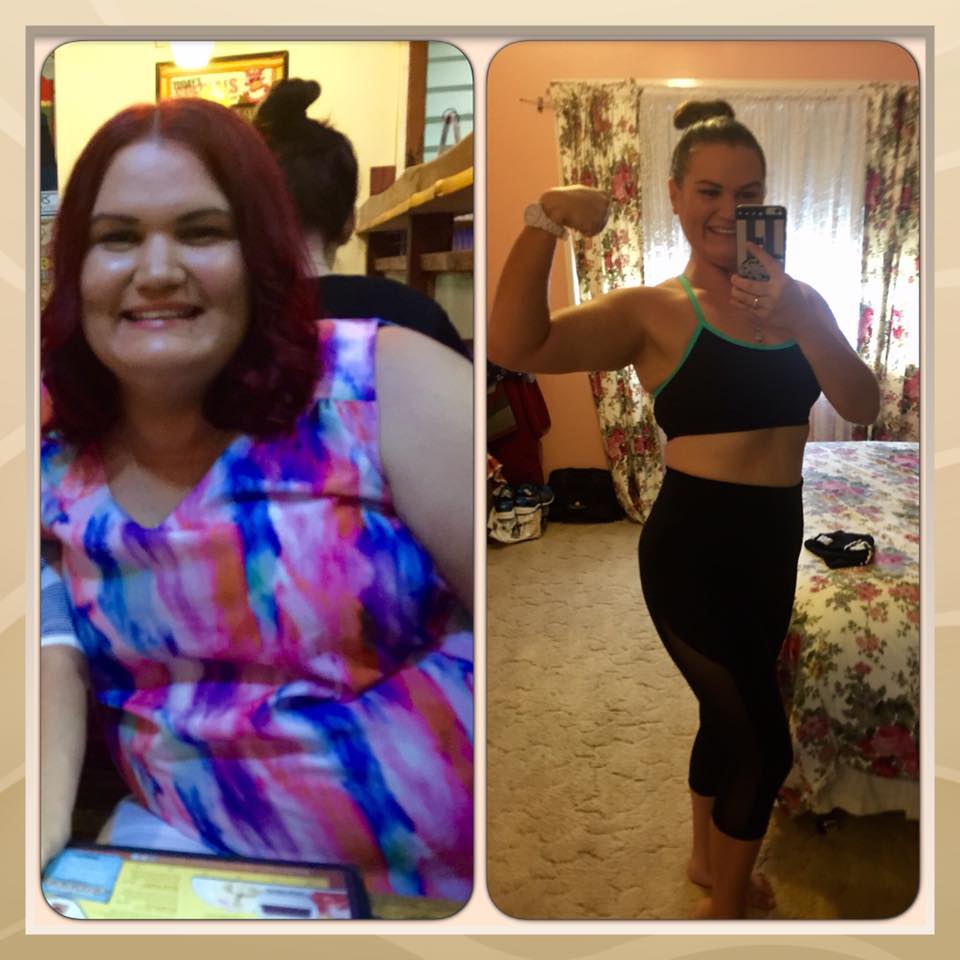 Mum Renee, from Central Queensland, has overcome depression and anxiety stemming from an abusive relationship and transformed her body losing 41kgs* (from 115kgs to 74kgs) with The Healthy Mummy Smoothies, free snack recipes and portion controlled high protein meals.
She says: "previously I lived day by day, but now I embrace life as it were my last day on the earth!".
4. Elle Temple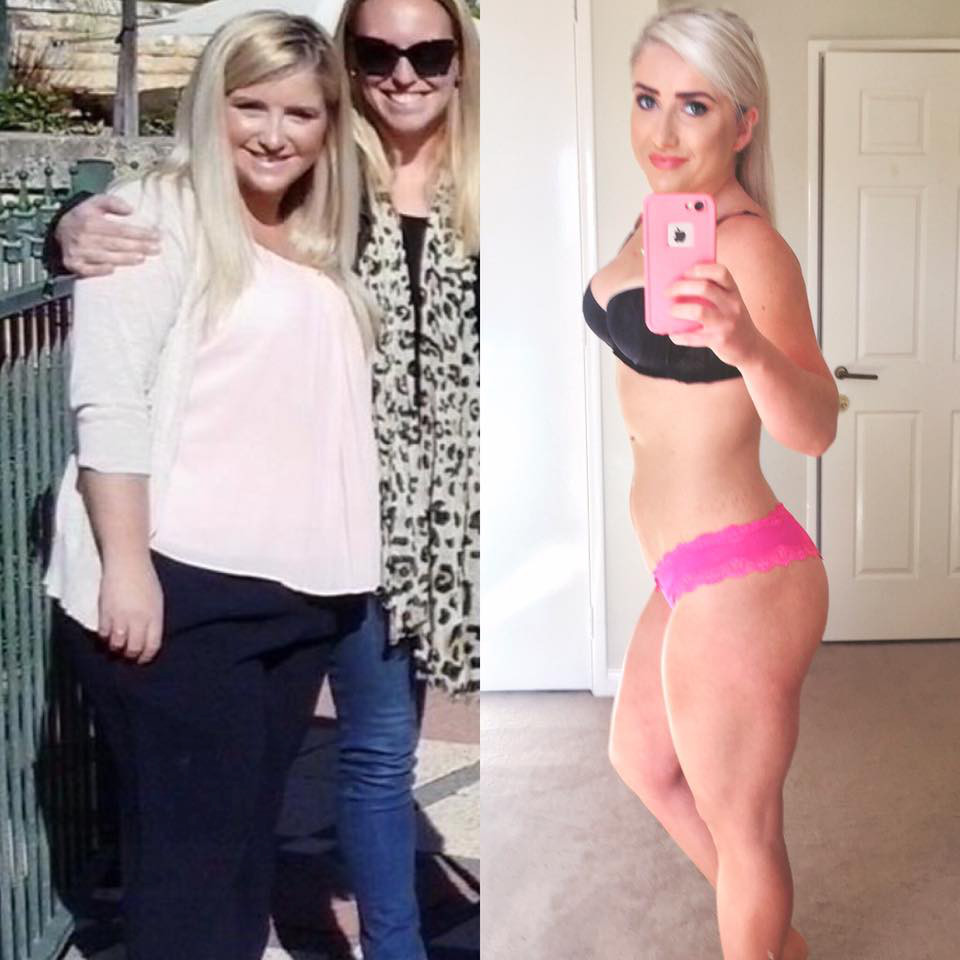 Smashing her weight loss goal of 25kgs* (from 83.6kg to 58.6kg) with The Healthy Mummy 28 day weight loss program, Elle now focuses on toning up.  Elle says
"today I am thankful that I am no longer afraid of having photos taken of me. I love that I have photos to look back on and am proud of how far I have come. From being 'obese' and having no energy to tackle my day, to being a healthy weight and being able to spring around with my crazy toddler".
If you want to lose 5kg* by May 28 then come and join over 20,000 other mums on the 28 Day Weight Loss Challenge
PLUS Our BRAND NEW APP is launching this week
Come and join us on the HUGE special offer on here