Inspirational farmer fights multiple brain tumours and crippling drought but never loses hope
Farmer Cathy Noakes has seen a lot of struggle over the last two years but she has not given up and that's why she is an inspiration.
Amongst all the inspirational and amazing responses we received from our recent call-out to our community for farmers in need, there was one farming story that we knew we just had to share and her name is Cathy Noakes.
Cathy has been fighting a battle with the land during this drought but also a battle with not one but two surgeries to remove two separate brain tumours.
Below we share Cathy's inspirational story of survival in the face of adversity, in her own words, and how it has made her an advocate for Brainstorm a brain cancer research charity.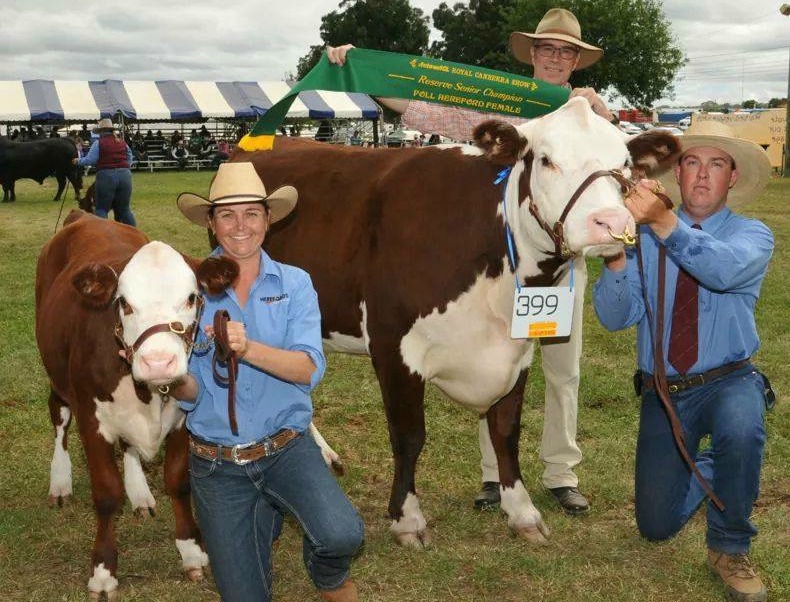 Cathy's fight with two separate brain tumours makes her one inspiring farming mum
"The (above) photo of cattle at a show was Canberra Royal Show 2016 the only time I have taken cattle and got reserve female champion, this was just before I got diagnosed with my first brain tumour."
"I had been having extreme pain in my neck all the time and had been going to doctor and physio for years when I finally made the choice something was very wrong. I booked myself in for an MRI."
"The initial report was a rare cancerous tumour that was 5.5 x 6.5 x 3cm, so a very large and very wrapped around and attached tumour. It had lifted my brain, wrapped around my carotid artery, my left eye and attached to my eye for its blood supply."
"I was told that I would have surgery to remove what was possible and then have to go to Switzerland for treatment. I was lucky enough to get an appointment with my surgeon Dr Brindha Shivalingham, one of Australia's leading neurosurgeons, who instantly thought that the initial diagnosis was wrong. She thought that in fact, it was a very large, overgrown and extremely unusual looking and behaving pituitary tumour. Thankfully Brindha was right and she has been amazing by me and I have absolute confidence in her. This is why I have made sure I can do everything I can to fundraise for her research team Brainstorm."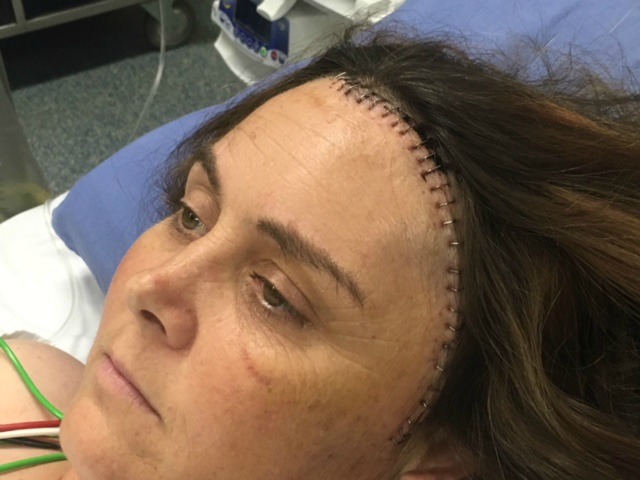 "I had a lot of complications after surgery due to the tumour attaching itself to my brain sack which tore during surgery (it never showed up on scans that it had tapped into it). A few days after surgery my brain fluid leaked out of my nose as the repair let go which resulted in me getting meningitis. I spent two weeks in intensive care and was critically ill."
"At my 12-month check up to see if the part of the tumour they couldn't remove had grown a new tumour was discovered, it had nothing to do with my first tumour, not even the same type which is extremely rare."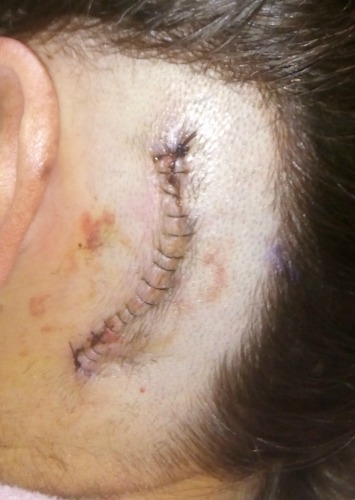 "With my second surgery, photo above, three months ago it has so far been 27 months from diagnosis filled with scans, meetings, biopsies and surgeries which has meant I have spent over 18 months unable to work. My recovery from this surgery is coming along well, I have good and not so good days as can be expected and get very tired. The emotional toll is a bit harder, trying to live a life scan by scan is a bit hard to get used to especially considering so far it has been one checkup and one new tumour."
On a more positive note, Cathy says that: "I have raised, between raffles, cutting and selling firewood and the event Going Country For Brainstorm, about $50,000 for Brainstorm. I am extremely great full for what my surgeon Brindha has done for me & the care she has given me, I will continue to raise funds as I get more ideas on different ways I can do so."
If you would like to help drought-affected farmers like Cathy you can donate to Drought Angels or support all the amazing research being done into brain tumours donate to Brainstorm.
Read more about Cathy's fight to survive one of Australia's worst droughts.