57 healthy meals for just $135 – Meal Prep For Pregnant Fiona Falkiner
Healthy Mummy founder Rhian Allen has cooked up an absolute storm in an amazing healthy meal prep session for the gorgeous and heavily pregnant Fiona Falkiner!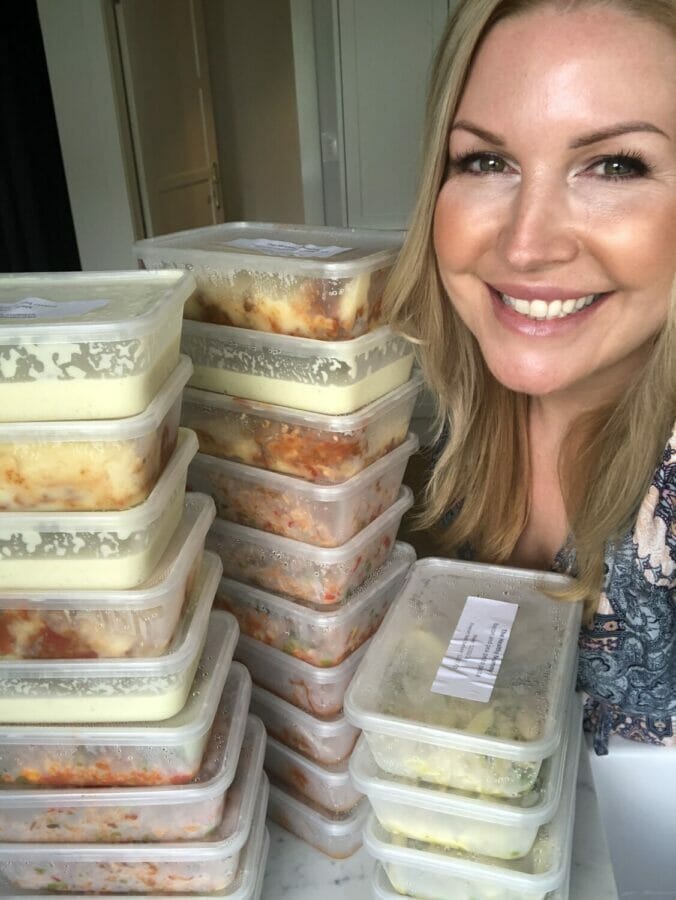 Rhian is a healthy meal prep expert and has meal prepped 57 healthy main meals for Fiona's freezer, in preparation for the arrival of Fiona's first baby in just three weeks' time!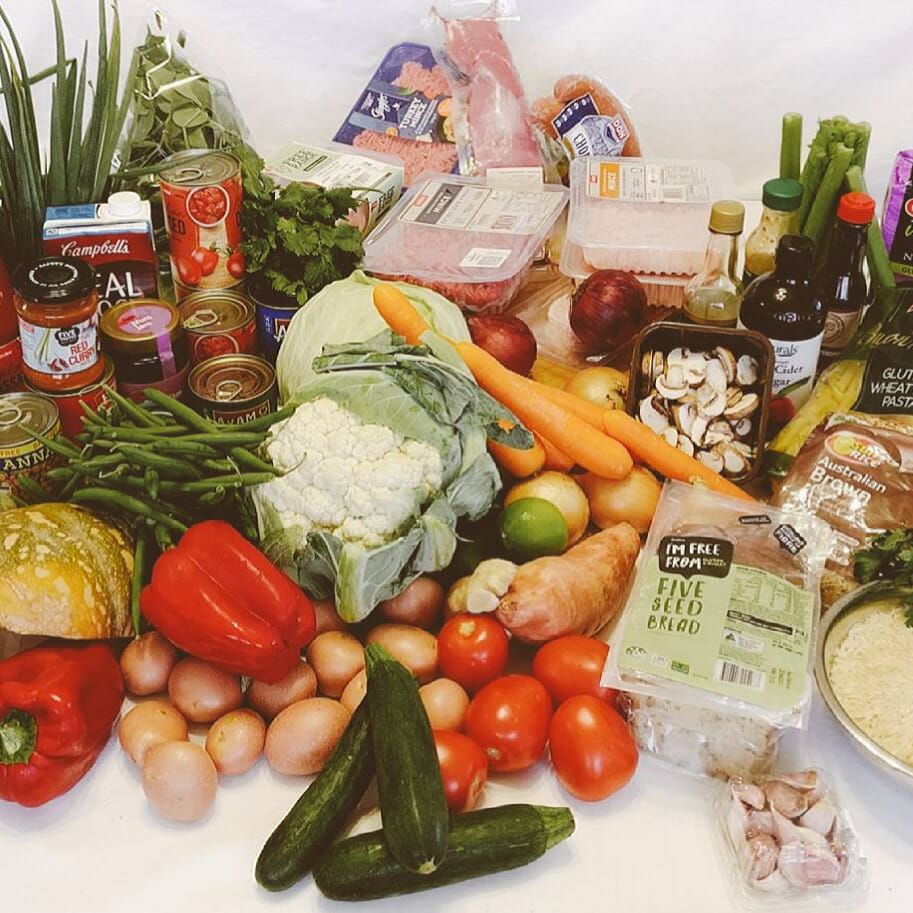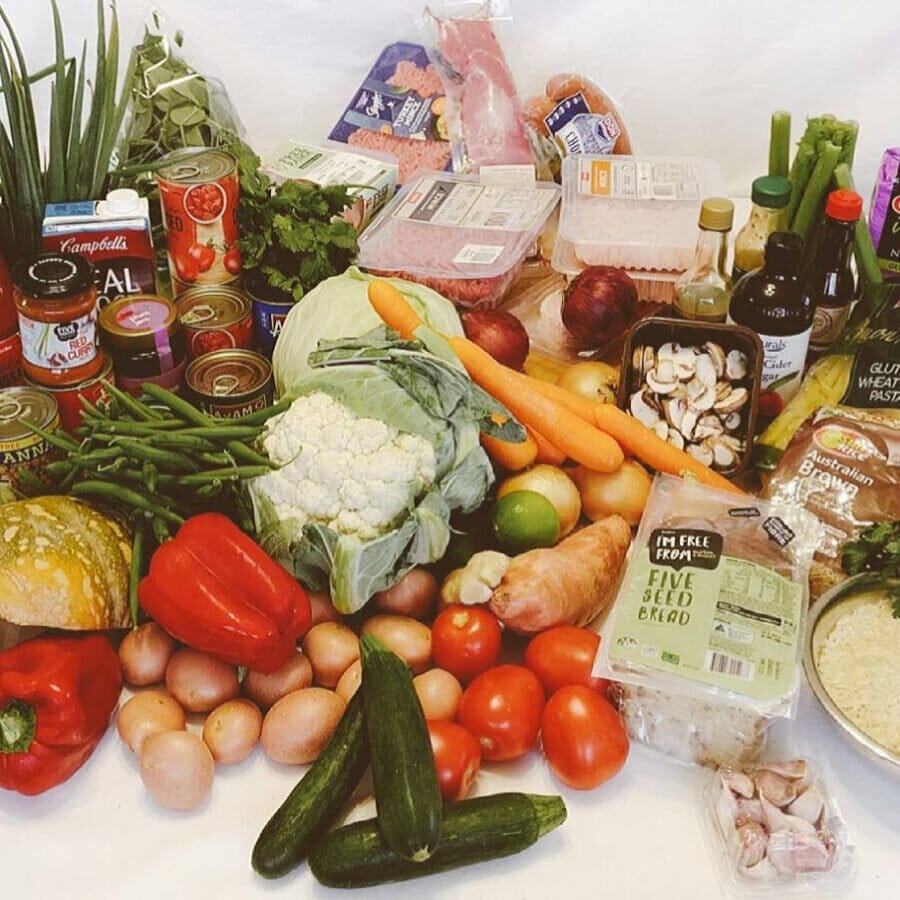 What's more, everything cost just $135 plus it's all dairy and gluten-free and all recipes are from The Healthy Mummy app and 28 Day Challenges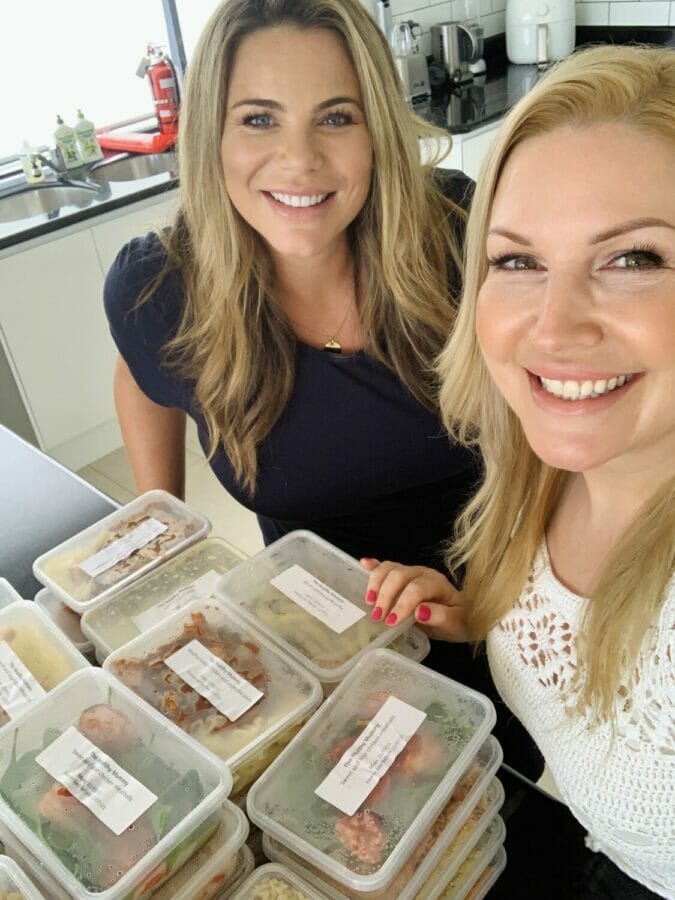 Fiona's Baby Joy!
Fiona is a model and TV presenter and is passionate about empowering women to feel confident in their own bodies.
Now, as she prepares to welcome her firstborn son with fiance Hayley Willis, she is super excited to have some Healthy Mummy meals for the freezer.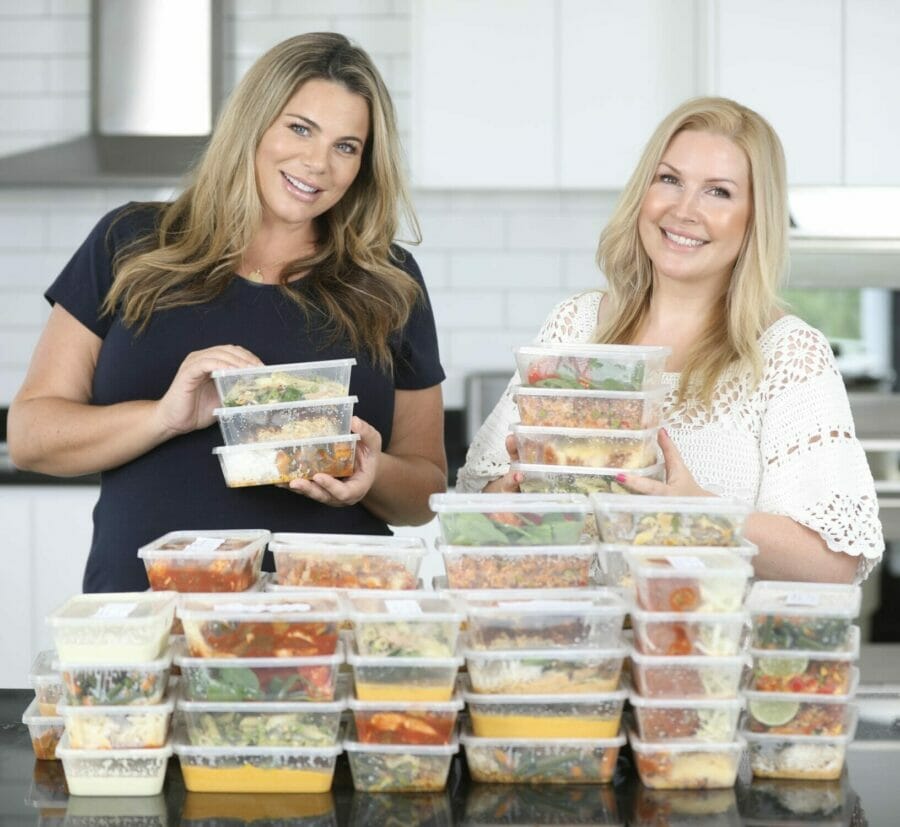 Fiona is getting married to Hayley in October this year and when she is ready, is looking forward to focusing on her fitness in preparation for her big day.

The Amazing Healthy Meal Prep and Recipes
Adjusting to life with a new baby can be pretty overwhelming, especially in the first few weeks. For Fiona, knowing she doesn't have to think or worry about cooking is a huge bonus,  and was over the moon about this amazing meal prep and the prospect of having all these go-to healthy meals!
Fiona says, 'I feel so spoiled!'
I had been literally thinking, 'how am I going to do this!' When you're so tired the last thing you want to do is worry about going to the shops or cooking.
This is just so incredible. The food looks amazing, I can't wait to eat it. I'll have to hold Haley back – NOT YET!"
The good news is, this sort of healthy meal prep doesn't have to cost the earth! Rhian spent just $135 on all of this food that made 57 main meals!!

What did Rhian meal prep for Fiona?
All of these healthy meal prep recipes come straight from the Healthy Mummy's 28 Day Weight Loss Challenge and are super popular in the Healthy Mummy community.
They're all budget and family-friendly, plus as Fiona's partner is gluten and diary-free, all these recipes tick that box too. They are perfect recipes to cook in bulk for the freezer.
See all the meals and get some of the recipes below!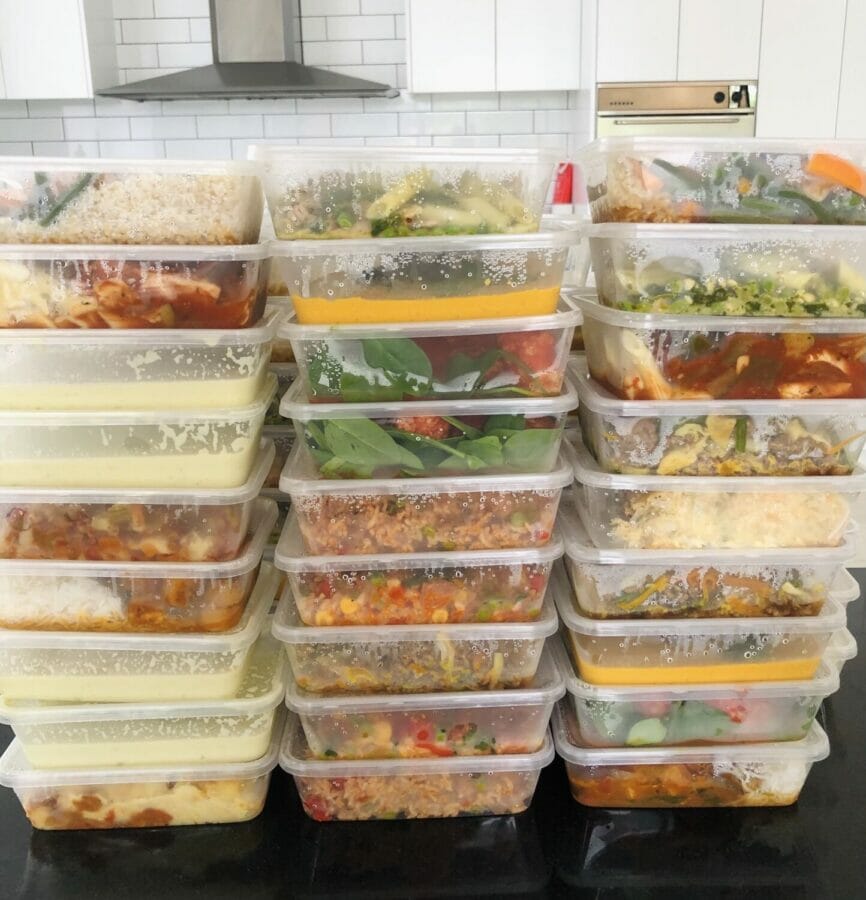 5 x Slow Cooker Porcupine Meatballs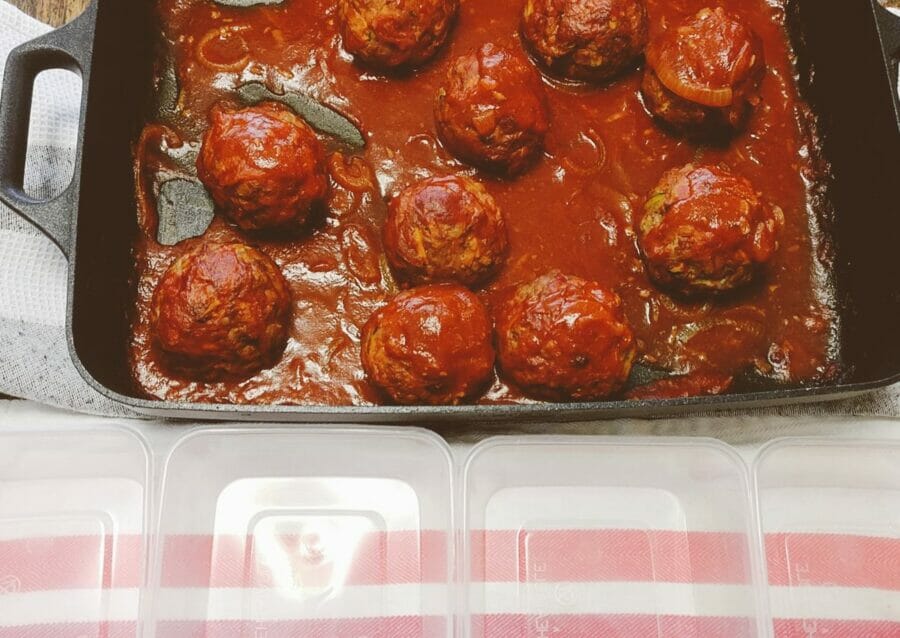 Using different cooking methods and gadgets is a great idea when meal prepping, especially the slow cooker. This easy meatball recipe is just 225 calls per serve, and only takes 10 minutes to prepare for the slow cooker.
Get the recipe for Slow Cooker Porcupine Meatballs here
4 x Easy Spanish Rice with Chorizo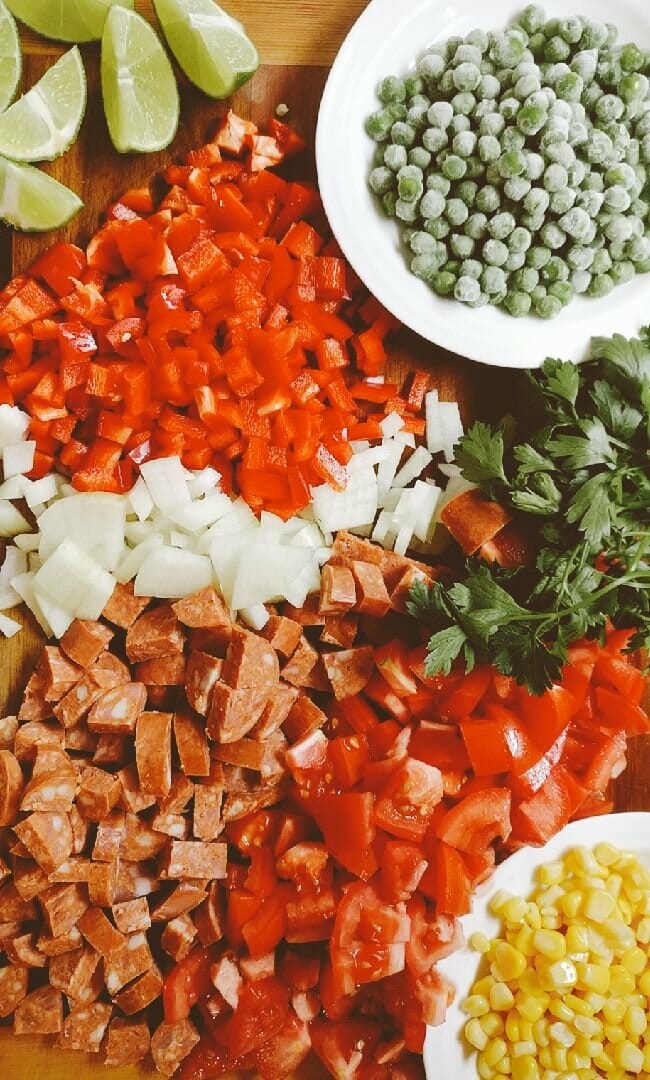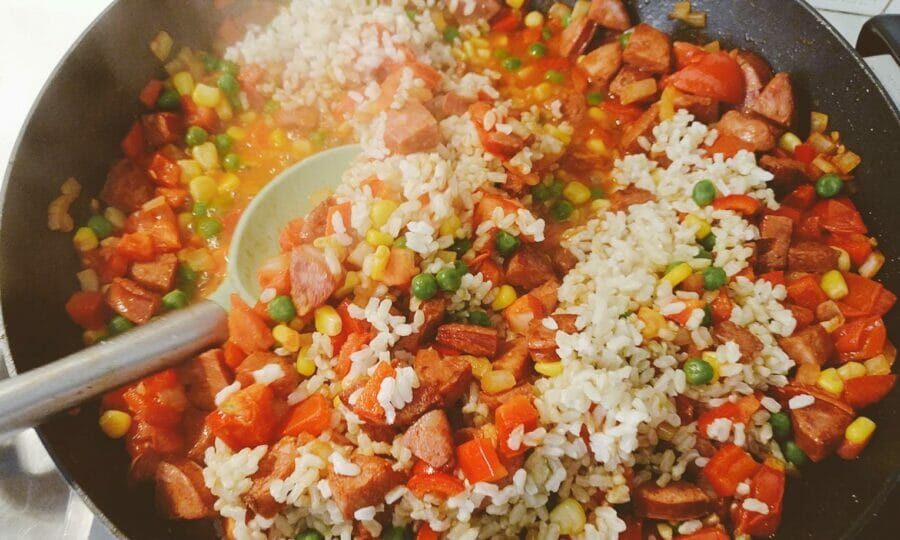 Ingredients
Serves 4
Prep time: 7 mins, Cooking time:15 mins
445 calories per serve
1 cup brown rice, uncooked
2 chorizo sausage, chopped
1 brown onion, diced
1 tsp smoked paprika
4 tomato, diced
1 cup frozen peas
1 cup corn kernels, fresh or tinned
1 red capsicum, diced
1 tablespoon fresh parsley
4 limes
Method
Cook brown rice according to packet instructions.
Place a non-stick fry pan over a medium heat and cook chorizo slices on both sides for approximately 3 minutes until edges are crisp. Transfer to a plate and set aside.
Add onion to the pan and cook for 2 minutes or until it starts to turn golden. Add tomatoes, vegetables and paprika. Toss to combine and cook for 3 minutes or until vegetables are lightly tender.
Add cooked rice and return chorizo to the pan. Toss together and garnish with parsley.
Arrange on serving plate with a wedge of lime.
4 serves Beef Chow Mein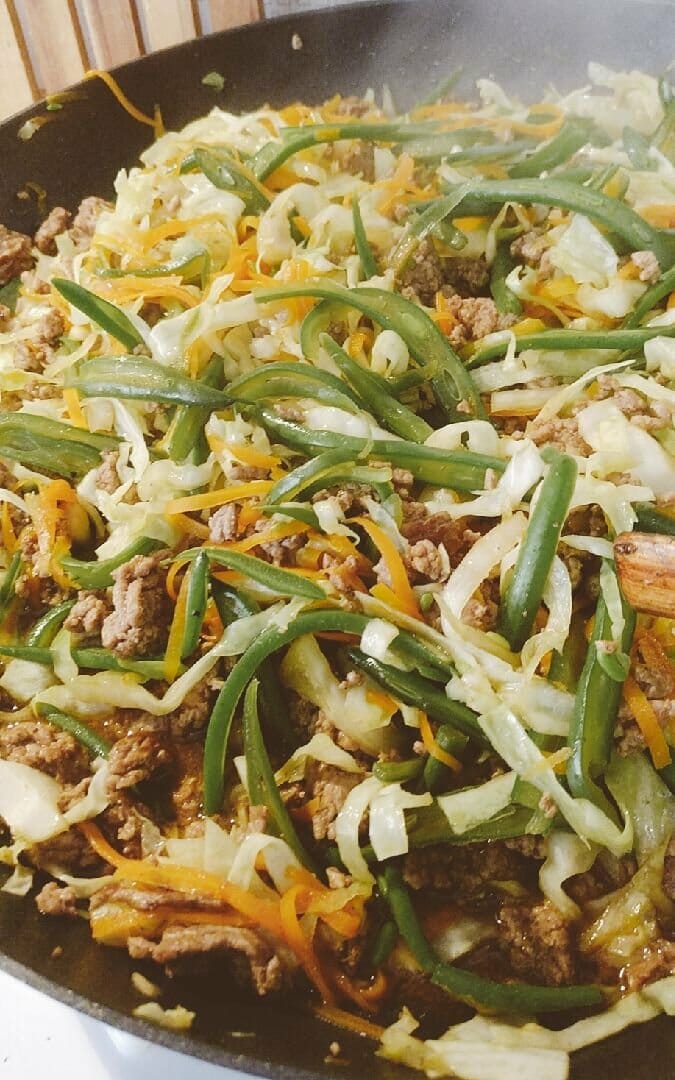 You don't need a takeaway when you've got this in the freezer! Just 445 calories per serve and really easy to make!
Get the recipe for Beef Chow Mein here
4 x Spanish Turkey  Rice Tray Bake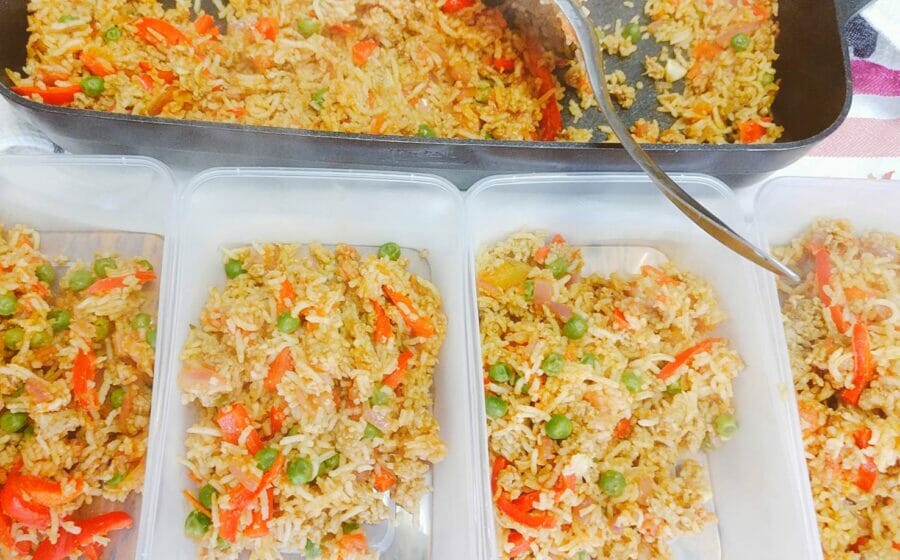 A Spanish-inspired rice traybake recipe that is ideal for the whole family. You could use chicken instead of turkey if you prefer for this recipe. Place everything in one dish and let the oven do all the work.
Ingredients
Serves 4
Prep time 10 minutes, Cooking time 1 hours
396 calories
500 grams lean turkey mince
1 cup basmati rice, uncooked
1 red onion, sliced
2 cloves garlic, thinly sliced
1 red capsicum, thinly sliced
1 cup frozen peas
1/4 tsp chilli powder
1/2 tsp dried oregano
1 tsp sweet paprika
1 tsp ground cumin
400 grams tinned tomatoes
2 cups water
Method
Preheat oven to 180C.
Combine all ingredients together in a deep baking dish.
Cover with foil and place in the oven for an hour, giving it a stir and breaking it up every 15 minutes.
Stir well before dividing between four bowls to serve.
4 x Peanut Pork Curry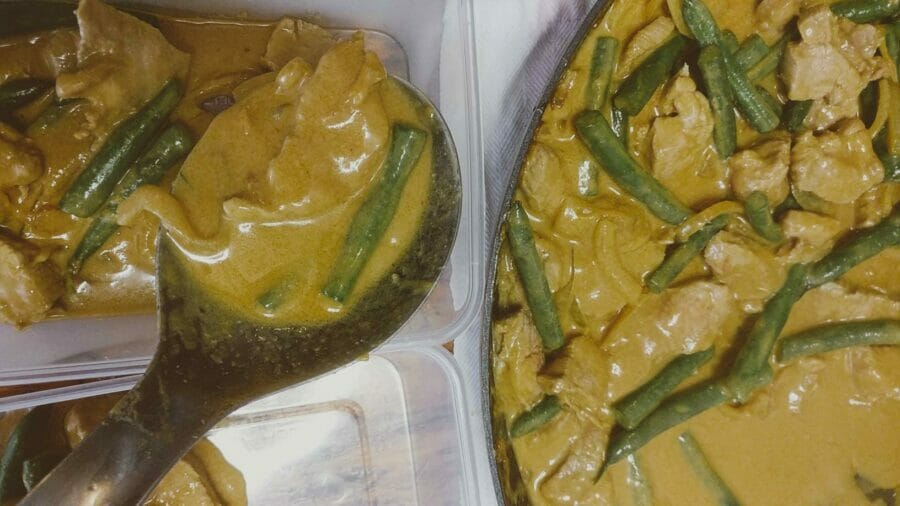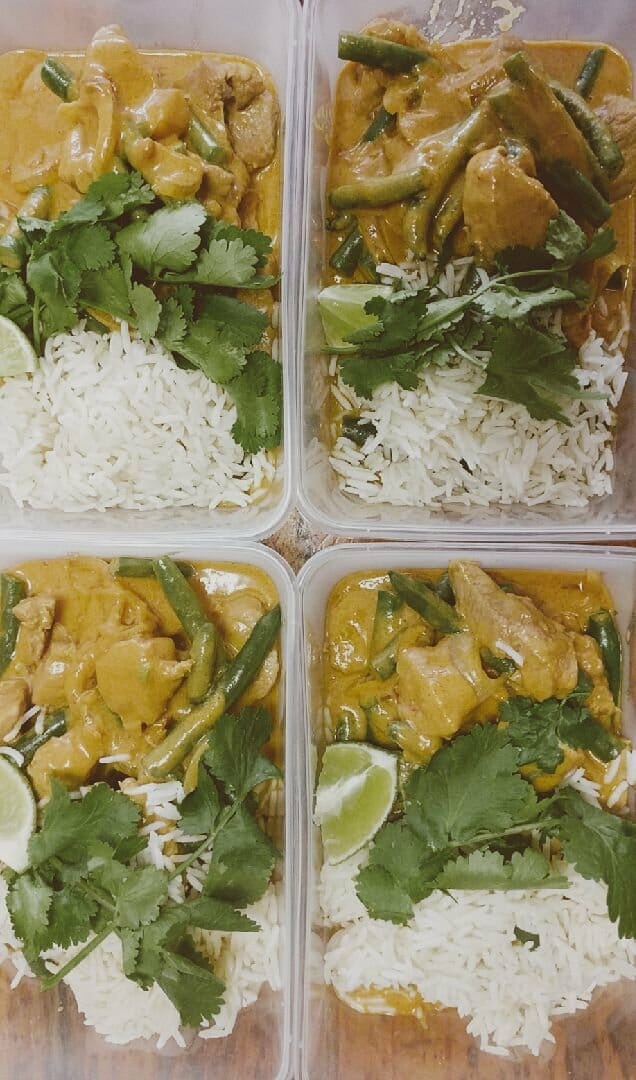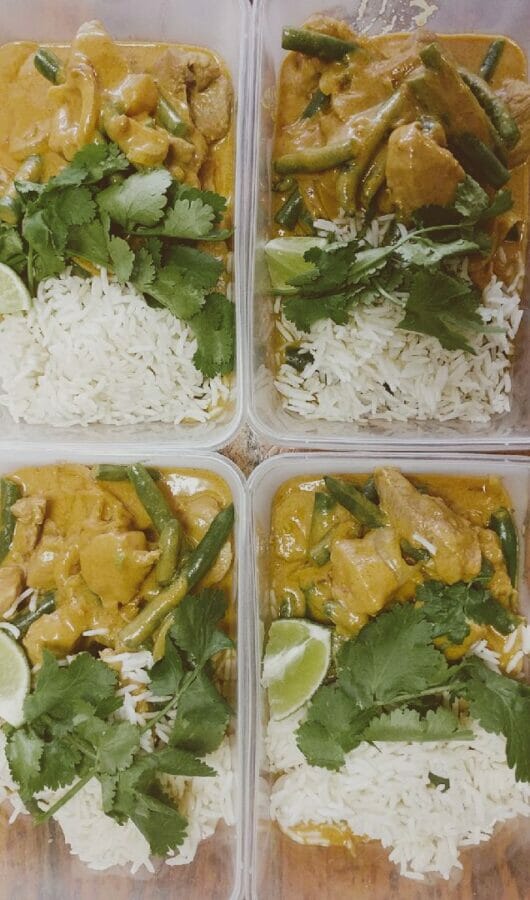 This is a quick and tasty curry full of flavour. Swap the pork for any lean protein you prefer, chicken or beef would work perfectly.
Get the Recipe on the 28 Day Weight Loss Challenge
4 x Red Thai Pumpkin Soup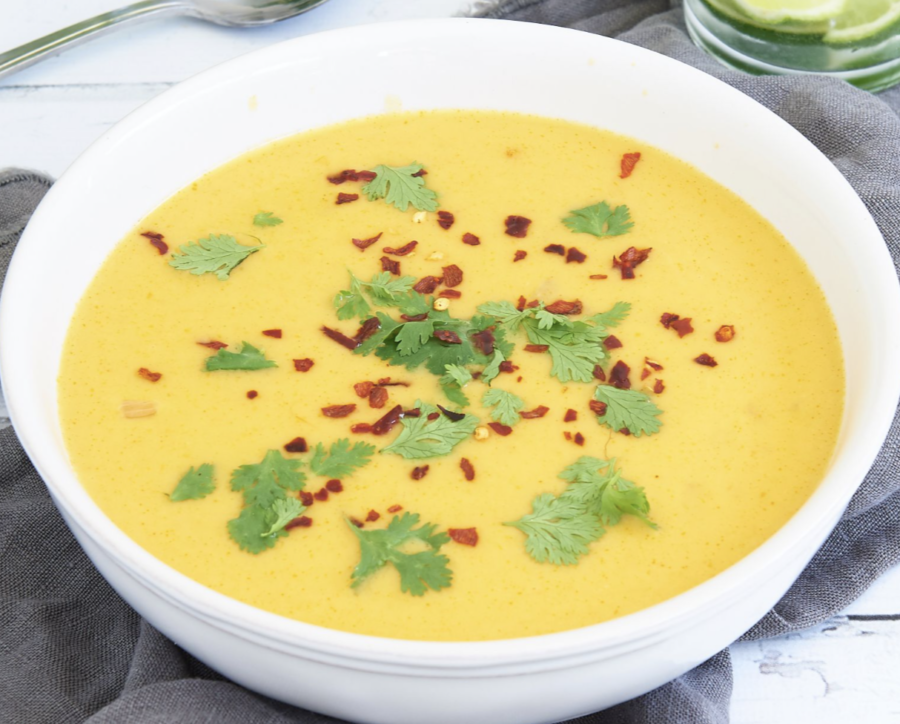 This recipe will take your pumpkin soup to the next level!
Ingredients
Serves 4
Prep time 10 minutes, cooking time 45 minutes
369 calories
6 cups pumpkin, peeled and diced (720 grams) cooking oil spray
1 tbsp red curry paste (16 grams)
1/2 brown onion, finely diced (50 grams)
1 cup coconut cream (240 grams)
1 tsp dried chilli flakes (1 grams)
1/3 cup fresh coriander, chopped (20 grams)
2 cups liquid vegetable stock, salt reduced (500 mls)
Method
Preheat oven to 180C and line a tray with baking paper. Place pumpkin over the tray and lightly spray with cooking oil spray. Roast for 30 minutes or until tender. Place roast pumpkin in a food processor with half of the stock and pulse until mashed and smooth.
In a saucepan over a medium-high heat, add the curry paste and cook for 30 seconds, then add the onion and sauté for a further 30 seconds or until translucent.
Add the remaining stock and coconut cream to the saucepan and simmer. Add pumpkin paste to the pan, slowly stirring through. Simmer for a further 5 minutes.
Serve topped with chilli flakes and coriander.
4 x Curried Sausages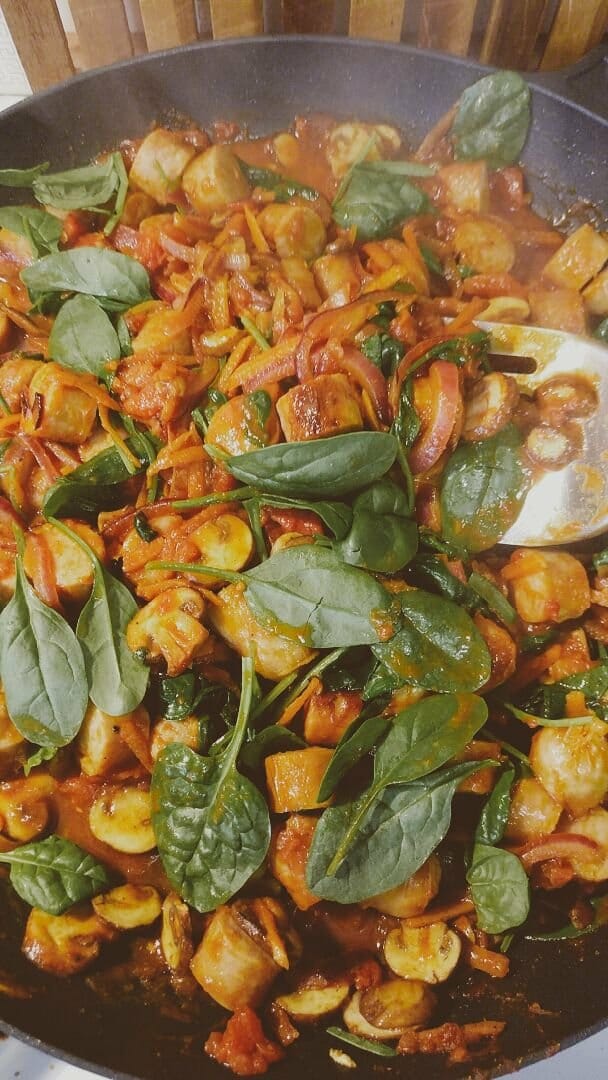 This is the ultimate Budget Recipe! You can't get much cheaper base ingredients than sausages and rice and this recipes comes in at just $1.65 per serve. It packs a flavour punch the whole family will love it!
Get the recipe on the 28 Day Weight Loss Challenge
4 x Thai Chicken Meatloaf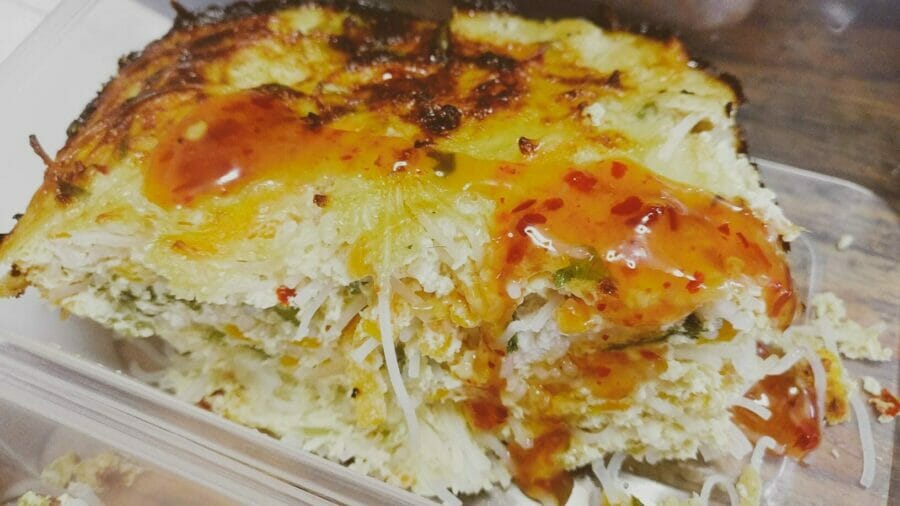 Yum! A twist on traditional meatloaf using chicken mince and Thai flavourings.
4 x Lentil and Vegetable Cottage Pie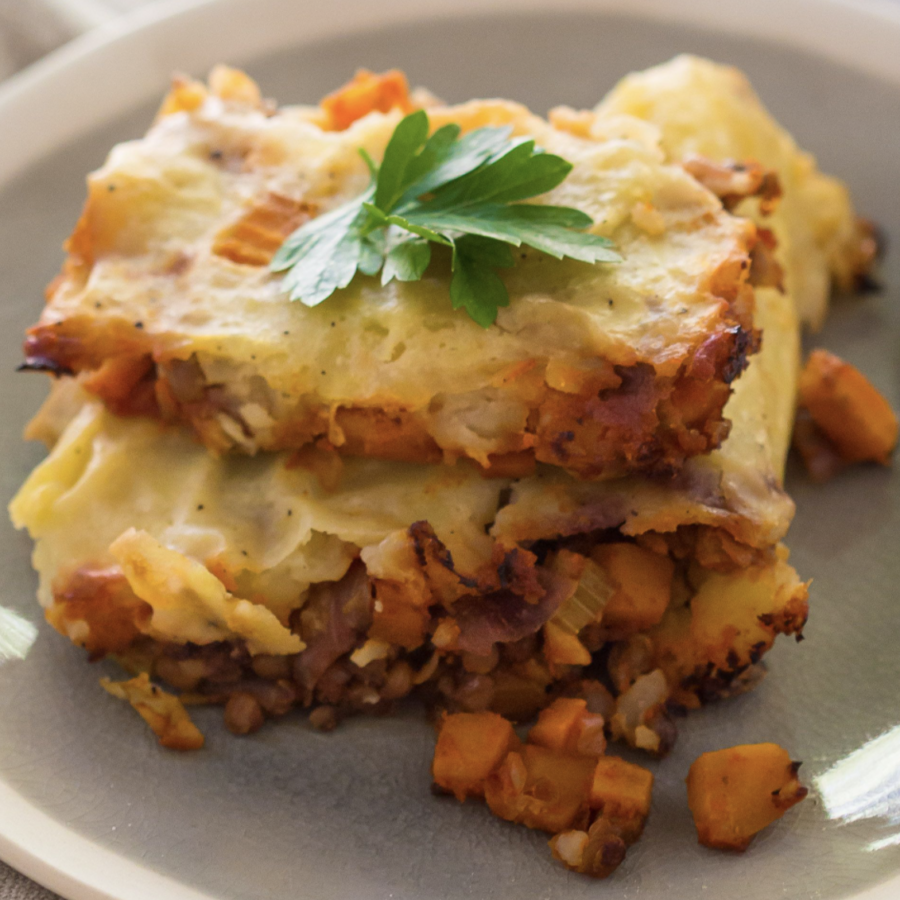 Ingredients
Serves 4
Prep time 10 minutes Cooking time 45 minutes
350 calories per serve
cooking oil spray
2 clove garlic, crushed
1 brown onion, diced
2 medium carrot, diced
2 stalks celery, diced
400 grams tinned brown lentils
400 grams tinned tomatoes
1 tbsp tomato paste
1 cup liquid vegetable stock, salt reduced
4 medium potato, diced
1 cup reduced-fat milk of choice
Method
Lightly spray a saucepan with cooking oil spray over medium-high heat. Add the garlic, onion, carrot and celery and sauté for 3 minutes until tender.
Add the lentils, tinned tomatoes, tomato paste and stock. Simmer for 15 minutes or until the sauce has thickened.
While the sauce is cooking, steam the potato in the microwave or on the stovetop until very tender. Add the milk and season with salt and pepper. Mash.
Preheat the oven to 180C.
Place the lentil and vegetable mix into a baking dish and top with the mashed potato.
Bake for 30 minutes or until the potato is golden and crunchy on top, serve.
4 x Bacon & Pea Pesto Pasta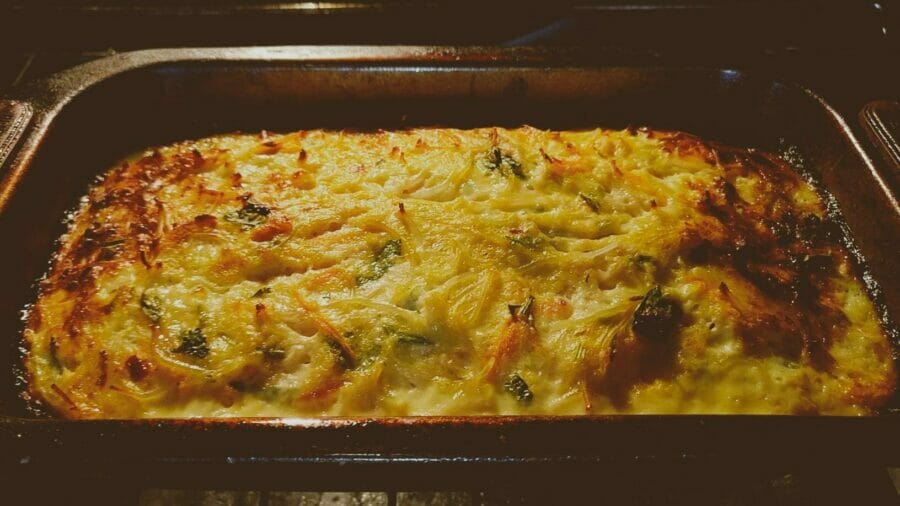 This recipe only has 5 ingredients and is super tasty!
Get the recipe from the 28 Day Weight Loss Challenge
4 x Mediterranean Chicken & Vegetable Pasta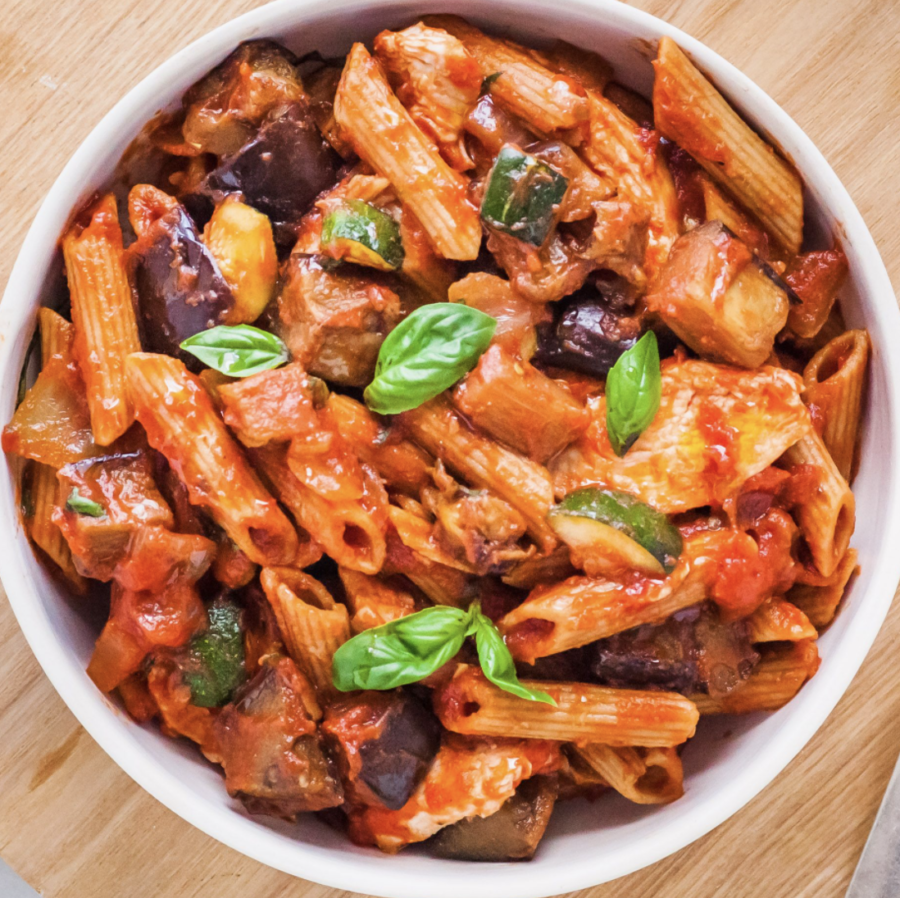 Ingredients
Serves 4
Prep time 5 minutes, Cooking time 15 minutes
425 calories per serve
160 grams wholemeal pasta, any shape 1 tbsp extra virgin olive oil
560 grams chicken breast fillets
salt
pepper
1 brown onion, diced
1 eggplant, diced
2 small zucchini, diced
1 cup tomato passata
1/3 cup fresh basil leaves, chopped
4 clove garlic, crushed
1 tsp dried chilli flakes
1 tbsp dried Italian herbs
Method
Prepare pasta according to packet directions until al dente.
While pasta is cooking, heat the oil in a frying pan over medium-high heat. Season the chicken with salt and pepper and cook in the pan for 4-5 minutes on each side or until cooked through. Remove from the pan and set aside to rest. Add the onion, garlic, eggplant and zucchini to the pan and cook for 4-5 minutes or until tender.
Add the passata, chilli flakes, dried herbs and fresh basil to the pan and combine well with the vegetables. Season with salt and pepper.
Slice the chicken and add to the vegetable sauce with the cooked pasta. Toss well to combine and serve.
4 x Sweet and Sour Meatballs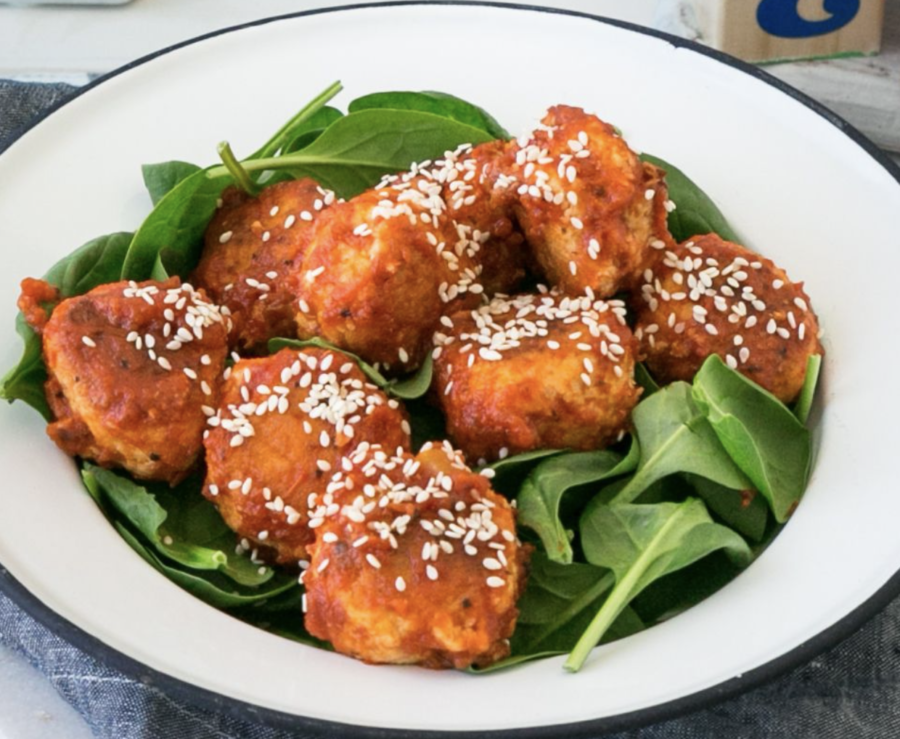 This is a great recipe to freeze!
4 x Sticky Chicken Drumsticks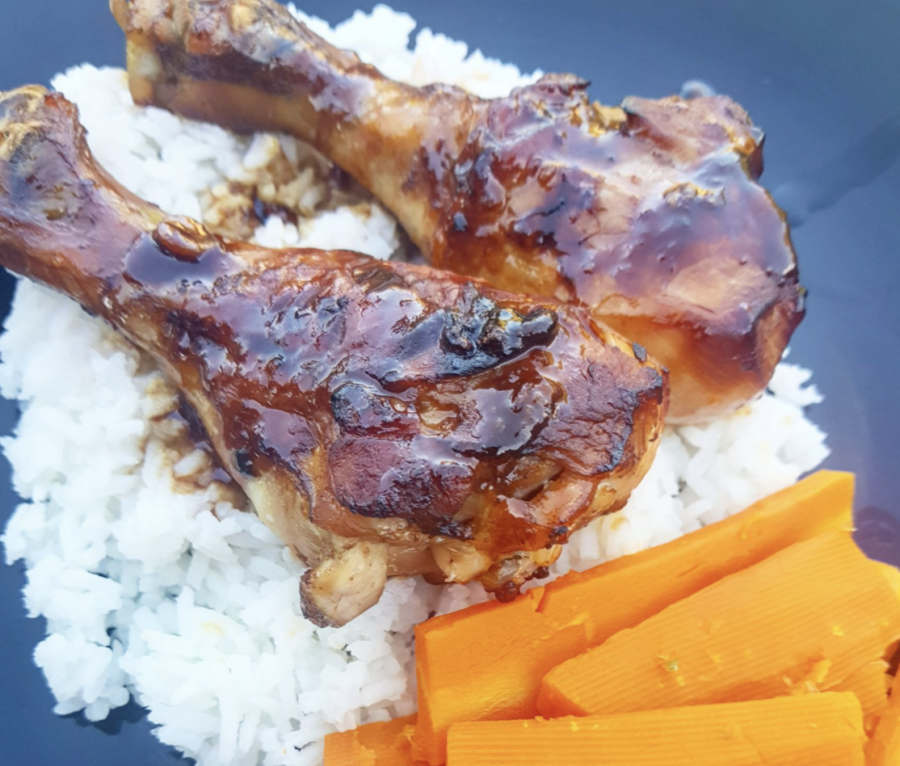 Get the Recipe on 28 Day Weight Loss Challenge
4 x Creamy Corn Soup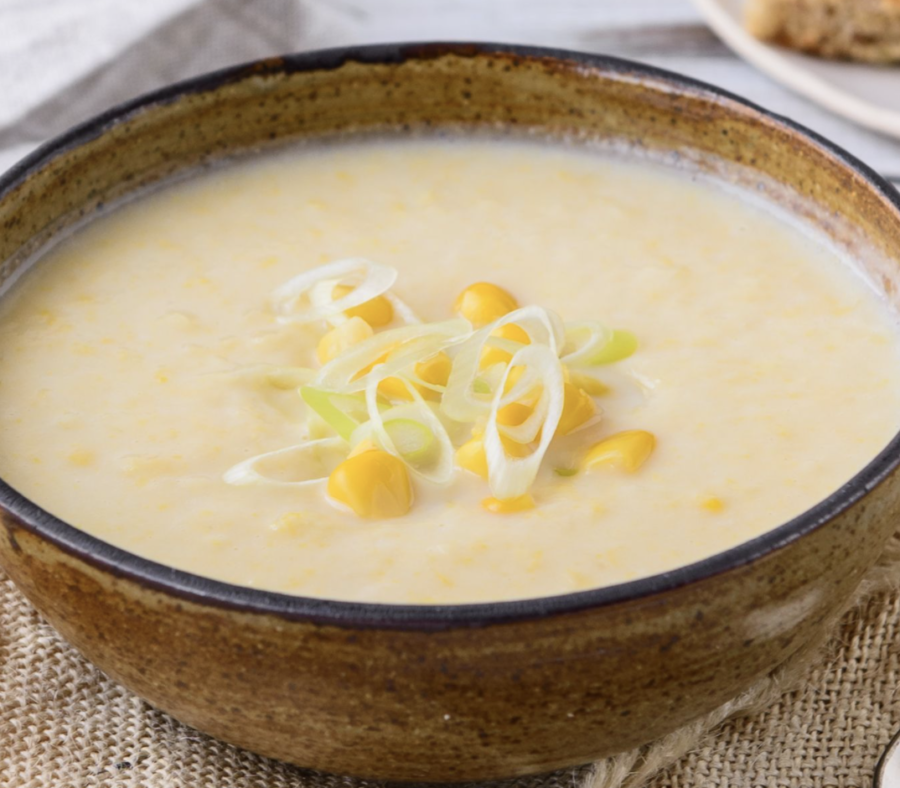 Get the Recipe on the 28 Day Weight Loss Challenge
Ingredients you'll need
Want to fill your freezer with these healthy recipes?  Have a look at all the ingredients you'll need to make these recipes from Rhian's Meal Prep.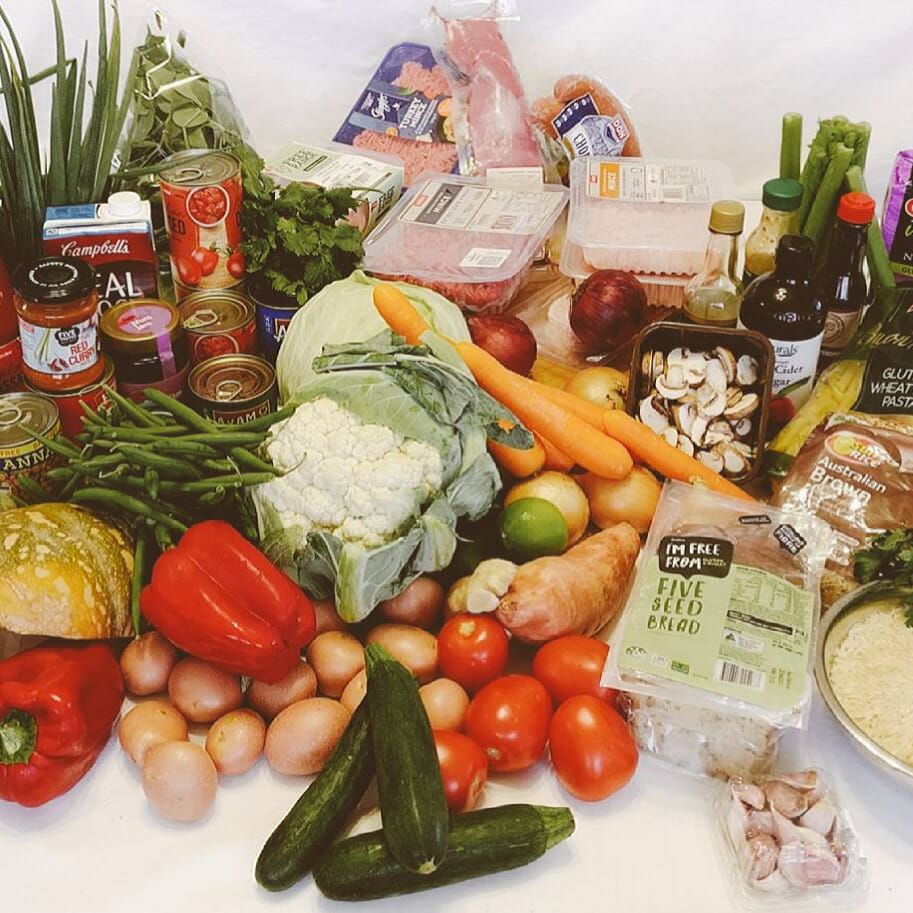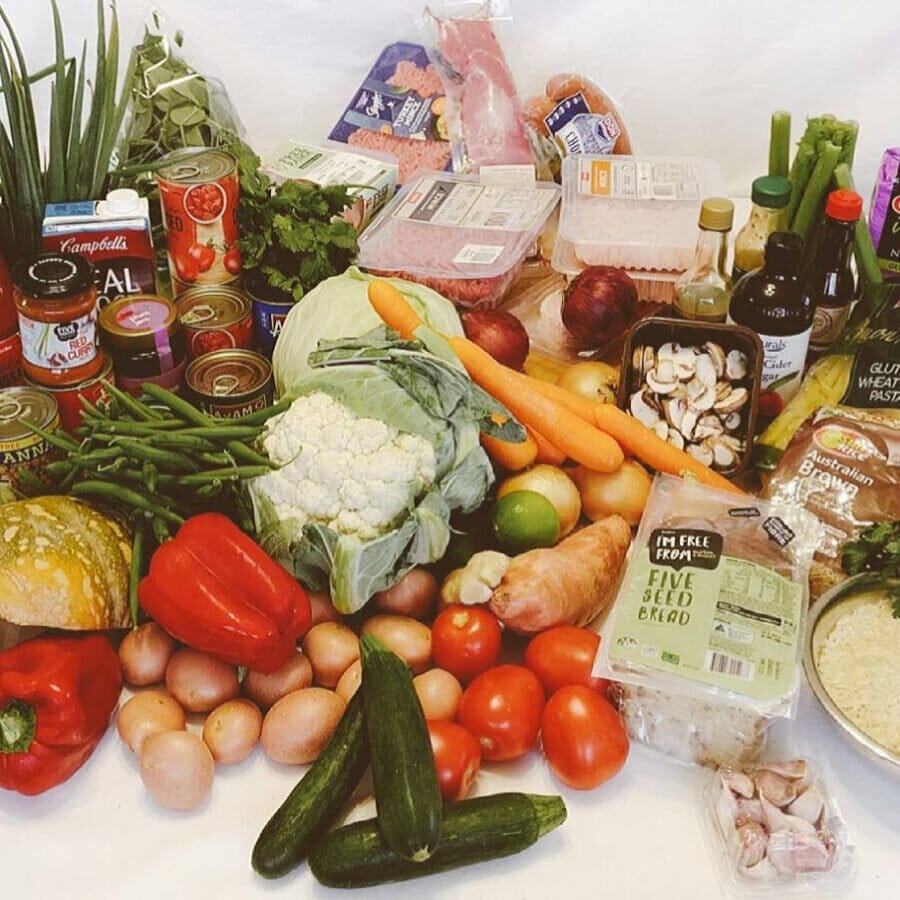 Ingredients needed:
360 grams basmati rice, uncooked
250 grams microwavable basmati rice
280 grams gluten free pasta, any shape
382 mls reduced-fat coconut milk
240g baby spinach
200 grams cauliflower
480 grams corn kernels, fresh or tinned
1/3 cup fresh basil leaves
5 grams fresh parsley
960g green beans
9 medium carrot
1 cups mushrooms
2 red capsicum
1 small sweet potato (160 grams)
2 spring onion (30 grams)
4 cups white cabbage (200 grams)
1 tbsp Worcestershire sauce – confirm band is GF (20 mls)
1 grams chilli powder
12 grams coconut sugar
1 tbsp curry powder (4 grams)
2 grams dried chilli flakes
80 mls extra virgin olive oil
500 mls liquid chicken stock, salt reduced
32 grams peanut butter
64 grams plum jam, no added sugar
1 cup rice vermicelli noodles (80 grams)
1 tsp smoked paprika (1 grams)
1/3 cup sweet chilli sauce (84 mls)
130ml tamari (gluten free soy sauce)
1 tbsp tomato paste (16 grams)
8 bacon rasher, lean & trimmed (216 grams)
400 grams chicken drumsticks, skin removed
440 grams brown rice, uncooked
160 grams gluten-free bread of choice
750 mls reduced-fat milk of choice
8 brown onion (750 grams)
2 stalks celery (80 grams)
400 grams eggplant
140 grams fresh coriander
36 grams garlic
200 grams lime
480 grams medium potato
720 grams pumpkin
2 red onion (200 grams)
330 grams small zucchini
400 grams tomato
128 grams basil pesto, store-bought
50 mls coconut oil
4 grams dried Italian herbs
3 grams dried oregano
1 grams ground cumin
1250 mls liquid vegetable stock, salt reduced
pepper
salt
3 tablespoon red curry paste (48 grams)
1 tsp sweet paprika (1 grams)
3 cups tomato passata
560 grams chicken breast fillets
2 chorizo sausage (280 grams)
5 free-range eggs (250 grams)
880 grams lean chicken mince
500 grams lean turkey mince
240 grams coconut cream
400 grams tinned brown lentils
640 grams frozen peas
1300 grams lean beef mince
500 grams lean sausage of choice
400 grams pork fillet
400 grams condensed tomato soup
1200 grams tinned tomatoes
1 gram all spice
75 grams almond meal
cooking oil spray
1 tablespoon apple cider vinegar (20 mls)
10 mls honey
10g sesame seeds to garnish
We want to say a huge congratulations to Fiona and Hayley and can't wait to hear all their baby's arrival!
Fiona Falkiner talks pregnancy, IVF and becoming a mum
For more recipes like these join the 28 Day Weight Loss Challenge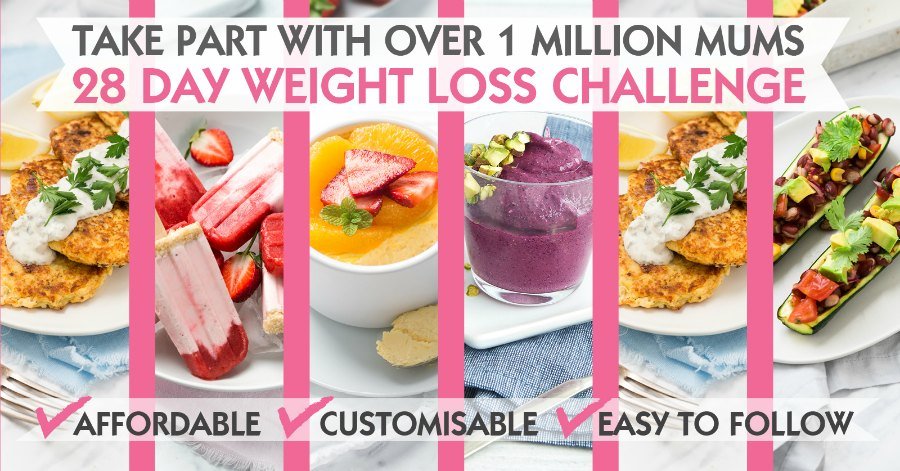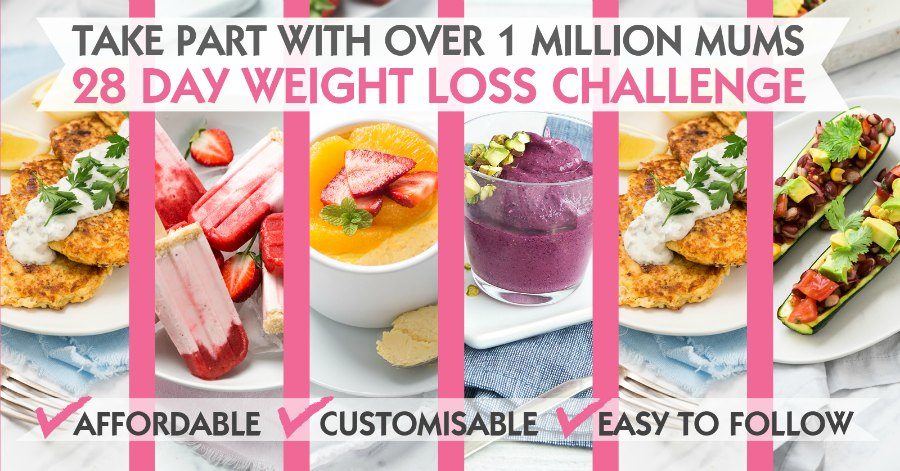 If you are wanting to lose weight and improve your energy – not to mention – help improve your overall health and wellbeing – our 28 Day Weight Loss Challenge is an awesome program to check out.
Our 28 Day Weight Loss Challenge includes:
28 days of at home exercise routines (no gym needed) – with video instruction
Customisable and breastfeeding friendly meal plans
Time-efficient exercises for busy mums – under 30 mins
Challenge combines Pilates exercises with interval and circuit training (HIIT)
Suitable for basic to advanced fitness levels
Home to thousands of EASY-TO-MAKE recipes!
To learn more about our28 DAY WEIGHT LOSS CHALLENGE CLICK HERE.