Fiona lost 10kg and kept it off
Last year, Fiona Sappenbergs lost 10kg on the Healthy Mummy plans. So we checked back in with her to see how she has gone since obtaining her goal and if she has any advice to share about post pregnancy weight loss and healthy eating.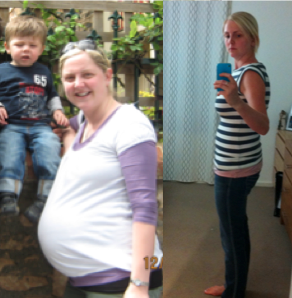 Fiona's Q&A
Q. How much weight did you lose on the Healthy Mummy Plans?
A. 10kg
Q. What was the most useful thing from the Healthy Mummy Plans?
A. The smoothies! They were so delicious. I would also prepare my breakfast in advance, the night before. All I had to do was whiz is up in the blender in the morning.
Q. Have the plans changed the way your family eats now?

A. Definitely. I am a much better role model for my boys as we eat healthy and they can see me exercising. I also have so much more energy to run after them too.
Q. Have you sustained the loss of 10kg?

A.Yep. When I hit my pre pregnancy weight I dropped to one smoothie, rather than two. I have maintained my weight now for nearly 6 months.
Q. Would you recommend the smoothies and plan to your friends?

A.Yes, definitely.
Q. Do you have any advice to share with other Healthy Mummies on how to lose their pregnancy weight?
A It won't happen overnight – but using the the Healthy Mummy plans, tips and advice – it will definitely happen! Don't feel bad if you lapse – it only reinstates the fact that you were doing it right! Don't stress about it, you've just had a baby – your focus should be on enjoying your beautiful little creation! That is the beauty of the Healthy Mummy plans – no wasted time counting calories, just chuck all the yummy things into the blender and whizz them up!
Thanks so much Fiona for sharing. To learn more about our product range have a look here.