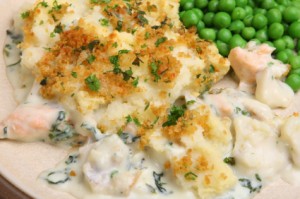 Fish is one of the protein sources that people often find the hardest to fit into their diets. This fish and potato pie is the perfect way to include some fish in your healthy eating plan. Another Delicious fish pie recipe!
Fish, especially oily fish like salmon, is an incredibly beneficial source of omega 3 fatty acids which is great for all people, especially pregnant and breastfeeding mothers.
Omega 3 fatty acids are beneficial to the brain and eye development.
Here is a recipe which incorporates fish, but also is delicious and nutritious. It will end up being a staple your healthy eating winter menu plan.
Prep time: 10 minutes
Cook time: 50 minutes
Ingredients
400g boneless fish fillets (try to use half of it with salmon to give additional flavour)
450ml milk
600g potatoes, peeled and chopped to make mash
80ml of oil (try coconut oil if you like)
2 tbs flour
1 cup of frozen peas
1 handful of chopped parsley
4 tbs of parmesan cheese
Directions
1.      In a preheated 180 degree oven, place the fish and only 400ml milk (keep 50ml for the potatoes later) into a baking tray. Cover with alfoil and cook for 15 minutes.
2.      Once the fish is cooked, separate the milk from the fish. Keep the milk
3.      While the fish is cooking, boil the hcopped potatoes in a pot of water until soft. Remove from heat and drain from water and put aside.
4.      In a separate pan, place half of the oil, flour and slowly add in the reserved milk from cooking with the fish and stir for a few minutes.
5.      Slowly add in the peas, parsley and flaked fish and stir through. Once stirred through, place this mixture into the desired baking dish.
6.      With the leftover 50ml of milk and oil, mash up the potatoes and place this on top of the fish mixture. Sprinkle with cheese.
7.      Place it back in the oven for 20-25 minutes until brown on top.
8.      Serve.
550 calories per serve
The Healthy Mummy Smoothie also has 10grams of protein per serve before any other foods or liquid has been added. This means it will help you feel full for longer as well and can be a great choice for a snack.
If you are ready to lose weight then The Healthy Mummy plans offer a healthy and safe exercise and diet routine that are safe if you are breastfeeding