Beef souvlaki is a summer favourite. It is flavoursome, light and incredibly versatile and able to meet the needs of all family members.
Whether your grandparents are coming over, the nieces or whether like you, family members are on a healthy eating diet plan, this recipe will fit and excite.
Aim to incorporate sides like baked chips rather than fried chips, fresh salads and wholemeal pita breads over white. Even have a side of delicious reduced fat greek yoghurt.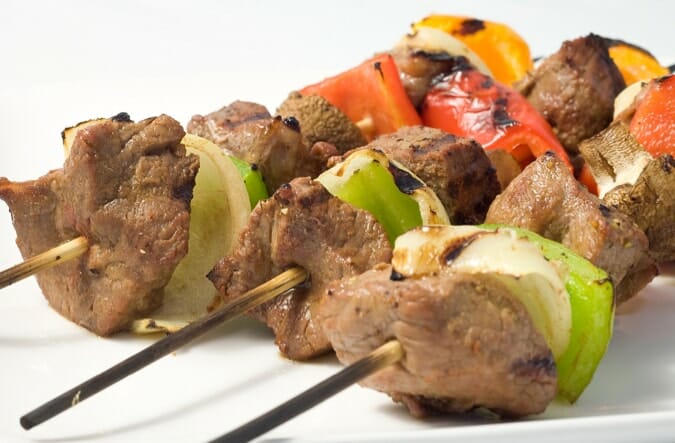 Prep time: 40 minutes (30 of this is marination)
Cook time: 10 minutes
Serves 4
Ingredients
800 g of lean beef, cut into 2cm chunks
8 skewers
Red, yellow & green capsicum chunks
Marinade
2 sprigs of rosemary (or 1 tbs of dried rosemary)
1 tablespoon dried oregano
juice of 1 lemon
1 tsp of lemon
¼ cup of good quality olive oil
2 cloves garlic, peeled and crushed
1 cup of red wine
1 pinch freshly ground black pepper
1 pinch sea salt
Directions
In a bowl place all the marinade ingredients and mix together well. Add in the diced cubes of beef and cover in cling film. Place in the fridge for 30 minutes to flavour the meat.
While the meat is marinading, soak the skewers so they do not burn while cooking.
When the meat is ready, thread the cubes onto the skewers, alternating with the capsicum, leaving a little space between each piece so that they cook thoroughly.
Heat a hot griddle pan or grill till sizzling and place the skewers on, turning as they brown. It should take around 10 minutes.
Serve with wholemeal pita bread, salads and yoghurt
320 calories per serve
Special Offer & 10% Discount
If you are ready to lose weight then The Healthy Mummy plans offer a healthy and safe exercise and diet routine that are safe if you are breastfeeding and you can use code LOYALTY for a 10% DISCOUNT at the checkout