Summer time, well anytime, is perfect for eating the fruits of the sea…a la seafood.
Seafood, if cooked well in quality ingredients is a great option on a healthy eating diet plan.
Prawns, octopus and fish are all low in fat and a source of omega 3 fatty acids which is great brain food especially if you are on a breastfeeding diet or trying to lose your pregnancy weight.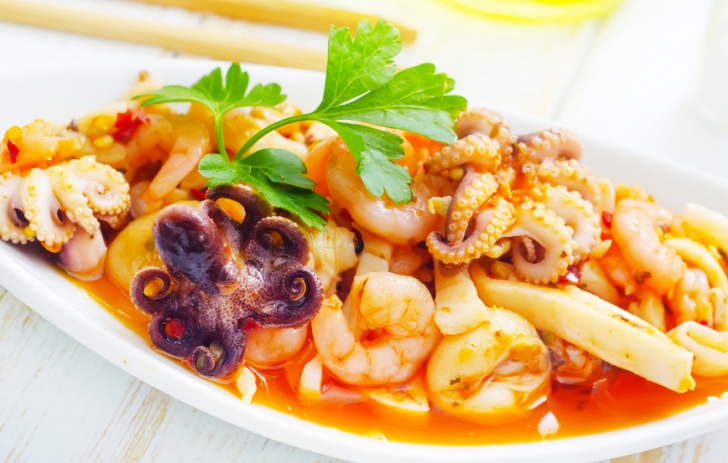 This recipe is delicious and a perfect addition to either a healthy eating plan with your family or while entertaining.
Prep time: 10 minutes
Cooking time: 30 minutes
Serves 4-6
1/3 cup of good quality olive oil
1 onion, finely chopped
1 red capsicum, finely diced
5 garlic cloves, crushed and finely diced
400g can of diced tomatoes
2 cups white wine (try low calorie wine)
1/2 tsp sweet paprika
8 small cleaned octopus
16 green prawns, peeled (tails intact),
1 tube of calamari finely sliced
1/2 cup flat-leaf parsley chopped
Crusty bread, to serve (preferably wholegrain)
1 lemon cut into wedges
Directions
1. In a pan, heat the oil and add in the onion, garlic and red capsicum and heat though until fragrant.
2. Add in the white wine, paprika and the tomatoes and bring to the boil. Reduce to a simmer and cook for around 15 minutes until the water has slightly reduced.
3. Slice the calamari and add in the prawns and the octopus and heat through until cooked. It shouldn't take more then 5-10 minutes.
4. Serve with some brown rice or crusty bread and top with parsley and a few wedges of lemon. Around 450 calories per serve
If you are ready to lose weight then The Healthy Mummy plans offer a healthy and safe exercise and diet routine that are safe if you are breastfeeding