We are big advocates of taking the time you need to recover from the birth of your beautiful baby before working to lose those post-baby kilos and part of that is helping mums get their confidence back post-baby.
With thousands of mums using The Healthy Mummy to not only help them lose the baby weight, have healthy pregnancies and get their confidence back every day we want to share with you some of the things we have learnt.
Our new eBook 12 Ways to Body Confidence Post Baby we want you to know that you are not alone and although your experience is unique to you, there are some very practical ways to ensure a healthy recovery from giving birth and getting that confidence back.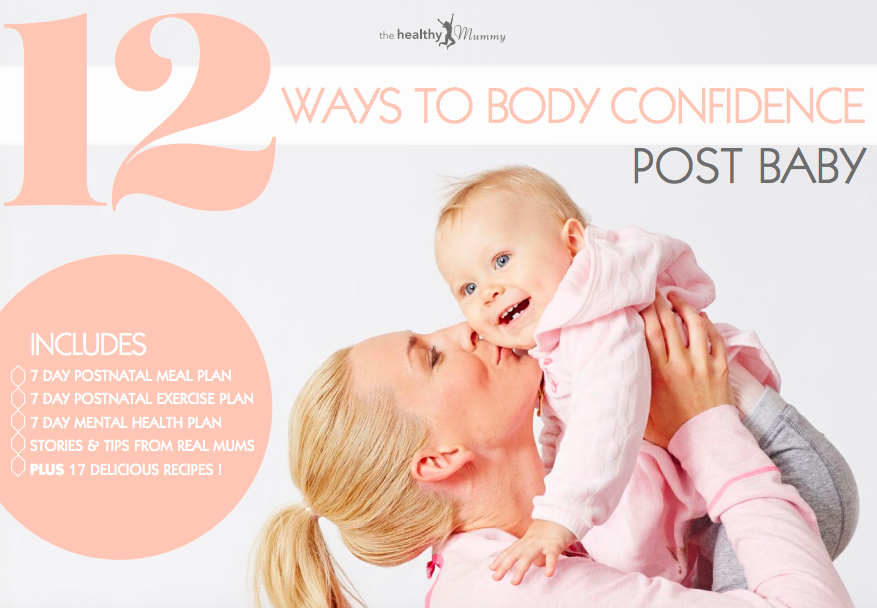 In our eBook we will give you 12 ways to help you mentally and physically get that body confidence back post-baby whilst looking after yourself.
The eBook also includes:
7 Day Postnatal meal plan
7 Day Postnatal exercise plan
7 Day mental health plan
Stories and tips from real mums
Plus 17 delicious recipes
12 ways to body confidence post baby – sneak peek
Just a few of the recipes inside the eBook, you can see all the recipes, meal plan and exercises are available in the eBook by purchasing a copy HERE.
Green Goddess Smoothie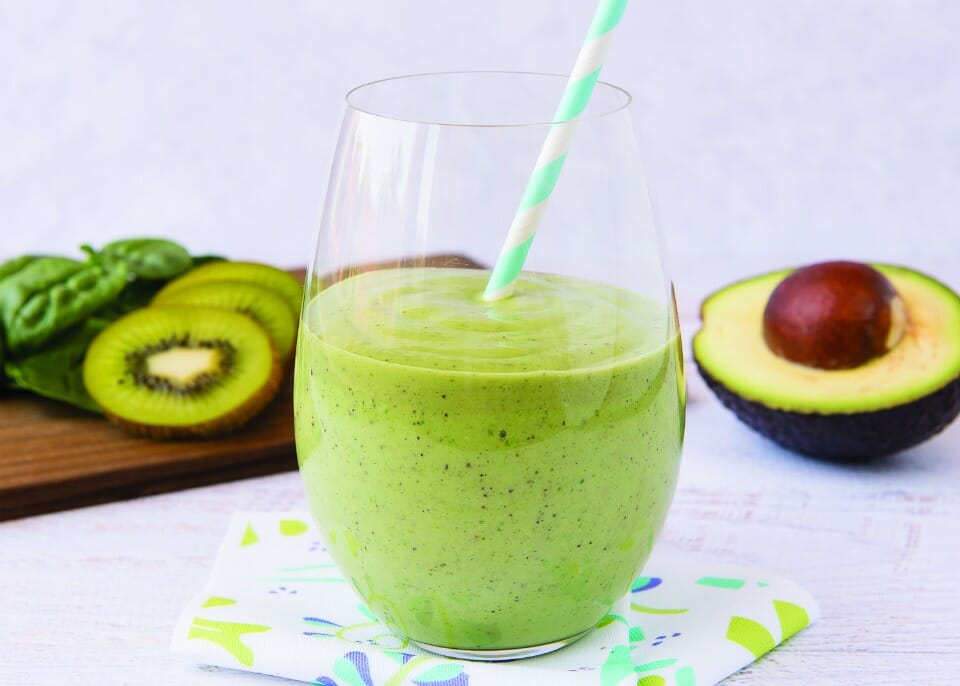 Chicken, Spinach and Bacon Stir Fry
Chicken and Mushroom Risotto
Extra Energy Smoothie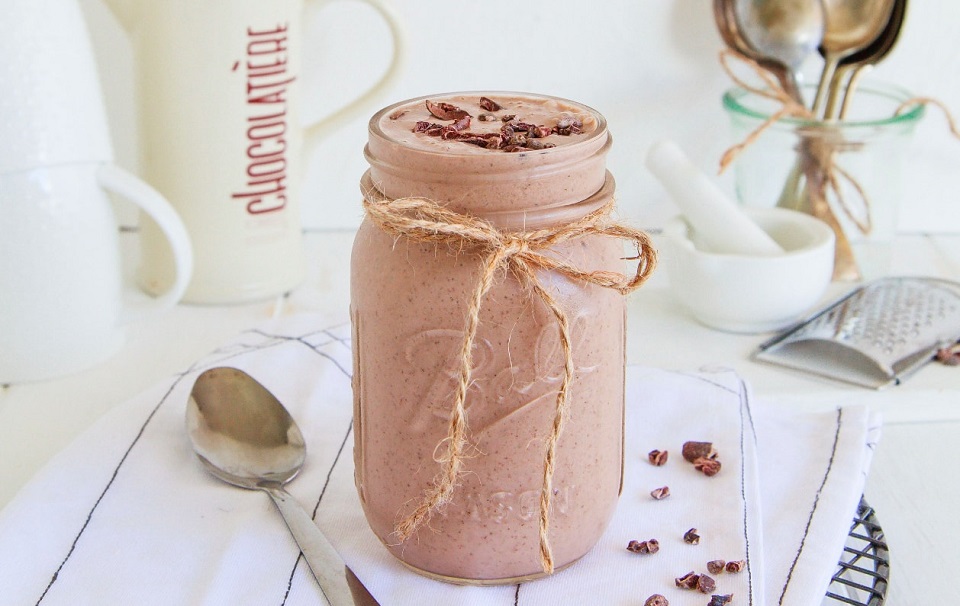 Get your hands on a copy of the eBook TODAY!
Mums who have had results on The Healthy Mummy share their confidence-boosting tips
Nikita Baxter – lost 39kg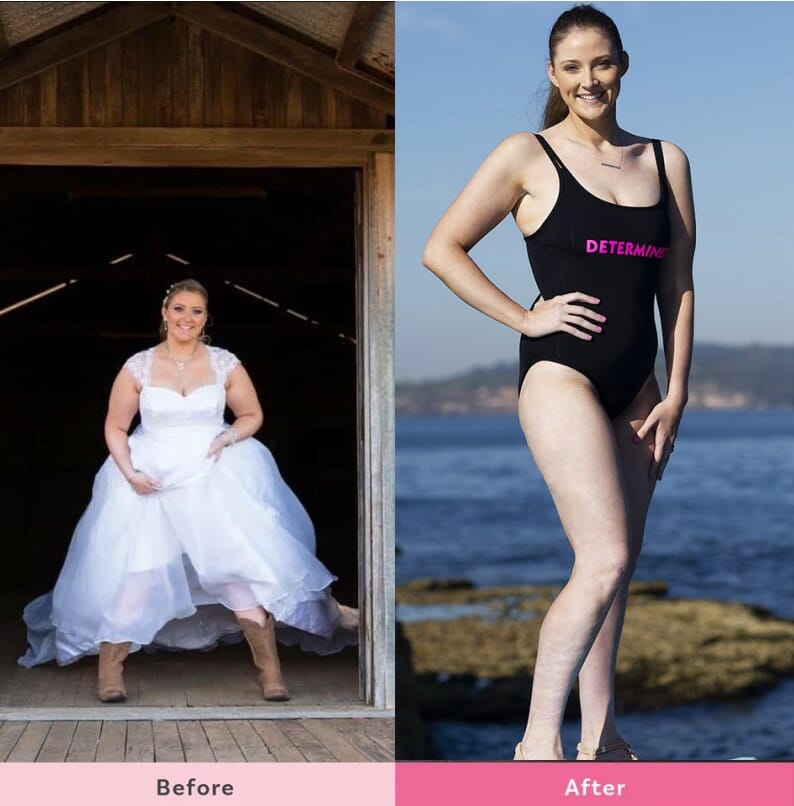 Mum of 2 Nikita shares, "I feel like a new person. I'm happy, confident and love exercising. I keep on track by practising consistency and remembering the good old saying, 'Failing to
plan is planning to fail.'"
At 22 years old inspiring mum Nikita Baxter proves that with a little bit of persistence and determination anything is possible.
Born with Spina Bifida, Nikita has no feeling in her left leg. This made exercising extremely difficult so she avoided it all together. Eating away her worries, she spent most of her life overweight and living in shame.
She says, "My whole life I've been overweight and actively blamed my spina bifida and no feeling in my left leg for the inability to exercise."
Losing a MASSIVE 39kg (down from 105kg to 66kg) by following the Healthy Mummy recipes she has learnt to accept her disability but not let it get in the way of achieving her goals.
She says, "My confidence beams from my personality, attitude and most of all my smile. I'm a better mum, better wife and I found the real me who has been hiding for so long."
Melissa Timmer – lost 35kg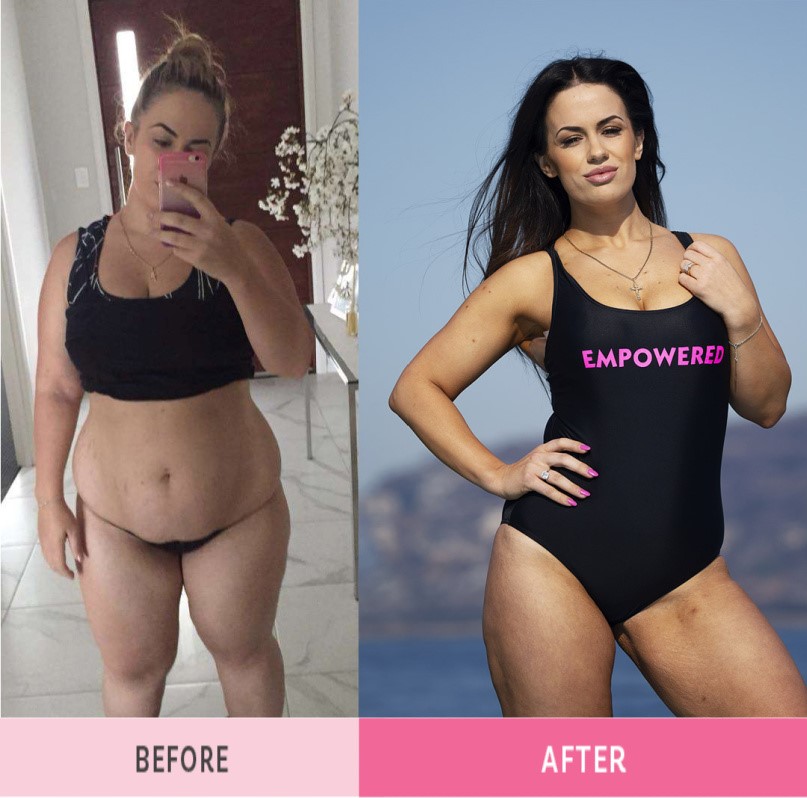 Mum of two Melissa shares, "My tip for other mums is to have a plan in place with how you will reach your goals, and commit to those plans."
She has lost a MASSIVE 35kgs with the help of The Healthy Mummy Smoothies and regular exercise, her severe eczema has cleared up as well.
"I had severe eczema where my skin would bleed and it would be painful to exercise or even shower. It has all completely disappeared and I put it down to your smoothies. I think they balance out my body and give it what it needs to fully recover. My skin is just glowing every day, I always get so many compliments."
Samara Rochelle Khoury – lost 17kg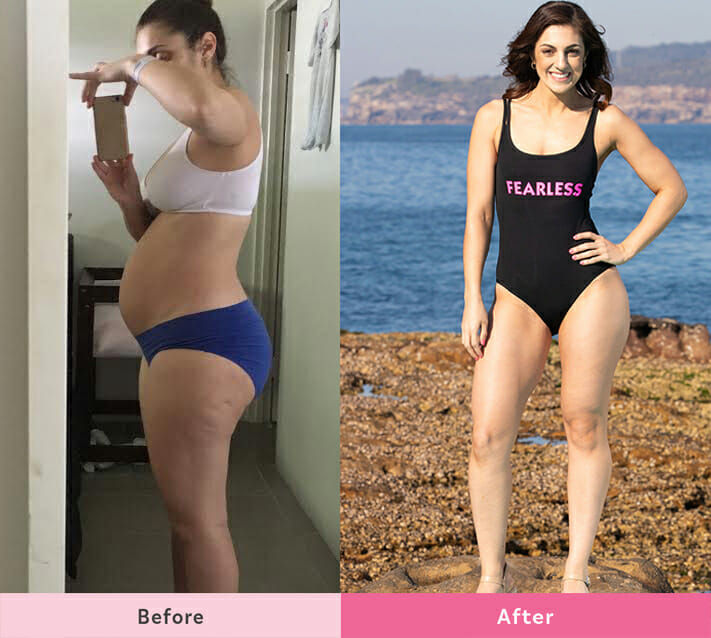 Mum of 2 Samara shares, "I keep on track by looking at motivation vs commitment! You will not always feel motivated."
Racked with anxiety and suffering postnatal depression Samara signed up to the Healthy Mummy in a desperate attempt to find herself again. And that she did and more!
She lost 17kgs in just eight months by following The Healthy Mummy 28 Day Weight Loss Challenges and Smoothies she has successfully been toning and maintaining her body ever since.
But best of all she says "I am now the happiest, healthiest, most confident version of myself. I have beaten depression and am now living the best life possible for myself and my two daughters. I couldn't be more proud of the person I am today because of The Healthy Mummy."
Samara started her Healthy Mummy journey in January 2016 soon after giving birth to her second daughter.
Shanyn Gray – lost 33kg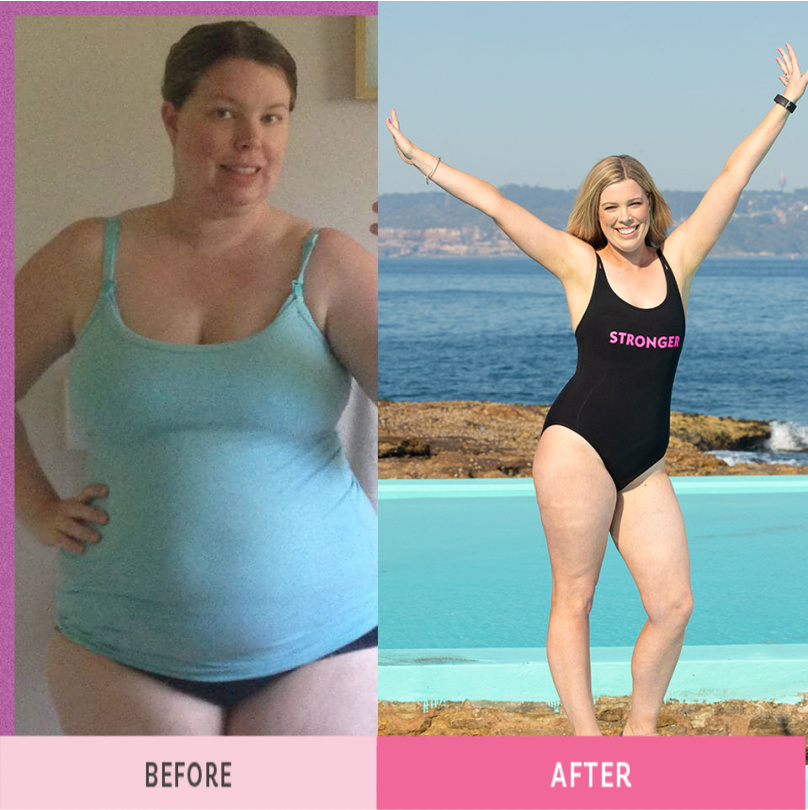 Mum of 2 Shanyn shares, "My tip to other mums is to follow the plan! Seriously, it's that easy. I got to enjoy chocolate and lost weight." 
Shanyn Gray is a 32-year-old mum who discovered The Healthy Mummy shortly after having her second child. She says "I was determined to get healthy after not losing any baby weight following the birth of my first child".
Not only has she gone on to lose a MASSIVE 33.8kgs (going from 108.8kg down to 75kg) by following The Healthy Mummy recipes and nutritional products she has been successfully maintaining her weight for 12 months.
Shanyn shares that she did not cope well emotionally and mentally after her first daughter's birth but says "I am very happy to report that I did not encounter any problems with my second. I put it down to the healthier food and exercise having a positive effect on my mind and body".
Hanna Fazldeen – lost 28kg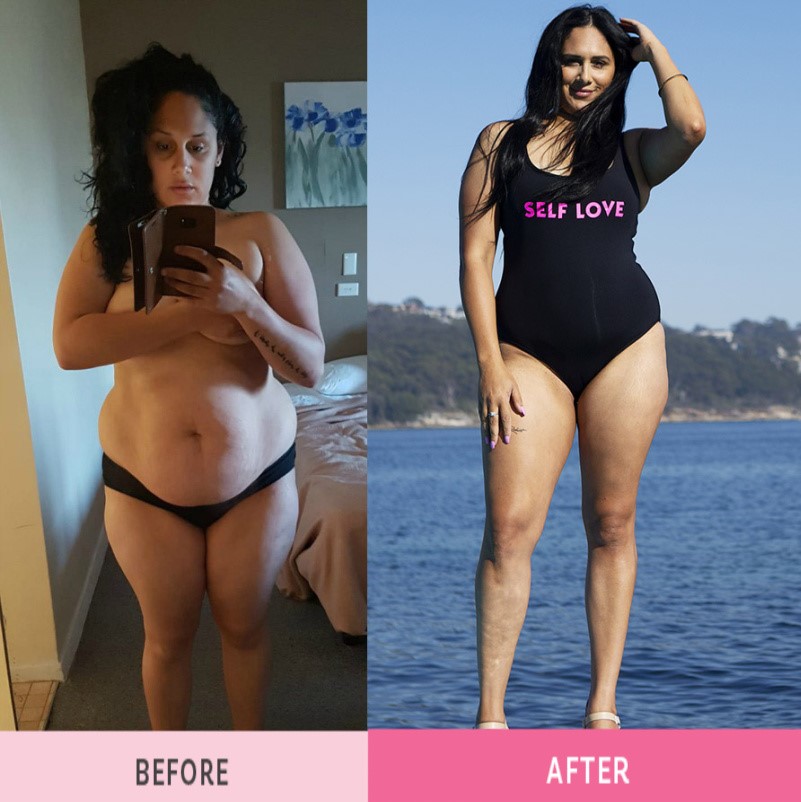 Mum of 5 Hannah shares, "My tips to other mums Carve time out for yourself! Stop negative self-talk. Mindset is everything! Stop comparing!"
Low iron, hair falling out in patches and thyroid problems were just some of the health issues that plagued 28 year old, mum of five, Hannah Fazldeen before she discovered the Healthy Mummy.
She says, "Before The Healthy Mummy. I constantly had low iron and sometimes needed B12 injections. Also, thyroid issues but since the shakes, I haven't had any issues. I used to suffer from hair loss that resulted in bald patches, now my hair is the healthiest it's ever been."
Having now lost 26kg and completely transformed her body and health she says "this was the best decision of my life. I haven't just lost weight, I've gained confidence and feel like my old self!"
Sarah Maynard – lost 56kg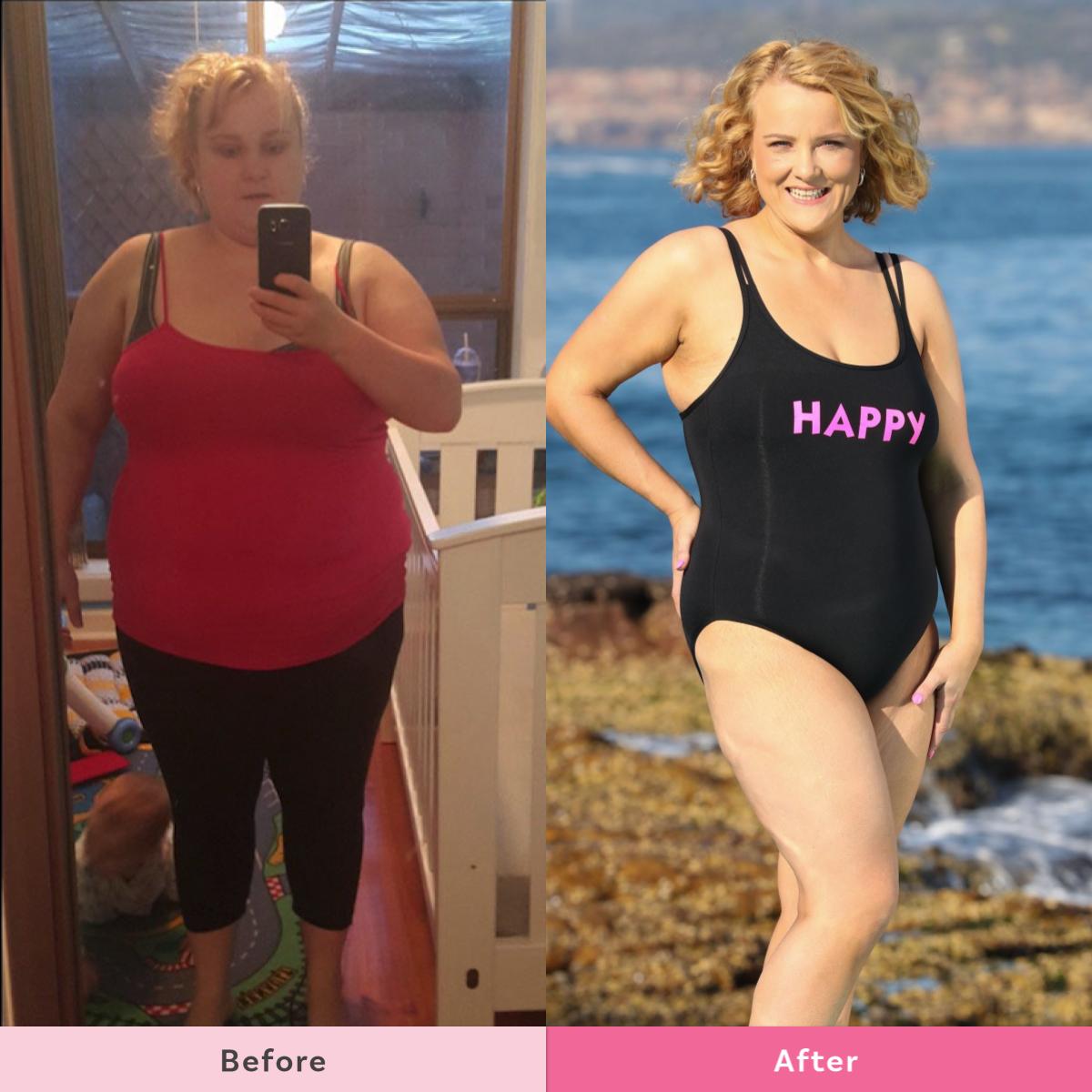 Mum of 2 Sarah shares, "Focus on meal prep, drink two litres of water a day and remember to take out some you time each day – even if it is to have a shower on your own."
What should have been an uplifting time for Sarah (receiving family photos taken when her son was 6 months old) turned into sadness and shame.
She says "I started my journey in full force after we had our sons 6 months photo shoot. I didn't like or love the person I saw in the mirror or even the photo."
Upset at how she looked, Sarah was inspired to make a BIG change.
She says "The Healthy Mummy has changed the way I think and look at food and exercise."
Sarah is determined to be a good role model for her daughter and inspire her and her entire family to live a healthy, happy life.
Confident, happy and healthy, Sarah now encourages women to love their body.
Grab your copy of 12 Ways to Body Confidence Post Baby TODAY!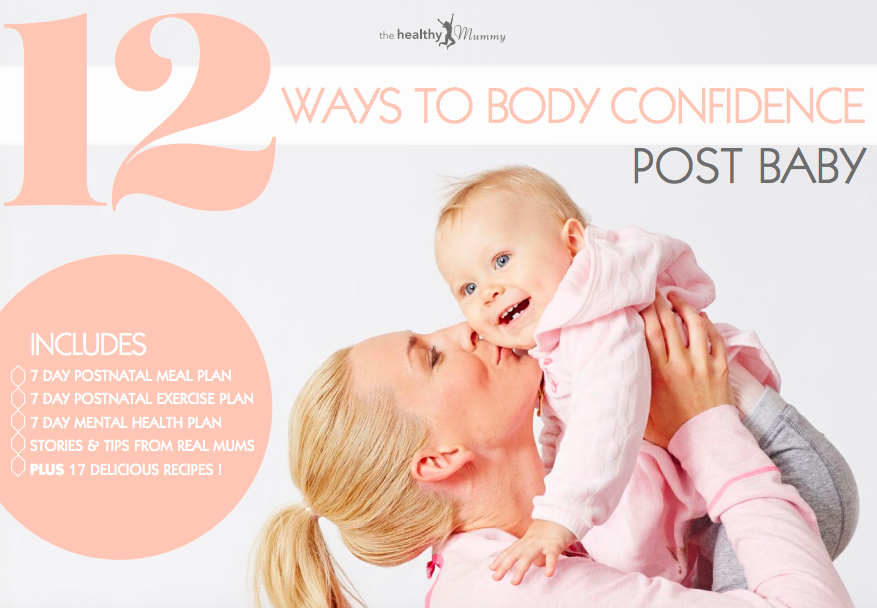 Get your hands on a copy today.
Join the 28 Day Weight Loss Challenge!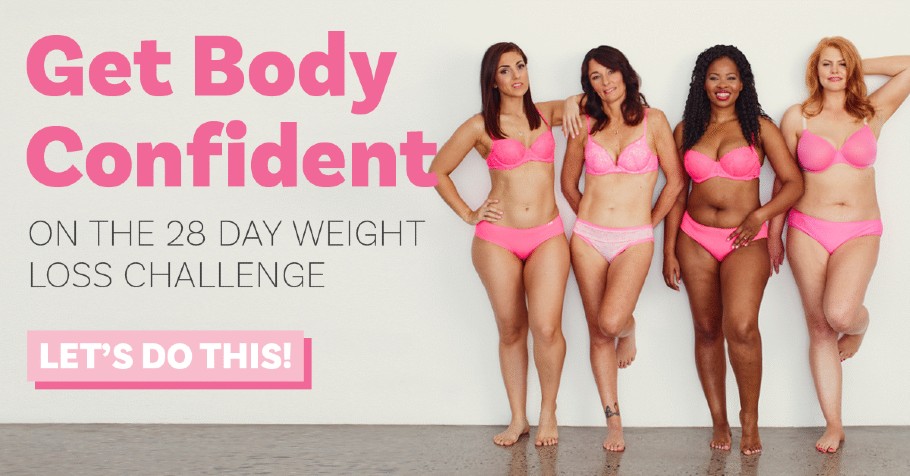 If you are interested in kickstarting your weight loss and want to improve your energy – not to mention – improve your overall health and wellbeing – our 28 Day Weight Loss Challenge is an awesome program to check out. 
Our 28 Day Weight Loss Challenge includes:
28 days of at home exercise routines (no gym needed) – with video instruction
Customisable and breastfeeding friendly meal plans (including a 7 day cleanse)
Time-efficient exercises for busy mums – under 30 mins
Challenge combines Pilates exercises with interval and circuit training (HIIT)
Suitable for basic to advanced fitness levels
Home to thousands of EASY-TO-MAKE recipes!
Get DAILY support from tens of thousands of mums on the Challenge with you
To learn more about our 28 DAY WEIGHT LOSS CHALLENGE CLICK HERE or PURCHASE SMOOTHIES HERE.