Yo yo dieting is bad for our health, our weight and our self esteem – in 2014 promise to GIVE IT UP and instead focus on healthy eating and a healthy lifestyle.
So if you're OVER the yo-yo, and want to know how to set yourself up for a realistic weight loss goal for then read all you need to know below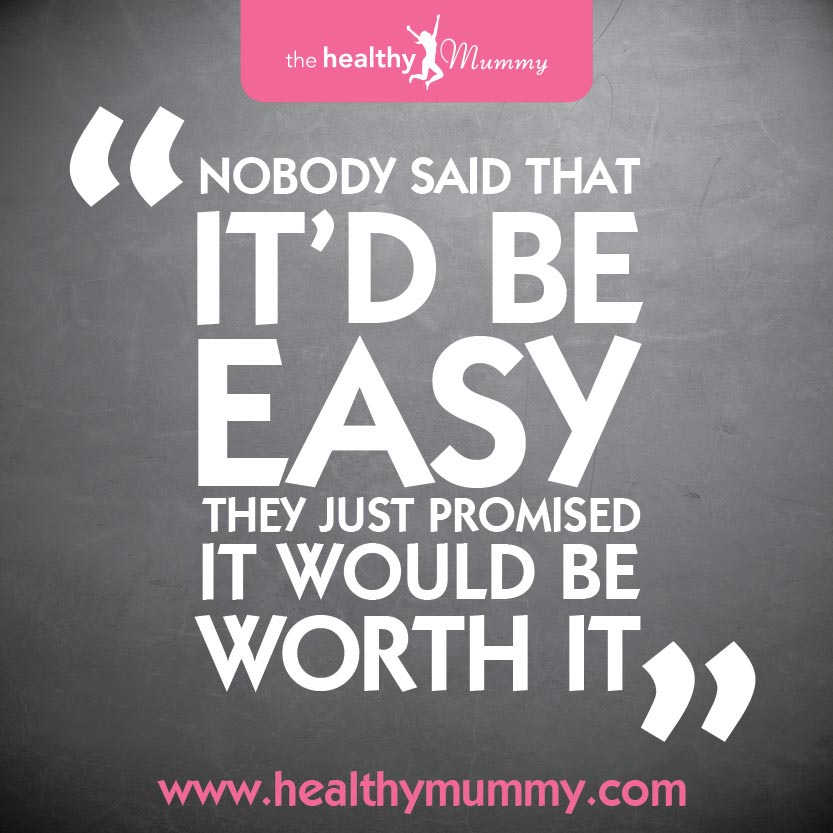 You Must Be Realistic
If you say that you are 'on a diet', it makes it sound like a short term thing – and something that will only last a short amount of time.
At The Healthy Mummy, we believe that you need to find something that you can realistically do – for the long term.
Our plans don't recommend cutting out any of the major food groups, or eating a packaged meal that gets delivered to your door, or downing numerous pills and miracle potions – ours is a healthy eating and lifestyle planned designed to fit into your life and we have LOTS of options to choose from.
So before you begin your weight loss plan in 2014, ask yourself if this is something that you can see yourself sticking with.
If not, perhaps you aren't quite ready (or you just haven't found the right plan yet – see how our plans work here).
Don't Go For Fast Weight Loss

If you set yourself a crazy and very quick deadline to work towards, it will only stress you out and make weight loss harder. Be gentle to yourself.
Remember that your body has made a baby and that takes a lot of work. It also means that you need to take it easy and not expect results within a few short weeks.
Read some stories here from real mums who explain how long it took each of them to lose pregnancy weight.
Get The Support You Need
Do you know the saying that a problem shared is a problem halved? We totally agree, and that's why we offer so much support to mums who are on our weight loss plan
Follow us on Facebook and sign up for our FREE regular emails; give us a call; or send us an email.
You can also sign up to our free Eat Move Lose Challenge which kicks off January 1 – details here.
We are always on hand to guide you or answer any questions you may have.
You may also find that the support of a weight loss buddy can be really beneficial.
Get Yourself Organised
Do a cupboard clean out – get rid of things that can tempt you (and of course don't buy any more) and stock up on fresh, wholesome foods that will work with you instead of against you.
Arrange some babysitting (or take it in turns with a friend to babysit) so that you can fit a workout in. Plan your meals and snacks for the week so that you don't end up ordering in.
Get your hands on our 28 Day Plan and our Healthy Mummy Smoothies so that you know what you should (and shouldn't) be eating.
Move More

Healthy eating is a big part of losing weight, but if you want to see results such as a reduction in body measurements or a more defined body – you will need to exercise.
Something as simple as walking each day (to the park, to the shops, up and down the stairs) can be enough to start seeing results.
Have a backup plan in case of rain such as our Exercise DVD which is made specifically for mums and has all of the workouts broken down into 10 and 15 minute segments
Stay Positive
Don't let any past attempts at weight loss or healthy eating stop you from trying again.
The Lose Baby Weight plans are different. We don't encourage you to starve (we recommend 3 meals + 2 – 3 snacks a day in fact) and we don't leave anything off the menu.
So even if you have a less than ideal day of eating, there's no need for an 'all or nothing' approach.
Treat each day as a new opportunity to reach your goals and you will lose weight in a safe and healthy way.
If you are ready to lose weight then The Healthy Mummy plans offer a healthy and safe exercise and diet routine that are safe if you are breastfeeding and you can use code LOYALTY for a 10% DISCOUNT at the checkout