Maybe it's a combination of boredom, tiredness, bad habits or just a sweet tooth – but so many mums say that they crave something sweet after dinner.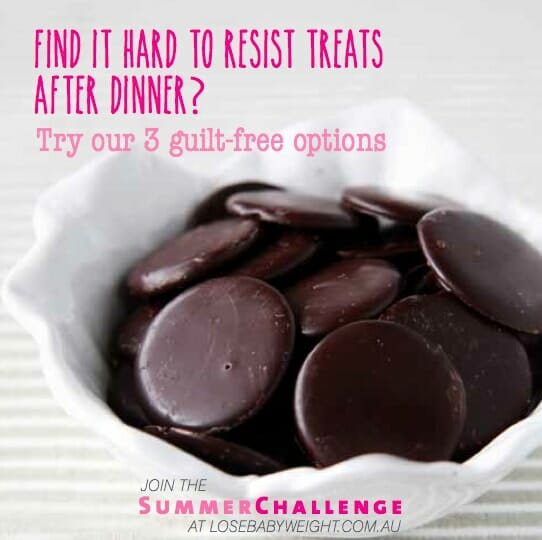 Today we have some guilt free options for when the craving gets too much and you just need something tasty before bed.
You will notice that all three of our recipes are fruit based.
Fruit is a great sweet treat to enjoy when you are trying to lose weight and a craving hits, and these recipes really take it up a notch or two!
Sweet Baked Apples
Definitely worth the wait, if you can handle it!
Heat your oven to 180C.
Cut the top off a red or green apple and set aside.
Use a sharp knife to remove the central core.
In a small bowl, mix 2 tbsp almond meal, 1 tbsp chopped nuts of your choice, 1 chopped up date, a few drops of vanilla and a sprinkling of cinnamon and ground ginger.
Mix well and use this to fill the centre of your apple, placing any extra filling under or on top of the apple to cook along with it.
Place the top of the apple back on and bake for 40-45 minutes.
Test that the apple is done by piercing with a skewer – it should push through easily.
Serve with a dollop of Greek yoghurt.
Pineapple, Strawberries, Mint and Coconut Cream
This is a bit of a twist on the old favourite of fruit and yoghurt. It tastes deliciously tropical.
Slice up a few chunks of fresh pineapple and a couple of strawberries.
Sprinkle with some mint leaves and top with 3 tbsp of chilled coconut cream.
Alternatively use some good quality Greek yoghurt instead of the coconut cream if you prefer.
Nutty Banana Thick Shake
This one requires a little bit of forward planning, but hopefully you already keep some frozen banana on hand for your Healthy Mummy Smoothies. If so, you are in for a treat. If not, get freezing!
Take 2 frozen bananas and chop them up into around 6 pieces.
Place in a powerful blender with a splash of milk or yoghurt (to help loosen it up for blending)
Add 2 tbsp of (100% nut) peanut butter (or almond butter) and a sprinkling of cinnamon.
Blend for 3-4 minutes to get the consistency of a thick shake.
Pour into two glasses and enjoy.
Not hitting the spot? Try keeping a packet of the Healthy Mummy Dark Chocolate Treats in the house. Available in mint or almond flavour, they are a delicious calorie controlled treat.