If you are craving chocolate then this Healthy Mummy Smoothie is a great way to give you a healthy and nutritious smoothie and at the same time satisfy your chocolate cravings.
We also include super healthy avocado and spinach in the smoothie – but we promise you will never know it is even in there and the avocado makes the smoothie so creamy and the spinach gives it an extra iron and folate boost – perfect for mums!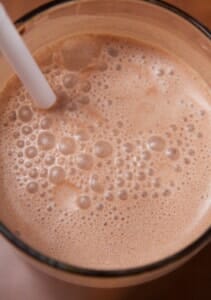 Ingredients
Blend for 2-3 mins and enjoy!
If you are ready to lose weight then The Healthy Mummy plans offer a healthy and safe exercise and diet plans that are safe if you are breastfeeding and you can use code LOYALTY for a 10% DISCOUNT at the checkout. Plus we have Cookbooks, Calorie Bibles, Exercise DVD's, Meal Replacement Smoothies and Our 28 Day Plan in our shop.