How To Get My Child To Try New Foods
Often parents ask me "How do I get my kids to try new foods? How do I get them to eat vegetables?"
And I know both professionally and personally it is a challenge. An everyday challenge.
Healthy eating, especially with your children, is about everyday healthy eating and fun.
I use the word fun because if you are going to compete with the food marketers out there with their brightly coloured spanking packaged goods and their advertising, you need to step it up. Big time.
And so here is a great way to introduce some new foods. Recently our family has been creating some little food challenge games.
The girls and I (and hubby too) absolutely adore doing this. It not only means we try or the kids try new foods, but we learn about the food and engage in conversation about different flavours, textures and sensations.
These food challenges allow the girls to tell me something tastes funny, tastes strong or tastes bitter but we talk about it and engage them in why it is tastes like that on the tongue. And then they go back for more.
Here are a few examples of what we have done recently.
Green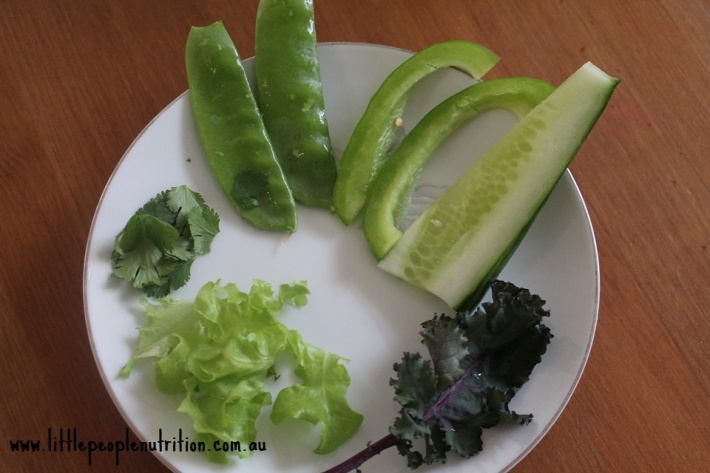 Yellow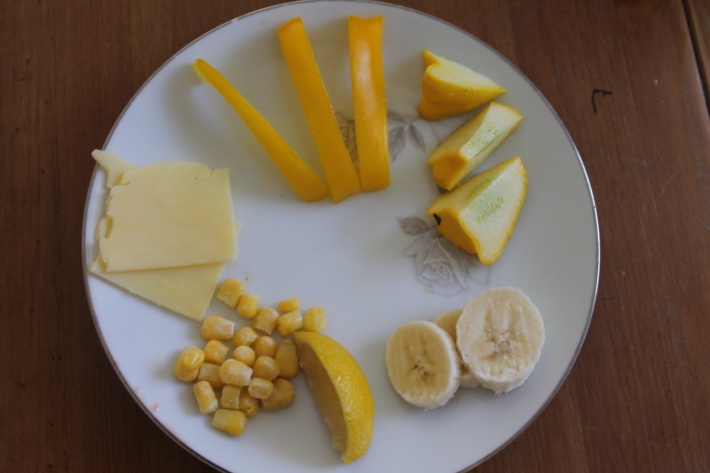 Red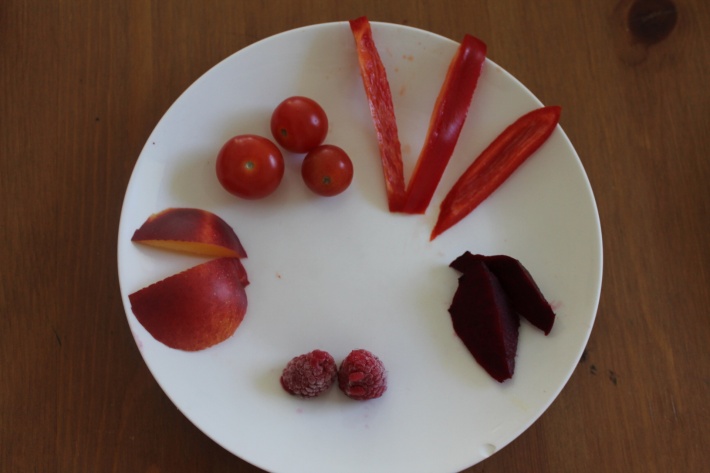 As you can see there are some vegetables or foods you might eat regularly like bananas or berries. But then there are some ones to shake it up a little and challenge the child.
On the green plate there is capsicum and cucumber which we eat often. Kale and butter lettuce which the girls do not touch. Coriander which is a new one and snow peas.
On the yellow plate there is again capsicum, squash, banana, lemon, corn and cheese.
On the red plate there is capsicum again!!, beetroot, frozen raspberries, nectarine and cherry tomatoes.
The flavours and experiences we discussed with these foods were:
Crunchy capsicum and snowpeas
Sour lemon that makes you mouth zing!
The corn and raspberries were very cold and melted in our mouths
The tomatoes burst in our mouth
The bananas mushed and were sweet and yummy
The coriander smelt sweet and different
The salad ripped and crunched and mushed
There were many foods which the girls had not eaten before but had seen on their plates. The most successful for our family was the lettuce, kale and the snowpeas. I love these three foods so am now happy they are more accepted on the girl's palates.
We will continue to play this game. Maybe not in the colour coded form but in an exercise for either morning tea, lunch or afternoon tea to go through new foods.
Give it a go, and let me know how you go!
Special Offer & Discount
If you are ready to lose weight then The Healthy Mummy plans offer a healthy and safe exercise and diet routine that are safe if you are breastfeeding and you can use code LOYALTY for a 10% DISCOUNT at the checkout