How To Host A Healthy Kids Party
Children's birthday parties are often full of the most unhealthy foods that are in existence.
There are cakes and lollies everywhere and the sugar and calorie content of most of the food could easily be classed as OUT OF CONTROL – not to mention the food colourings and additives that are in the foods.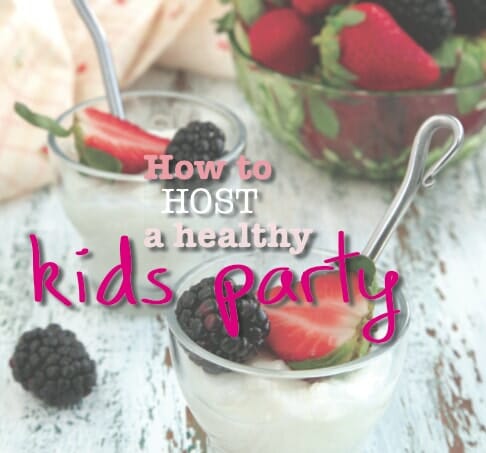 So although they only come once a year and a treat is fine, it is also good to look at ways to improve the quality of the food on offer  – not only from a nutritional value standpoint but  also to limit the after effects of all those food colourings which can make your children very wired!
Secondly all the mums at these parties do tuck into the food too so not so great for our waist lines or nutrition either. So what is the solution as do you want to be the mum who serves up carrots and dip for your little ones party and be seen as the worst party thrower of all time as there was no cake or fairy bread at your party?
Luckily – there are healthy, fun and tasty foods you can make that will make your child's party a success and keep everyone (mums and kids) at the party happy and not even realising they are eating healthy food. Here are some great ideas for you to make at your next party:
Savoury food
Mini hamburgers – mix up your own mince (blend/mash up lean chicken/beef/salmon or tuna) then get a long block of Turkish bread and fill it with the cooked mince, lettuce and tomato sauce then chop into little squares and skewer with a cocktail stick
Mini pizza – using mini wholemeal pita bread top with tomato paste, low fat cheese and lots of veggies
Potato wedges – cook sweet potato wedges and serve with tomato sauce
Kebab skewers – thread lamb, beef, chicken, fish and vegetables onto skewers and serve with dipping sauces
Nachos and kidney beans tacos made with baked tortillas
Low fat dips and salsa serves with rice crackers, toasted flat bread and raw veggies
Sweet foods
Fruit skewers – thread fruit shapes and melon balls on skewers – or place on a tooth pick. Serve with flavoured and low fat yoghurt
Carob coated strawberries, carob coated apples, carob chip oatmeal cookies – if you start introducing your children to carob when they are young they will get used to it and prefer it over chocolate. You can also use dark chocolate
Apricot sesame seed bars
Healthy muffins – try baking blueberry( or add any fruit you like) wholemeal muffins – mix 240g of wholemeal flour, 1 tbsp of baking powder, 1 egg, 1/2 a cup of honey, 1/2 tsp lemon zest, 1/3 cup olive oil, 1 cup low fat milk, 1tsp vanilla essence then at the end fold in 1-2 cups of blueberries and some almond and spoon mixture into baking tray holes and bake for 30 mins on 180C
Honey popcorn – Put unpopped corn in a large pan and pour over heated honey (1/3 cup) and pop away
Birthday cake – use the muffin mixture recipe as an alternative cake mixture and cook in a cake tin – cook for an extra 10 minutes until golden brown
Vanilla coconut icing – Mix 1 and 1/2 cups of low fat milk and 1 vanilla bean (scrape out vanilla seeds and mix in the milk), then mix in 1 tbsp of tapioca flour and half a cup of desiccated coconut and heat for 5 minutes in a saucepan. Then stir in 2 tsp of honey and wait for icing to cool then when cooled spread on the muffins for a yummy, coconut icing.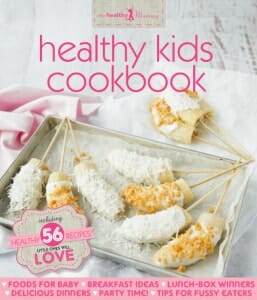 Ice creams
Instead of serving creamy ice creams which are high in fat, sugar and colours try serving fruit and yoghurt ice block
Watermelon ice block(cut thick slices of watermelon into rectangles, place a paddle pop stick down the centre of each and freeze until ready to serve)
Carob coated bananas
It is important to get children into good eating habits and by encouraging them in helping to prepare these foods they can see how much fun it is to make healthy foods and they will really want to eat them.
Plus of course they are all really good for you too when you are doing your Healthy Mummy plans and will ensure that you too can tuck in guilt free!!
Plus grab a copy of the brand new Healthy Kids Cookbook here too