How To Make Your Own Coconut Milk Yoghurt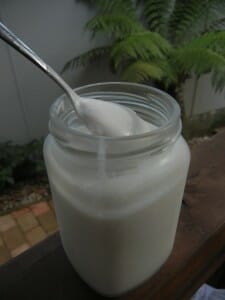 Last week we talked about the benefits of yoghurt for not only a weight loss plan but also a general healthy eating diet.
Yoghurt is a good source of calcium, protein and various vitamins and minerals. It is also can often be tolerated by lactose intolerant individuals.
I know that a few people who drink our Healthy Mummy Range are lactose intolerant and also some are intolerant to dairy protein too. This is one of the reasons why the Healthy Mummy Smoothie mix is fabulous as it caters for many intolerances and allergies that people may have.
So on the line of yoghurt, lactose and dairy intolerances, I thought I would show you how to make your own Coconut Milk Yoghurt.
I am sure there are many ways to make it, but this way ensures there are no dairy proteins or lactose present. Plus it is a great way to save a little money on your healthy eating budget!
This coconut milk yoghurt is perfect to mix with a Healthy Mummy Smoothie. All I can think of are its various combinations with pineapple or mango or both!! Summer. It tastes like Summer coconut!
And a side note, there is some research that has been done into coconut and its effect on weight loss which is an interesting read.
What you need to make coconut milk yoghurt is:
1 small tub of soy milk yoghurt ( you need to make sure there are active cultures present, read the label)
2 cans of coconut milk
An esky
Some containers
A medium sized pan
Thermometer (don't stress if you do not have one)
Directions
Heat the coconut milk in a pan until it reaches 80 degrees celcius, or until it starts to bubble
Leave the coconut milk to cool to approximately 40-50 degrees celcius or until you are able to touch the milk with your finger
With a small part of milk mix in the soy yoghurt thoroughly to thin it down and then mix it with the remainder of the heated coconut milk
Place the mixture into the jars or container in which you would like it to set in
5. Place the container/s inside a flat based bowl
6. Place this bowl into an esky (or another container) of boiling hot water
It is important that the yoghurt mixture is not in direct contact with the boiling water
      7. Close the esky lid and leave the yoghurt in this boiling water for    approximately 4 hours
      8. Change the boiling water and leave for an additional 4 hours
      9. Take the yoghurt mixture out of the esky and place in the fridge overnight to cool
     10. And eat!!!
You will find that this yoghurt is thinner than you store bought yoghurt. This is because we have not added any additional skim milk or milk powder to thicken it up which is commonly used in store bought yoghurts.
I hope you enjoy adding this recipe to you repertoire. It is also a really great activity to do with kids to explain to them what is happening.
What is happening?
The active cultures in the yoghurt are 'eating' the sugars that are present in the coconut milk. By doing this they ferment the sugar and create an acid which then curdles the milk, turning it into yoghurt!
If you are ready to lose weight then The Healthy Mummy plans offer a healthy and safe exercise and diet routine that are safe if you are breastfeeding.
And don't forget to check out our current promotions and discounts page to see what specials we have on this week on our Healthy Mummy product range