=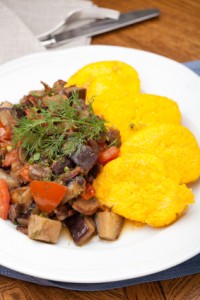 Last night we had some delightful lamb chops with polenta which were just delicious but the best part about them was the ratatouille that my husband made, that went on top.
You can use ratatouille as a side, as a sauce or as a vegetable dish. A great weight loss accompaniment as the weather gets cooler.
This says two things. My husband is awesome, but also that this ratatouille recipe is ridiculously easy!
Healthy eating by a healthy husband!
Husband made Ratatouille
Prep time: 2 minutes
Cook time: 10 minutes
Serves 4
Ratatouille recipe: Ingredients
2 zucchinis
2 onions
4 large mushrooms
2 cloves of garlic crushed
1 tbs of teriyaki sauce
2 tbs of red wine vinegar
1 tsp of honey
Oil spray
Ratatouille recipe: Directions
Chop up the zucchini, onions and mushrooms.
Heat up a pan with the oil spray and pan fry the garlic and onions until a little soft.
Add in the zucchinis and mushrooms and cook  until the mushrooms begin to water.
Once the mushrooms are watering, add in the sauces, vinegar and honey and cook together for a further 5 minutes.
Serve
If you prefer less 'juice' then cook for longer to evaporate the moisture. For more 'juice' cook the ratatouille for less time.
150 calories per cup
Special Offer & 10% Discount
If you are ready to lose weight then The Healthy Mummy plans offer a healthy and safe exercise and diet routine that are safe if you are breastfeeding and you can use code LOYALTY for a 10% DISCOUNT at the checkout
PLUS our BEST SELLING 28 Day Diet & Exercise Plan has now launched as an 84pg Printed Book and you can get your copy here – with free express postage if you order the book on its own