My name is Kathleen and I am a mum to two gorgeous girls. Chloe is 3 years 9 months and Georgia is 16 months.
After the birth of Chloe I found the healthy mummy and followed the Facebook page reading lots of the success stories. Then after Georgia my weight settled at about 87kg and I tried to lose the rest of the weight on my own with no success.
I looked into the Healthy Mummy plan more and spoke to my husband about it as I wanted a plan that could work for the whole family. My husband reviewed the plan before I purchased my first products and he was impressed with what he saw and looked forward to trying the recipes.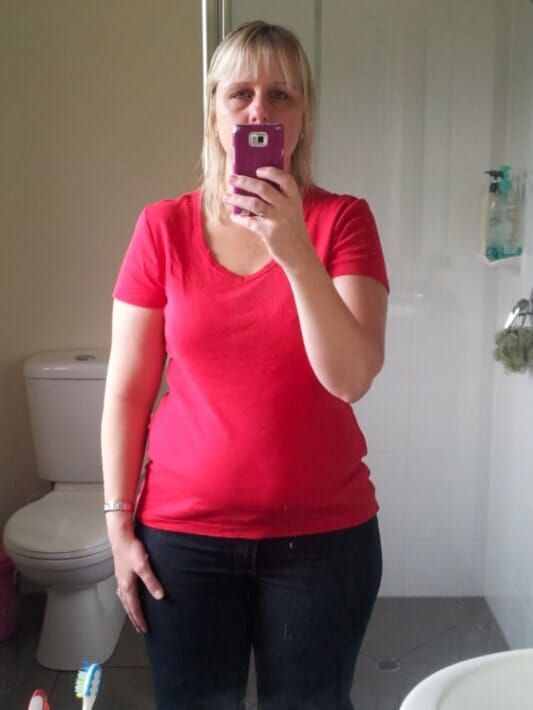 I started on the program in September using the 28 Day diet and Exercise plan. I chose this plan because there was no pressure to have smoothies and there was a realistic food plan to follow.
In my first two weeks I lost 3.1kg and by the end of October I reached 6kg lost (with a mini break with my family thrown in). The last few weeks have seen me not exercising much but I have maintained my weight loss and weighing myself today I am down another 0.5kg. I have also lost over 21cm! The tools I have learnt on this plan gave helped me to make the right decisions and to recover when I stray!
I found very quickly that my energy levels were more constant throughout the day and that I felt less hungry.
Seeing the change in my body has been great and getting back into my size 14 jeans feels great. Now I picture them becoming too big on me!
My goal for December is to get back to regular exercising and to boost my weight loss. I need to lose another 9.5 kg to get to my goal! I look forward to adjusting my plan to include smoothies more regularly – especially to help me through the upcoming festive season!
Start weight 84kg
Current weight 77.5kg
Measurements – start
Bust 98cm
Waist 92cm
Hips 118cm
Thigh 70cm
Measurements – current
Bust 94cm
Waist 86cm
Hips 111.5cm
Thigh 64cm
Kathleen Christodoulides
Special Offer & 10% Discount
If you are ready to lose weight then The Healthy Mummy plans offer a healthy and safe exercise and diet routine that are safe if you are breastfeeding and you can use code LOYALTY for a 10% DISCOUNT at the checkout