5 Areas Of Your House That You MUST Childproof
Once you have children the most harmless of household items can become potential hazards. Taking the time to childproof your house will give you peace of mind so your baby or toddler can roam freely throughout the house.
Not surprisingly, *mobile phone chargers are potentially fatal to small children, so as a priority always keep these out of reach.
(*This article may cause some distress)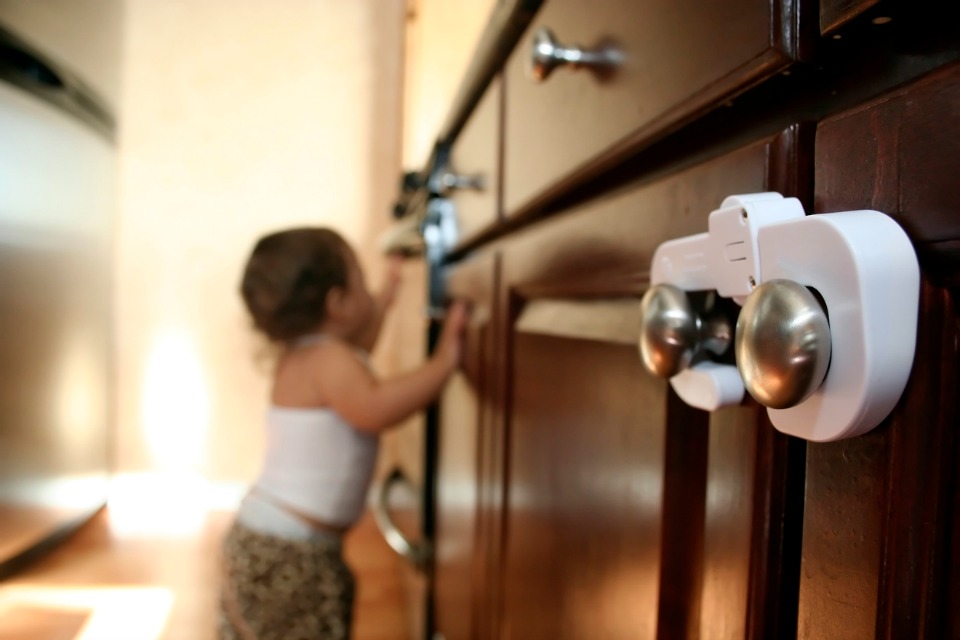 Babies, toddlers and young children spend most of their early years learning and growing up in the confines of a house. Because they cannot see or know what is dangerous, it is crucial homeowners take preventative measures.
There are many products you can buy or make to reduce potential hazards for kids, although sometimes it's just a matter of altering many appliances and furniture to make it safer.
For those with crawlers, it's important to make sure cupboards with poisons, dangerous objects and other hazardous items are locked with a child-proof gadget.
5 Areas Of Your House To Childproof
1. Cupboards
Draws, doors and cupboards are prime targets for inquisitive kids in all room of a home so use latches, locks and door stoppers.
If they have sharp corners, invest in some of those products that go over sharp edges. Banged heads and fingers caught in doors can be nasty.
2. Kitchen
Arguably the most dangerous room in the house so either put up a gate to block it off entirely or take measures to put knives, appliances away from a reaching hand.
Use a lock for the fridge, pantry cupboard and the cupboard under the sink. For the dishwasher ensure they can't open it and get to sharp knives and glasses.
When you're in the kitchen, make sure little arms can't reach up and grab pots on the stove.
Remember, dishwasher tablets look like lollies but are caustic and will burn on the way down and up again.
3. Stairs and Hallways
Security gates will protect children from potentially falling down stairs or heading into places such are out of bounds.
Just remember your little ones will soon figure out how to leap over such gates and that again is another safety threat.
4. Power Points
Most houses have electrical points scattered throughout homes at a height perfect for little fingers. Buy electrical outlet covers is a cheap way to give you peace of mind.
5. Bathroom
The main safety concern is protecting a child from drowning, burns from turning on the hot water tap and slipping on a wet tiled surface or the bath.
Use non-slip mats at bath time and tap covers to protect kids from scolding themselves.
Toilets can also be a concern so shut the door if you can or buy a device that keeps the lid locked while it's not in use.
Hint: When you're staying with friends, family or at a hotel, don't forget to do a quick scan of your new surroundings and remove any potential hazards, if possible.
For those with older children, you're probably already aware that small objects such as Lego are so tempting for younger siblings and are major choke hazards.
But also keep in mind cords on blinds, leads of radios and lamps. For those who love candles, be mindful those glass plates should be away from edges.
Meanwhile, if you've got a new baby on the way, here is a list of five things you DON'T need!