Hi, I'm Jodie , mum to 4 & 1/2 yr old and 2 yr old – and I am a Healthy Mummy Motivating Mum in June after having lost 15kg using the healthy mummy weight loss plans
I was the "bigger" girl through primary school and most of high school. After leaving high school moving interstate and taking up a job that required me to walk 8 hrs a day I finally lost all the weight.
Then I moved into a call centre roll and the weight started to creep on and on and very soon I weighed 110kg. After seeing doctors  for other symptoms I was diagnose with PCOS and hyper-prolactanemia which meant it was difficult to lose weight and get pregnant.
After being put on medication and with a combination of diet and going to the gym every day.  I lost 40 kg and fell pregnant with first one.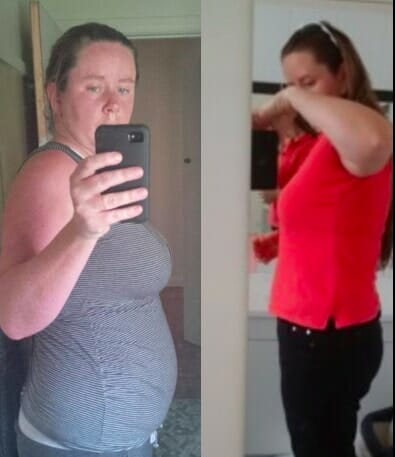 After she was born, my weight started to go up and up mainly through bad choices. At the time I blamed others now I realise it is down to my own choice. After the second one was born the weight kept going up. In January last year I weighed 127kg. I started changing my eating habits and walking more  and was down to 119 by July.
I had been watching the healthy mummy weight loss program for a while, through out this time I had tried various other diets which I didn't stick with long as I found they didn't satisfy.
I had made a couple of recipes off their website and then after discussion with a friend , decided to give the whole program a go. I was having the healthy mummy smoothies every day for breakfast, sometimes twice a day.
What I loved was the convenience. I could make one up and drink it on the way to play group, the park etc. The meals on the website are fantastic and means that I can still eat really well just the right stuff now. I also found the convenience was great, I could make meals ahead and store them in the fridge. The other thing I love is , it has Australian ingredients on it. So many other diet plans out there list things that are not available to us here or are in the wrong season.
I am currently down to 104kg with my goal weight of 85 for now. I am 6ft tall.
My biggest thing is sweets, I love sweet stuff and especially mint flavoured stuff, therefore my favourite smoothie is the mint choc smoothie , I also add I tsp of chia seeds to it as well. I also love the vanilla smoothie powder mixed with 1/2 cup natural Greek yoghurt. It's like eating cheese cake for breakfast .
In order to kick my weightloss up a notch, I will be upping my exercise from the healthy mummy DVD,  also I will be focusing this month on eating only from plan with no substitutions.
Jodie Tecksingani
If you are ready to lose weight then the Healthy Mummy plans offer a healthy and safe exercise and diet routine and you can get a 10% discount by using code LOYALTY at the checkout
PLUS our BEST SELLING 28 Day Diet & Exercise Plan is available as a 200pg Printed Book and you can get your copy here
Plus our NEW CALORIE BIBLE is now available – get your copy today! Only $19.95 and a must have in your handbag!