I had a bad start to the month with sick children and feeling down because we couldn't leave the house. I then started feeling down about me not losing any weight and not getting out to exercise.
After 5 pregnancies and 4 of them c-sections, I do have quite a large 'overhang.' After looking in the mirror at the start of the month I started to feel discouraged that it was still there as bad as it was when I first started.
Luckily I read on The Healthy Mummy to take photos before and during weight loss. I decided to take some more photos so I could compare them to my previous ones. I was amazed/shocked to see how much it had shrunken. I just couldn't believe the difference. This really helped to motivate me to get up early every morning and do my exercise.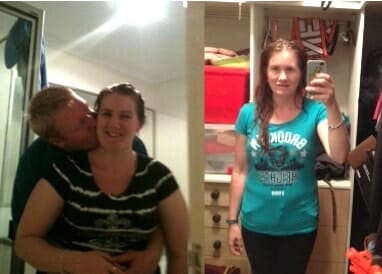 Because of the change I saw with my photos I have increased my exercise. I now do a 30 minute workout in the morning and go for a 30 minute walk/jog. I've loved finding hills I can run up. Sometimes I just walk my kids to school, which is 3km there and back.
With 5 kids it is slow, but pushing the pram up those hills is defiinitely a workout. I'm loving the exercise DVD and doing a workout nearly every day. If I don't have time I just do squats whilst holding bub or lunges.
This week I have made so many recipes from the 28 day plan and summer cookbook. I love the kids food section in the Spring Summer cookbook and my son has chosen a few recipes for me to cook. We made muesli bars, stir fry's and lots of yummy healthy mummy smoothies.  I love the calorie bible too.  Its making me more aware of the food I'm eating. It's in my bag for when I go shopping or get a coffee so I can chose the best thing to buy.
When I first started following the Healthy Mummy plans I was 73kgs. This was 3 months after having my 5th child. My goal weight was 63kgs to take me to pre pregnancy weight with my first child. I'm now 62kgs.  My new goal is 58kgs which I'm hoping will happen by December. I love that my old skinny clothes (the ones I kept in the hope I would fit in them again) are too big!!  I decided to buy some clothes that fit me and I am so happy I've lost 2 dress sizes!!
I feel so happy, confident, energetic – even with so little sleep. I haven't felt this good in years and my husband can't keep his hands off me (which is defiantly helping boost my confidence.)
Juanita Bacon
Special Offer & 10% Discount
If you are ready to lose weight then The Healthy Mummy plans offer a healthy and safe exercise and diet routine that are safe if you are breastfeeding and you can use code LOYALTY for a 10% DISCOUNT at the checkout