What a great start to the New Year!  I am back past my half way mark after landing there briefly over the Christmas period.
My goal over Christmas was to not gain weight and I am pleased that I ended the month down 0.5kg from the beginning of the month.  I am now down to 75.6kg with a weight loss of 8.4kg on the healthy mummy plans – my goal is 68kg.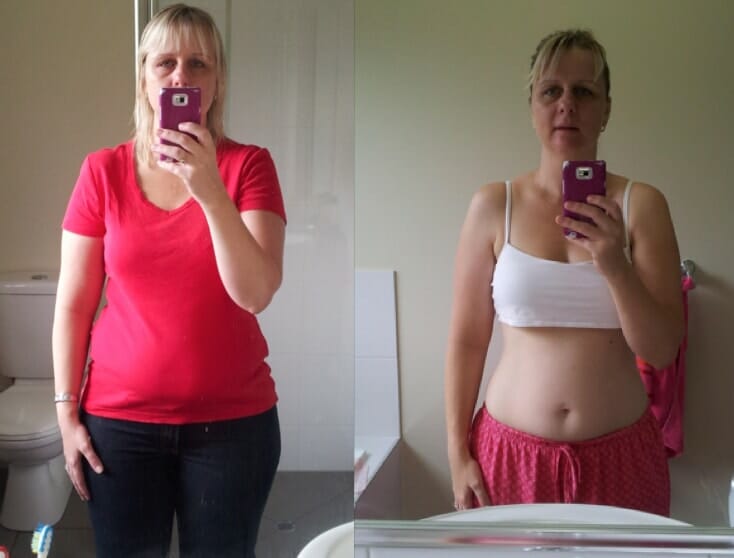 My goal in January were to start jogging/running and I am pleased to state that I started this goal in late December.  Along with using The Healthy Mummy DVD I am fitting exercise into my life on a daily basis.  Unfortunately it has been raining constantly here the last couple of days so no running but I have used the DVD and my favourites are the two cardio segments which help me get a sweat up.
The Health Mummy smoothies have become a fixture in my daily meal plan and I love that I can mix up pretty much anything to make a delicious smoothie.  I am loving using banana's and fresh berries.  Even just plain they are tasty.  When I feel like 'eating' I take direction from the 28 Day Diet and Exercise cookbook and the Spring and Summer Cookbook.  I also love looking through the facebook page and the website for new recipes – this week we hand the Lamb Fetta Meatballs (DELICIOUS) and the Tortilla Nachos Cups (LOVED THEM!).
Since the beginning of the month I have used the Eat, Move, Lose Challenge template to log my food and I have listed EVERYTHING so that I am accountable for what I put in my mouth.  I love this tool and I credit it to helping me lose 1.8kg this month.
My biggest change has been my attitude to food.  I now eat for a purpose and think twice when I want the 'naughty' foods.  I find that often it is just boredom kicking in and old habits want to come back and sabotage my progress.  Now I just have a healthy snack and get busy, but if the desire still hangs around I let myself have a little something but I no longer overdo it like in the past.
I am over the moon that I am now fitting in to some size 12's and wearing clothes that I never thought I would get in to!  My hubby is loving it to as he now has a wife who goes out feeling confident and happy and doesn't spend the time getting ready upset because nothing fits!
Today my family and I are heading to the beach for a mini holiday and I am prepared with lots of fresh fruit, my smoothie mixes and my runners!  Hopefully this rain will stop so that I can enjoy some walks/runs along the beach.  I am loving that going to the beach I feel better in myself and not self conscious wearing uncomfortable ill fitting clothes.  Thank you to The Healthy Mummy for having a fantastic program that has given me the tools to get to where I am and help me to continue to where I want to go!
Start weight 84kg
Current weight 75.6kg
TOTAL LOSS 8.4KG!!!
Measurements
Start 8/9/13                             NOW 13/1/13
Bust 98cm                               93cm
Waist 92cm                             80cm
Hips 118cm                            109cm
Thigh 70cm                             63.5cm
TOTAL LOSS 32.5cm!!!!
If you are ready to lose weight then The Healthy Mummy plans offer a healthy and safe exercise and diet routine that are safe if you are breastfeeding and you can use code LOYALTY for a 10% DISCOUNT at the checkout