Hi, my name is Kat and I am a full time mum with 4 kids under 5, my youngest being 6 months old. Like most of you I have a very busy life!
Before having our first baby I was very slim. After my 4 pregnancies I had put on 19kg.
I am so very thankful that I found The Healthy Mummy products and weight loss plans as it makes my life so much easier and I have now lost over 22kg on the weight loss plans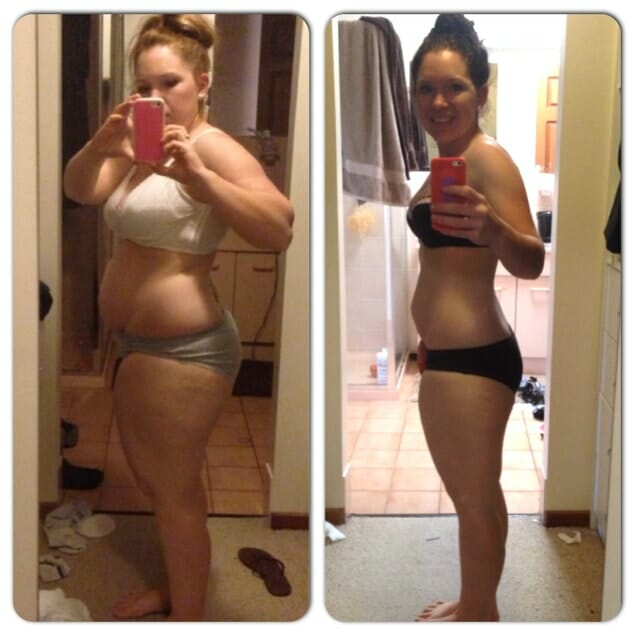 Since starting on the 28 Day Diet and Exercise Plan and Healthy Mummy Smoothies I have lost an amazing 22kg.
I love the healthy mummy smoothies in the morning, I have a chocolate-coffee one and they give me so much extra energy to help me tackle my day of looking after the kids, the property, the housework and school runs.
I also use the Healthy Mummy Exercise DVD and I seeing fantastic results! Never in my life have my legs been this toned!
We have tried lots of new recipes off the website including the chicken and lemongrass pot sticker dumplings, the sizzling spicy chicken and the slow cooked peanut beef and as always they were delicious! We are never disappointed with any recipe we try and the website is such a valuable tool to use and FREE as well 🙂
It has gotten very warm here in Victoria so I have been concentrating on keeping my water levels up. A trick that always works for me is to have a glass of water every time I go to the fridge or sink and with 4 kids- that's a lot! I have also been enjoying the mint iced tea from the spring and summer cookbook when I need a change from water- very yummy!
One of my girlfriends brought me a dress for Christmas in a size 8 and I was totally gob smacked when I tried it on and I got the zip done up all the way to the top!
A size 8- I still can't believe it!! All thanks to the healthy mummy plans– if you are thinking of giving it a go- DO IT!! You will NOT regret it!! And lose baby weight isn't just for mums- it is for anyone who is looking to make the change to a happier and healthier life.
I am looking forward to starting the eat move lose challenge in January and another lot of goals to achieve 🙂
My measurements are:
Weight: 57kg down 1.8kg a total of 22kg since June 2013
Bust:80cm no change
Waist:70cm down 1cm
Hip:82cm down 1cm
Thighs:52cm down 2cm
Have a very happy and healthy New Year everyone!
f you are ready to lose weight then The Healthy Mummy plans offer a healthy and safe exercise and diet routine that are safe if you are breastfeeding and you can use code LOYALTY for a 10% DISCOUNT at the checkout