During April 2012 I found out that I was pregnant at just 18! I was really happy with my weight and was sitting at around 65kg. On the 31st of Jan I gave birth to my beautiful baby boy Samson. He was a surprise pregnancy and I wouldn't change that for anything….. Not even for my figure back!
During my pregnancy I had put on a bit of weight and it was noticeable and I just kept telling myself that I have just had a baby and a bit of extra weight doesn't matter, but as time went I realised just how much I need to be fit and healthy for my son and any future kids I want to have.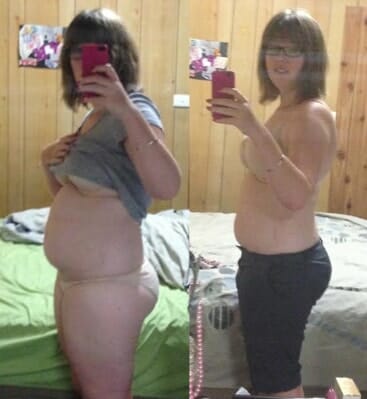 This was when I purchased my healthy mummy smoothie starter pack and was amazed at how yummy they were! I was also breastfeeding so having a smoothie that I could drink and be safe for my baby was an extra bonus.
I would drink a smoothie every morning for breakfast along with my fish oil tablets. I was thinking to myself it is all well and good to be drinking these smoothies but what else was I doing to help my weight? Not much. That was when I started to exercise and eat well to! And wow!! I could notice a change but I also felt more positive!
I was feeling great, and still am with the help of healthy mummy! After using the healthy mummy products along with exercise I lost 10kgs just in time for my wedding
I am currently 80kgs but my goal is to get back to my pre baby weight of 65kg. At this moment in time I feel like I am dragging my son and husband down with my weight and I want this to change.
I know this is possible with the help of all the great healthy mummy products and online members area, which I just discovered and it is now by new best friend!
Over the next month I have the privilege to be a 'motivating mum', this is something that I am very excited about and cannot wait to journey through the next month motivating not only myself but all the other mums out there! Let's lose this baby weight together!
If you are ready to lose weight then The Healthy Mummy plans offer a healthy and safe exercise and diet routine that are safe if you are breastfeeding and you can use code LOYALTY for a 10% DISCOUNT at the checkout