Well it's the end of my first 2 weeks as a Healthy Mummy motivating Mum and I have loved doing it – plus since starting the healthy mummy plans I have lost 14kg.
It's been so much fun sharing pictures of all the yummy food and healthy mummy smoothies I've been eating and drinking and I'm so excited that I have been able to encourage some of my friends to try the Healthy Mummy smoothies and cookbooks and workout DVD, I know you will love it as much as I do and I hope I can inspire more Mum's out there to give these programs a go and stick at it.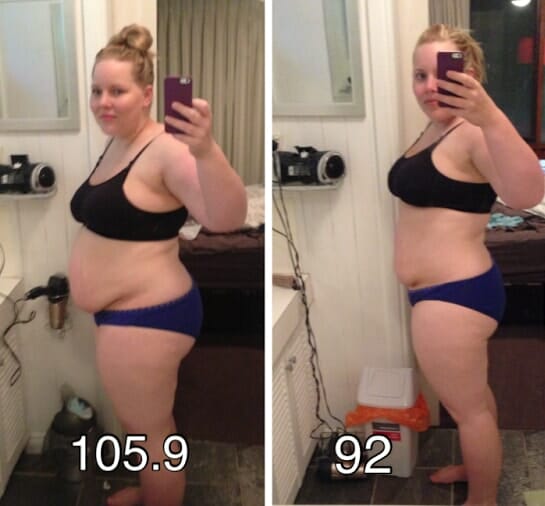 I have to say, the last 2 weeks have not been without its challenges. My nearly 5 month old boy ended up needing surgery to remove a lump on his arm so it's been a very stressful time. Before starting the healthy mummy programs stress always equalled binge eating. It was my coping mechanism.
After a couple of long days at the Royal Children's hospital it would have been so easy to get take away, if I ever had an excuse to eat poorly surely that was it? You know what I realised, eating healthy can be just as easy as take away and makes you feel so much better. One of the days we were in the hospital I came home and made steak with avocado and tomato salsa from the Healthy Mummy 28 day diet and exercise plan. It was so quick, easy and it gave me a good hit of iron which I needed so badly plus I felt great for eating it. An egg on toast with baby spinach and tomato is another super-fast, super healthy alternative to takeaway.
There are so many quick, easy meals like this in the Healthy Mummy cookbooks which take minutes to cook and are so good for you. When I was craving chocolate (another thing I do when feeling stressed) I made a healthy mummy smoothie with the chocolate smoothie mix, had some trail mix with dark chocolate drops in it or had a chocolate paddle pop. I have realised that there will be times when I want something sweet but there are better choices out there to satisfy that craving and I am so passionate about not being on a diet, this is a life change.
Here is another honest truth about weight loss – some days are harder than others. There will be times where I'll be starving from long days of breastfeeding or I'll be exhausted just from being a Mum. It's days like that when I have to remind myself that weight loss isn't a race, if you race it's a fad and any weight you lose can't be sustained. Weight loss needs to be gradual to keep it off for good.
Each positive change you make brings you one step closer to reaching your weight loss goal. Changes like I made last week. Instead of having a cuppa when the baby went to sleep I strapped him in the baby carrier and went for a walk and it felt great. I also started Mums and bubs exercise classes this fortnight and found they are so much fun and a fantastic way to meet other Mums while being active with bub.
I have had days lately where I feel 'fat' or like I haven't achieved anything in my weight loss goals or like I'm not getting there fast enough. You know those days where every outfit you put on seems to look like garbage? It's days like this where I take a photo of myself and compare it to the photo I took at the beginning of this journey. Photos don't lie and it's so encouraging to see the difference. I don't like weighing myself lots, I find I get too obsessive and it becomes about a number rather than a lifestyle change. Photo's (and measurements if you're less lazy than me) now they don't lie. I read a quote on the Healthy Mummy facebook page recently about how it takes you 4 weeks to notice weight loss change, your friends 8 weeks and the world 12 weeks so keep going. Last week I had the confidence boost of having friends and family notice the change in me and it felt so wonderful and made me excited about going forward.
Despite having some good days and bad days the last fortnight (isn't that just life) I weighed myself this morning and I have managed to bring my weight loss to a total of 13 kilo's which I am so, so proud of. I took another before and after pic this morning and couldn't believe it was me and that I had made this change with good food and exercise. Thanks again to the healthy mummy for making me a motivating mum this month, I know that it is helping me so much with my weight loss journey and I feel so motivated myself by being part of it.
Can't wait to speak to you all at the end of this fortnight!
Laura Flanagan
If you are ready to lose weight then The Healthy Mummy plans offer a healthy and safe exercise and diet routine that are safe if you are breastfeeding and you can use code LOYALTY for a 10% DISCOUNT at the checkout