I am so excited to say that after a killer 2 weeks I am down another 3 kilo's bringing my total weight loss on The Healthy Mummy plans down to 17.9 kilo's! I can't believe in just under 3 months I have lost the amount of weight that I have and that I am on track to be 20 kilo's down by my 30th birthday in early April.
Never in my wildest dreams did I think losing 20 kilo's in 3 and a bit months was achievable, I set the goal reaching for the stars and I really believe that I can do this now. A big thanks to The Healthy Mummy for keeping me on as a motivating mum and for making such a wonderful diet and exercise plan, I honestly don't think I would have come this far without it.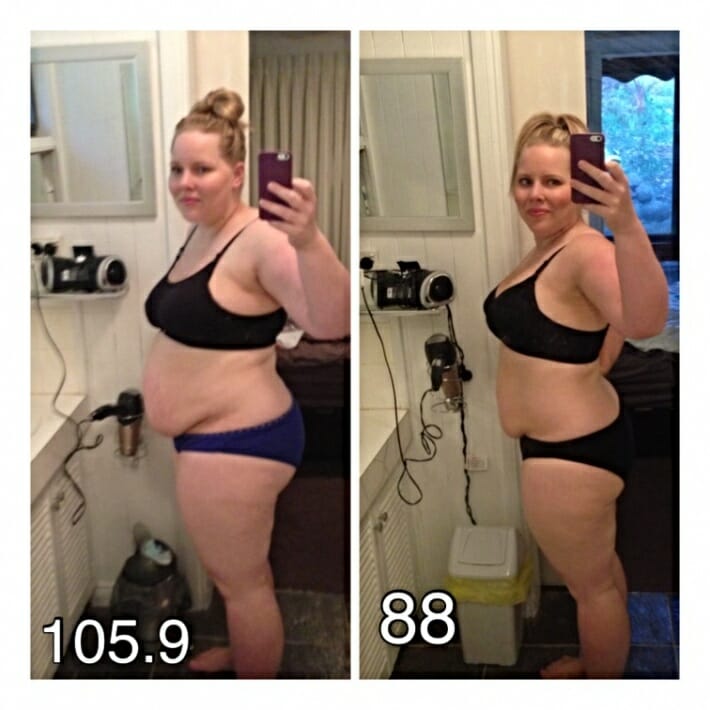 Last blog I was determined to reach the 80's and have 2 weeks of no take away and exercising for at least half an hour 5 times a week. I am so happy to say that I did all 3 and feel fantastic for it. This week for the first time since my wedding I fit back into my wedding dress. This was a massive goal that I have had for a long time and it felt great to achieve it. Another proud moment was when I chose to go to Mums and Bubs exercise over going to the markets. It ended up being such a fun class and it was really good to know I could make exercise a priority.
This fortnight I branched out from my usual meals and tried some different Healthy Mummy meals for the 1st time: From the 28 day diet and exercise plan I had Warm beef salad and Salmon Nicoise salad (with chicken) and from the website I made zucchini pie when I had people over (which was so, so yummy and is going straight to the favourites). I also made my favourites from the Spring and Summer cookbook: Mediterranean haloumi salad and Salmon with white bean puree, yum, yum, yum!!!
There are some things that I found have really helped me lose 3 kilo's in 2 weeks that I wanted to share. Firstly was making a short term goal (for me this was 2 weeks) and sticking to it. By having a small goal it gave me something to focus on and made me more determined than ever. Secondly I bought some new music to workout to. I found mixing it up and having some faster beats made me work harder and I enjoyed it more. Thirdly, I realised that Peter's low cal chocolate ice-cream is too good so I have a new limit of one tub per month. I have already had my quota for March and maybe April I will learn to eat it slower and it will last longer!!!
I have found recently that people have asked me why I like The Healthy Mummy so much and why it works so well for me so I have come up with a list of things that I love about the program and why I am having so much success on it: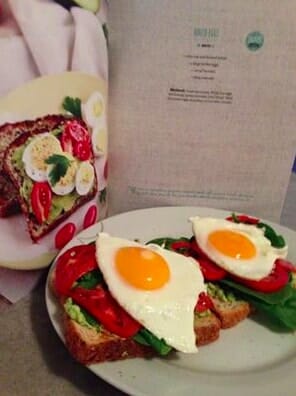 It's easy to follow
The recipes are YUMMY!
The food is quick and simple to make
The smoothies are so filling and taste fantastic
It comes with a supportive community with things like facebook, Instagram, the website with a members area, pinterest and the daily motivating emails
The program doesn't push for quick weight loss, it encourages lifestyle changes that are gradual rather than a quick fix
There are realistic exercise programs for mums, especially the DVD which is broken into 10 and 15 minute sections
The stories of real mums doing well and the motivating mums are so encouraging. Knowing that we are all in the same boat trying to be healthier and succeeding together makes the world of difference.
That's all from me this fortnight. I hope next time I write that I am telling you how great it is that I am down 20 kilos or how much fun I've had trying to get there  ?
Laura x
GET YOUR 10% DISCOUNT GET YOUR 10% DISCOUNT If you are ready to lose weight then The Healthy Mummy plans offer a healthy and safe exercise and diet plans that are safe if you are breastfeeding and you can use code LOYALTY for a 10% DISCOUNT at the checkout. Plus we have Cookbooks, Calorie Bibles, Exercise DVD's, Meal Replacement Smoothies and Our 28 Day Plan in our shop