Lauren's 14kg Weight Loss Results
I love the Healthy Mummy weight loss plans. I haven't missed out on anything and that's all thanks to the fantastic plans and I have now lost 14kg.
I've been taking yummy Salads to Barbeques and healthy snacks so I don't indulge in too much, all the while I'm still losing weight. I'm not interested in sweets as much now, which is a big deal for me, because I had such a sweet tooth.
I would always want dessert but now I'm happy with my green tea. If I'm craving chocolate I have a chocolate smoothie using Choc Almond Milk or find a healthier option off the Healthy Mummy website like the Weetbix Slice. YUMMO. The calorie bible has given me new ideas for snacks. Some raw Cashews, cherries or popcorn and it's all about portion control.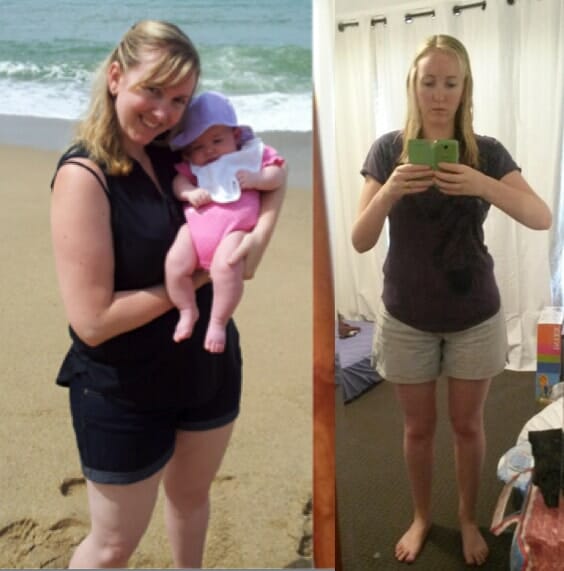 I'm still keeping to my challenge of doing one of the Healthy Mummy Exercises off the DVD each day and going to the gym 2-3 times a week. I am also starting to jog on the treadmill. My favourite workout from the DVD is the Ab's. I'm hoping Santa brings me some weights so I can work out a little harder with some of the options. It is crazy busy with all of this, but I wouldn't have it any other way.
The Healthy Mummy Smoothies are going great. I bought Mangos on special and have chopped them up and put them in the freezer and they make the best Mango Smoothies. They are so tasty and are just like a shop bought but without all the calories. I have now been adding some baby spinach in some of my smoothies for their nutrition and I can't even taste it !!! I just can't go past me favourites, Ice Coffee, Mocha, Mixed Berry and Blueberry Blast. The smoothies are so convenient and I don't think I would have done so well without them.
I'm just loving the new me. I am now fitting into clothes I haven't worn for 3 years or more and they fit great. It's like having a new wardrobe without the cost. I have had so many people comment on how well I'm doing and being a motivating mum. It's great when your hard work pays off. I've got a few people interested in the plans and a few people now getting a start with some exercise. It feels great knowing I can help people, because I know how hard it is to get started.
Lauren Pepper x
If you are ready to lose weight then The Healthy Mummy plans offer a healthy and safe exercise and diet routine that are safe if you are breastfeeding and you can use code LOYALTY for a 10% DISCOUNT at the checkout