Lose 5kg and Blast Belly Fat with the New Healthy Mummy Magazine Tummy Edition
The latest edition of The Healthy Mummy Magazine is out NOW and it's Issue number 5 and is a special Tummy edition.
The latest edition of The Healthy Mummy Magazine is OUT NOW and it's Issue number 5!
This magazine is available at newsagents and supermarkets and is a special Tummy Edition! It is bursting with incredible content and is full of inspiration as well as practical advice with food and exercises and tips to blast belly fat!
For under $10, this magazine will help you lose 5 kilos and blast away belly fat in just 4 weeks!!!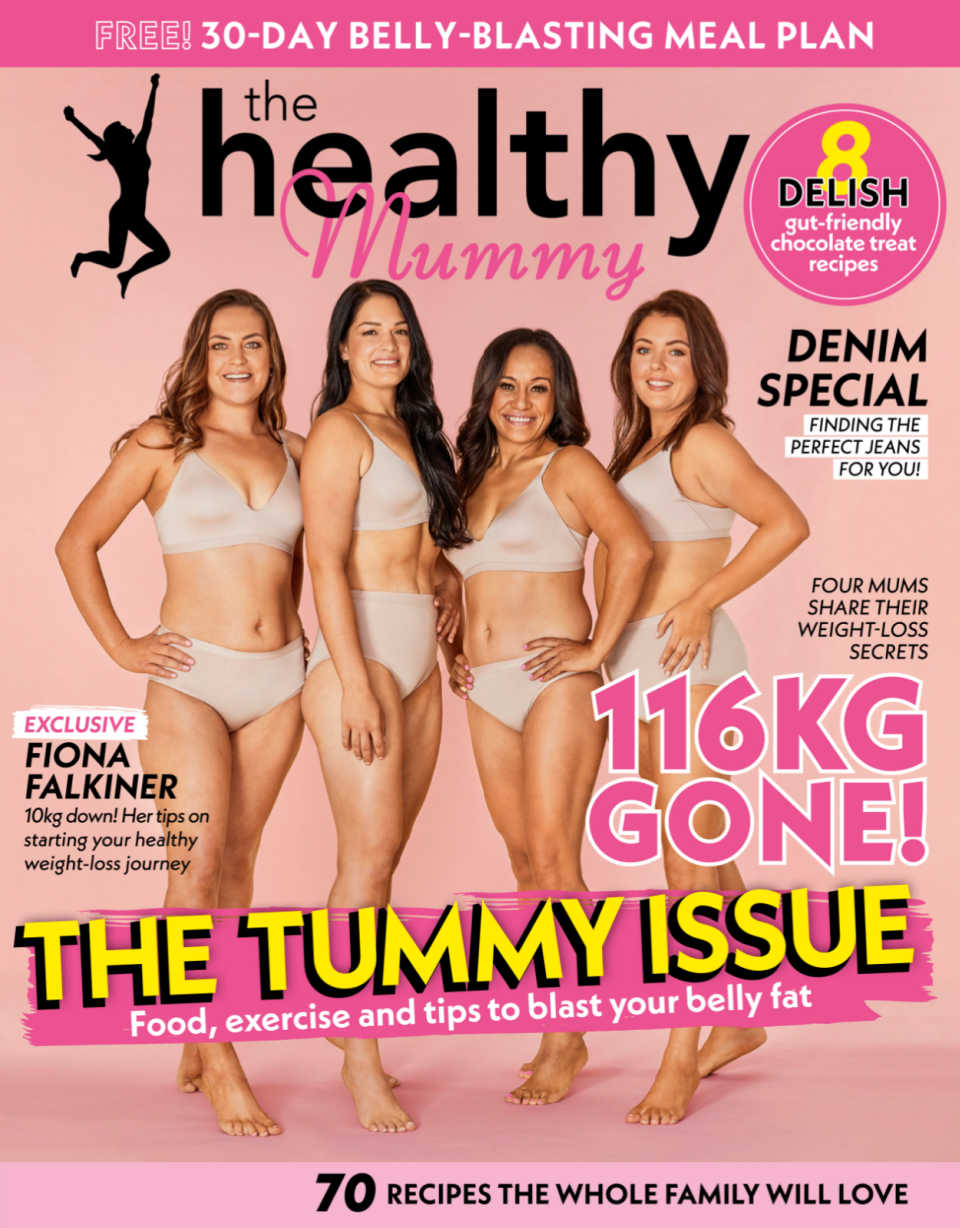 Our sensational and inspirational cover girls who stripped down to their undies and together lost 116 kilos!
Mum of 3 Laura has lost 31 kilos
This beautiful mum of three has lost 31 kilos on the 28 Day Weight Loss Challenge, and has significantly reduced the appeared of her post partum muscle separation following her third baby. Along with appearing on the cover,  she shares her amazing story in the new Healthy Mummy Magazine!
"Not only have I improved my ab separation but I'm living a healthier cleaner lifestyle and I'm only 3kgs off my goal weight !"
What's more. Laura has noticed that her tummy is less bloated than it was before she found The Healthy Mummy.
"By following the meal plans and recipes I don't feel yucky and bloated when I eat anymore,  I have so much more energy," she says.
"I used to hate food because it would make me feel yucky and lazy now I look forward for what to try next. 
Shannon has lost 34 kilos and has never felt so confident
Shannon has lost a whopping 34 kilos on the 28 Day Weight Loss Challenge and says she's never felt more confident in her life!
"Anything is possible! It is possible to change your life and become who you want to be a star.  If you haven't tried The Healthy Mummy – don't wait any longer – try it out now!"
"I've lost 34 kgs with the Healthy Mummy over the last  4.5 years and also have enjoyed 2 Healthy Mummy pregnancies."
"It's okay to stop along the way just don't give up! I have stopped it's taken me 4.5 years to get here, three babies in that time."
"I'm so much fitter and have so much more energy! I have never ever been so confident in my body. My mental health hasn't ever been this good either," she says.
Mum of 4 Krystal has lost 19 kilos
Krystal Poles feels fabulous having lost 19 kilos in 12 months on the 28 Day Weight Loss Challenge.
"This has been the best journey of my life and I am excited about the future."
"I have loads more energy, I now can keep up with my energetic children. My confidence within myself is loads better.
"I love making the desserts from the app and my daughter loves helping me cook too. My favourite workout from the Healthy Mummy App is Pilates with Jo. Plus my kids join in with me.
"It's great getting the family involved in health and fitness."
Brooke Baker lost 32 kilos in 10 months
Brooke, 29, has managed to lose 32 kilos and dropped 6 dress sizes in just 10 months!
"I have so much more energy then I have ever had before. Instead of sitting back watching I can be involved in all activities with my children and not feel totally exhausted which is what has kept me motivated all along," she says.
"I just want to be the healthiest and happiest version of myself for not only me but my family."
What's more, Brooke says her mental health has greatly improved since finding The Healthy Mummy.
"It has introduced me to exercise which I never thought would become such a big part of my daily routine and such a great way to clear my mind," she says.

Sneak peek of the delicious recipes inside our magazine
The Tummy Edition Healthy Mummy magazine is packed full of delicious recipes that are not only family friendly and taste amazing, they are also nourishing and will do wonders for your gut health too!
There is a special feature with all you need to know about following a FODMAP diet with a heap of FODMAP friendly recipes that will satisfy your tastebuds and also keep your belly happy, as well as gut friendly snack recipes with sweet and savour morsels to take snacking to the next level!
Mexican Chicken Salad
PREP 5 MINS COOK 10 MINS SERVES 5
5 cups plain corn chips 4 tbsp taco seasoning, salt-reduced
2 free-range eggs, whisked
2 tbsp water
3 tbsp plain wholemeal flour
500g chicken breast fillets, cut into thin strips, or use tenderloins cooking oil spray
4 cups mixed lettuce leaves
1 cup corn kernels (fresh or tinned) 1 red onion, finely sliced
1 punnet cherry tomatoes, halved 1 red capsicum, sliced
3 tbsp lime juice
1 avocado, thinly sliced
1 lime, sliced
4 tbsp reduced-fat mayonnaise
2 tbsp fresh coriander, chopped salt and pepper, to season
Using a blender or food processor blitz corn chips to resemble a small crumb. Add taco seasoning and blitz again to combine. Pour crumbs into a bowl.
In a separate bowl, make an egg wash by combining egg and water. In a third bowl add flour.
Coat chicken in our, then egg wash, then crumb mixture. Repeat this process until all the chicken is coated.
 Heat the grill to high, layer chicken in an ovenproof tray and spray with cooking oil spray. Place under the grill for 8–10 minutes or until the coating is golden and chicken is cooked through (chicken needs to be turned every 2–3 minutes to prevent burning). You may need to spray chicken with more cooking oil spray half way through cooking time to get the desired golden crisp crumb.
While the chicken is cooking, assemble the salad. In a large bowl combine lettuce, corn, onion,
cherry tomatoes and capsicum. Add lime juice and toss together. Divide evenly into 5 bowls.
To each bowl add sliced avocado, sliced lime and crumbed chicken. Finish with a drizzle of mayonnaise, top with coriander and sprinkle with salt and pepper to taste.
NUTRITIONAL INFORMATION (PER SERVE) Energy 1836 kJ / 439 cals Protein 31.6g Fibre 8.8g Total Fat 19.1g Carbohydrates 30.1g Saturated Fat 5.6g Total Sugar 8g Free Sugar 1.1g
Beef Pho
PREP 10 MINS COOK 30 MINS SERVES 4
8 cups water
1 tbsp beef stock powder
1 tbsp fresh ginger, thinly sliced
2 cloves garlic, thinly sliced
1⁄2 brown onion, thinly sliced
1 cinnamon stick, broken into pieces
1 tbsp tamari (gluten-free soy sauce)
1 tsp fish sauce
1 small zucchini
400g Konjac noodles
800g beef fillet, very thinly sliced
2 cups bean sprouts
2 small red chillies, thinly sliced
1⁄2 cup mint leaves
1⁄2 cup fresh basil leaves
1 cup fresh coriander leaves
1 spring onion, thinly sliced
1 lime, quartered
Place the water, stock powder, ginger, garlic, brown onion, cinnamon stick, tamari and fish sauce in a saucepan. Bring to the boil, then reduce to a simmer for 20 minutes to infuse the flavours.
Strain to remove the large flavouring ingredients, then return the broth to the saucepan and bring to the boil again.
Use a spiraliser or peeler to slice the zucchini into thin noodles.
Rinse Konjac noodles well and place in a bowl. Cover with boiling water and soak for 3 minutes.
Add the zucchini noodles to the boiling water for the final minute. Drain noodles and zucchini.
Divide the noodles, zucchini and sliced raw beef evenly between 4 bowls. Pour over an even amount of the boiling beef broth. The meat will cook in the hot liquid.
Top each bowl of pho with some bean sprouts, slices of chilli (optional), mint, basil and coriander leaves and spring onion. Serve with a quarter of lime for squeezing over when eating.
NUTRITIONAL INFORMATION (PER SERVE) Energy 1484 kJ / 353 cals Protein 47g Fibre 2.8g Total Fat 14g Carbohydrates 8.5g Saturated Fat 5.8g Total Sugar 2.9g Sugar 0g
Chocolate Raspberry Vanilla Pudding
PREP 40 MINS SERVES 6
1 cups fresh or frozen raspberries
1 tbsp powdered gelatine
3 cups reduced-fat coconut milk
1 tbsp cacao/cocoa powder
3 tsp vanilla extract
Defrost berries if using frozen ones. In a bowl combine gelatine with a quarter of the coconut milk.
Heat remaining coconut milk in the microwave or on the stove until hot but not boiling.
Pour hot coconut milk into the cold coconut milk/gelatine mixture, then stir until gelatine powder has dissolved.
Add the cacao/cocoa powder, two-thirds of the raspberries and vanilla extract, then stir to combine.
Pour mixture into 6 individual small serving glasses or silicone moulds.
Place in the fridge to set for around 30 minutes.
Serve puddings topped with the remaining raspberries.
NUTRITIONAL INFORMATION (PER SERVE) Energy 540 kJ / 128 cals Protein 5.5g Fibre 2.3g Total Fat 9.4
The Healthy Mummy Magazine's Belly Blasting 30 Day Meal Plan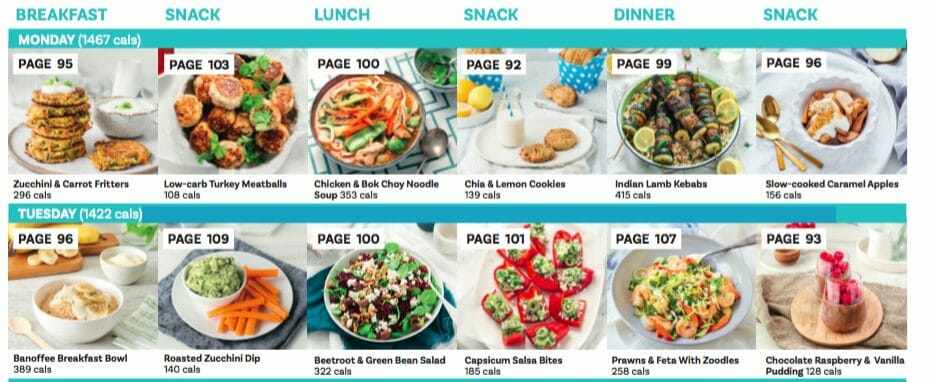 The New Healthy Mummy Magazine also includes a 30 Day Belly Blasting Meal Plan with recipes so you can lose 5 kgs! This meal plan will help you eat the right foods to reduce belly fat. The recipes and meal plan have been designed by qualified nutritionists and is family-friendly too.
You Could Win a Thermomix TM6!

In the magazine The Healthy Mummy has a Thermomix® TM6 to give-away, plus a copy of their Eat Well cookbook and a 6-month subscription to their recipe platform to get you started.
Exercise, Features and a whole lot more…
The Healthy Mummy Magazine Tummy Edition is jammed with features to EMPOWER mums to live a healthier life.
The founder of  The Healthy Mummy, Rhian Allen, is so excited to be the Editor of The Healthy Mummy Magazine Fifth edition.
She says, 'In this issue we bring you the stories of 20 real mums, including Fiona Falkiner  the former Biggest Loser host, , who tell their personal stories of how they have achieved their goals to become fitter, stronger and happier women as well as inspirational role models for their families.'
'I love creating this magazine and sharing the honest and relatable stories of amazing real mums who achieve their personal health goals as part of our supportive community, using our app and taking part in The Healthy Mummy Challenge.'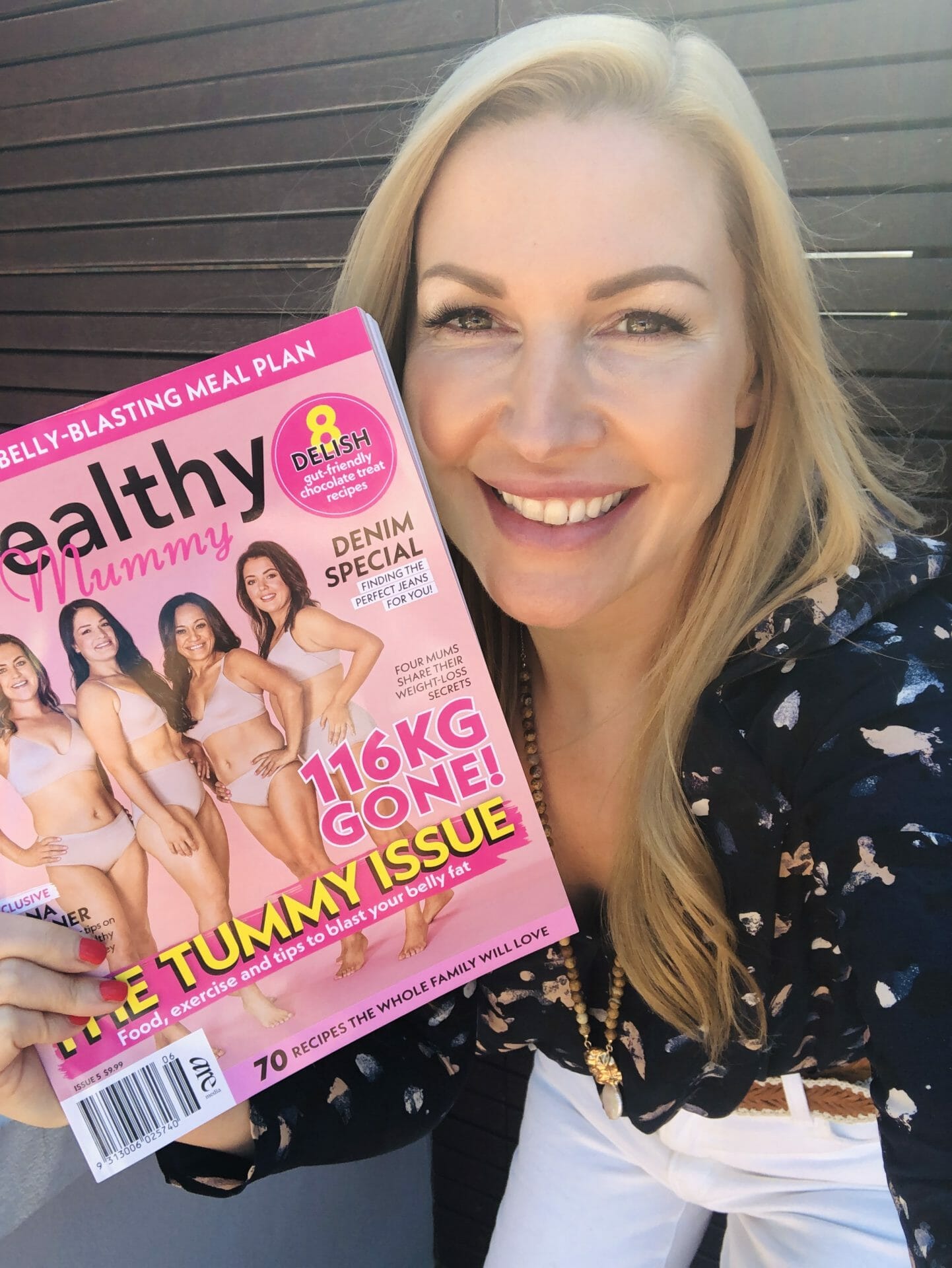 The Healthy Mummy has helped hundreds of thousands of mums lose over 3 million kilograms collectively.
The phenomenally successful The Healthy Mummy website launched in 2010 with the aim of empowering mums to live healthier lives. With over 1.5 million members in The Healthy Mummy community, it has gone on to become the biggest mums only healthy eating and weight loss program, offering recipes, eating and exercise plans, and gorgeous products for mums.
The Healthy Mummy was also launched in the UK in 2018 and in the USA in 2019. Last year, The Healthy Man was also launched.