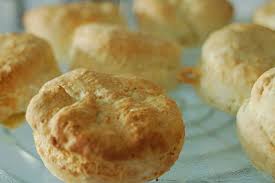 It is raining and pouring in my town and it is cold. All I feel like doing is snuggling up with a DVD, a cup of tea, and maybe a few warm scones.
Here is a healthy scone recipe that is a better option for your weight loss diet.
Prep time 10 minutes
Cook time 15 minutes
Makes 6
Ingredients
225grams of Self Raising White flour
½ tsp of baking powder
2 tbs of reduced-fat butter
1 egg
½ cup of reduced-fat milk
1 tsp of natural sweetener (try Natvia in the supermarket)
1 pinch of salt
Directions
Sieve the flour into a bowl, add in the butter and rub it with your fingers to make a breadcrumb mixture.
Stir in the salt and the natural sweetener.
Beat the egg with the milk.
Add the milk to the flour mixture. You do not need to add it all, just a little at a time to make it slightly wet.
When the mixture comes together, use your hands to bring it together to make a dough. It should be soft but not sticky.
Put the dough onto a floured surface and pat flat to a thickness of around 2cm.
Cut into desired shape (round is pretty standard).
Place on a lined baking tray and cook in a preheated 200-degree oven for 12-15 minutes until golden.
For toppings try some crushed strawberries and some reduced-fat yogurt.
180 calories per serve.