Lucy Has Become A Motivating Mum
Hello! I'm Lucy. I'm a 34 year old Australian, married to a Frenchman and living in Indonesia. By profession I am a Gemologist & Diamond Grader, specializing in the nerdy side of beautiful gemstones, seeing if they are real or not, and treated or not. In reality, I am a busy expat mum to 3 lovely kids, 1 girl an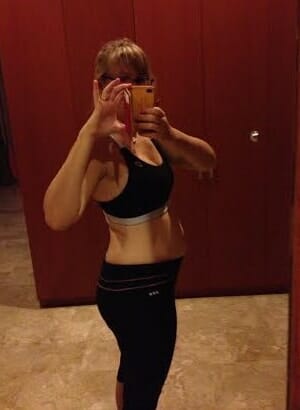 d 2 boys. My eldest is 5, my middle one is nearly 2 and my baby is 12 weeks old…
I started using the Healthy Mummy Smoothies in October 2012, when my middle child was 6 months old. The 20 kilos I had put on during my pregnancy with him were just not budging, despite breastfeeding. Within a few months of having one smoothie a day and eating weight loss recipes from the  website, I had shed 10 kilos, pretty easily. My energy levels were way up too, so much that I decided to do my first ever 10 km 'Fun Run', which took place the day before my son turned 1.
Fast forward a few weeks and I realized I was pregnant again, and found out that we were moving to Jakarta, Indonesia, for my husband's work!
During this pregnancy I 'only' put on 18 kilos, but still reached my personal all time high of 90 kilos. When my big 4.8 kilo son come out, I was sure that between him and water weight etc I would have lost 10 kilos just from the birth, however, a few weeks of the Breastfeeding 'See Food Diet' (where you eat everything you see), had me weighing in at 87 kilos.
I quickly ordered a BIG supply of Healthy Mummy smoothies, the 28 Day Plan and the DVD, and started using all of those products when my son was 1.5 months old. 6 weeks later, I've lost 8 kilos, and my milk supply is as abundant as ever, if not more.
Life in Jakarta is interesting but quite difficult. There is nowhere to go outside, no way to put the baby in the pram and go for a walk, as there are no footpaths, just open sewers by the side of the road. This means that I have to find a whole new way of exercising – in the past, I have really enjoyed running and rowing, neither of which are options here!
Instead I have started Pilates twice a week, and am also doing some work with a Personal Trainer twice a week. I'm trying to get my 5 year old daughter interested in Tennis, so she and I 'share' a lesson once a week, where we do 30 mins each. On the days where I can't get to Tennis, or Pilates, because of traffic or flooding, I do the DVD.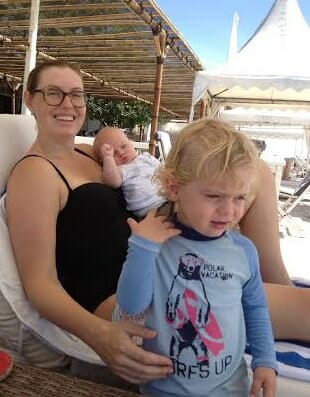 Supermarket shopping is also difficult, as you can never be sure of what you will and won't find on the shelves… Cooking a specific recipe often means a trip to 3 different supermarkets, and even then you may not find everything you need.
Things like tinned lentils and ricotta cheese are the Holy Grail of supermarket shopping over here – when you see one of those products you buy lots AND tell all your friends about it, so they can get some too! Also, the freshness of the meat and seafood often leaves a lot to be desired. The simple question of 'What will I have for lunch?' has been made a lot easier lately – I often just have a Healthy Mummy smoothie!
Jakarta also means traffic – I can literally spend hours in the car every day, just to do the school run and shopping. I have started taking snacks in the car for both the kids and I – we all like the Chickpea
Lucy Renaud
GET YOUR 10% DISCOUNT
If you are ready to lose weight then The Healthy Mummy plans offer a healthy and safe exercise and diet plans that are safe if you are breastfeeding and you can use code LOYALTY for a 10% DISCOUNT at the checkout. Plus we have Cookbooks, Calorie Bibles, Exercise DVD's, Meal Replacement Smoothies and Our 28 Day Plan in our shop.