This weight loss recipe for Mint & Feta Chicken Breasts only uses a few, simple ingredients, so is a great dish to prepare on a weeknight when time is in short supply.
The mild, tasty flavours of this recipe mean that it will be a winner with the whole family, from fussy toddlers to picky teens and hungry partners.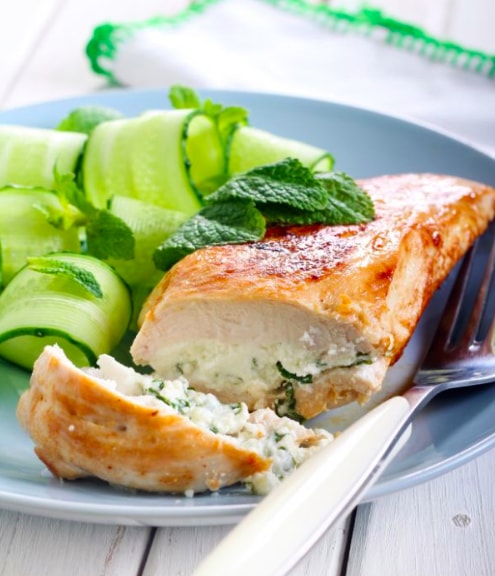 Ingredients:
4 skinless chicken breasts (150 grams each)
1 tablespoon olive oil
150 grams reduced fat feta cheese
15 fresh mint leaves, finely chopped
2 large cucumbers
Juice of half a lemon
Cracked Pepper
Optional Extras:
Replace the fresh mint with fresh sage
Substitute the feta cheese for ricotta cheese
Use turkey breasts instead of chicken breasts
Method:
Heat an oven to 200 degrees Celsius and line a baking tray with baking paper.
Crumble the feta cheese into a bowl, and mix together with the mint and cracked pepper.
Take each chicken breast and cut deeply into the side to create an open pocket.
Stuff the feta and mint mixture into the pocket and secure the side with a toothpick.
Heat the olive oil in a large frying pan over high heat.
Cook the chicken for two minutes on each side, until golden.
Transfer the chicken breasts to the baking tray and cook in the hot oven for 15-20 minutes or until cooked through.
While the chicken is cooking, use a flat vegetable peeler to finely cut the cucumber into thin, long slithers.
Once cooked, remove from the oven, and serve alongside the finely sliced cucumber.
As a final touch, squeeze fresh lemon juice both over the chicken and the cucumber and garnish with mint leaves. Another delicious stuffed chicken breast recipe!
Serves: 4. Calories per serve: 235
Results from mums on the 28 Day Challenge
Mums lose an average of 4-6kg (8-13 pounds) on our 28 Day Challenge and below are some of the amazing results from mums JUST LIKE YOU who are already using the 28 Day Challenge and losing tummy fat – make the change and join them today too!
You can see lots of more results and you can join here too
Tamara lost 37kg* with the 28 Day Challenge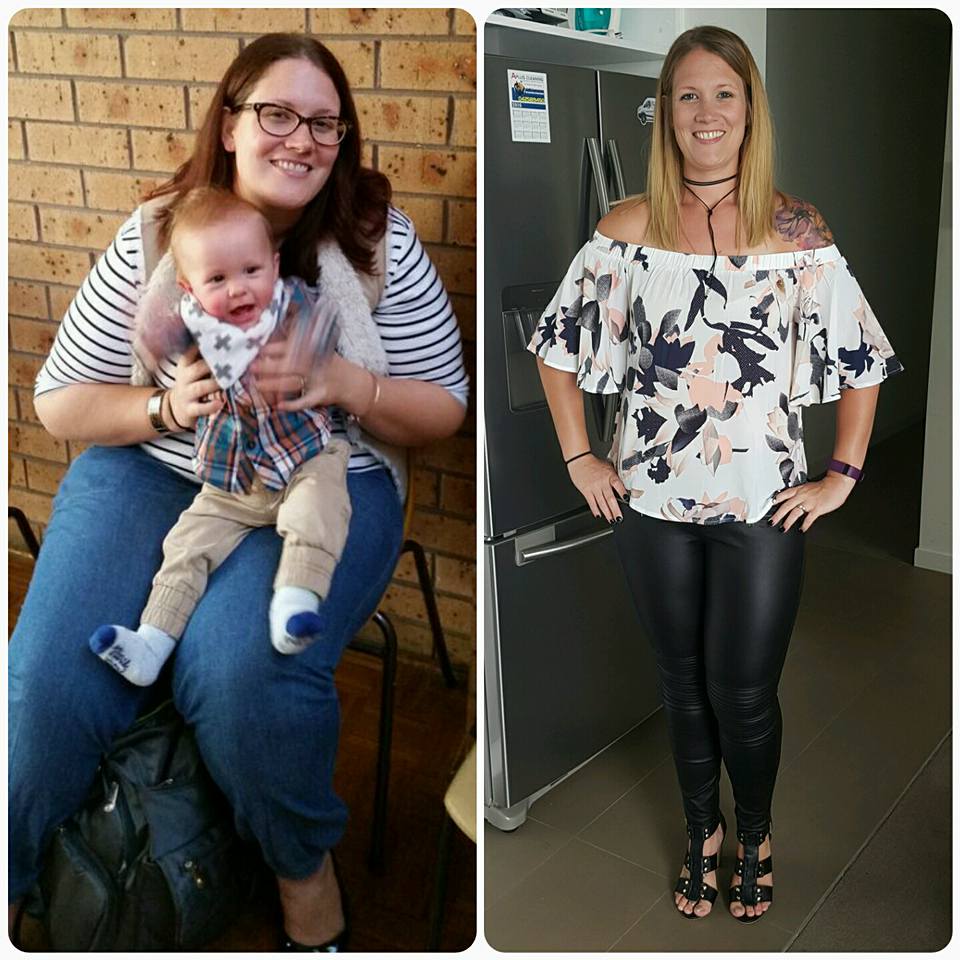 Tamara says: "I know I am definitely enjoying all the tasty, 'speedy' meals and enjoying pushing myself with my exercise during the 28 day challenges.
In 12 months my fitness has increased dramatically – 12 months ago I could barely walk to my mailbox without getting puffed, now I can run 6kms, I can run up sand hills and I can push myself harder than ever before.
In 12 months I have gone from wearing a size 18/20 to a size 12/14."
You won't regret it!