MUST WATCH: This Mum Takes Multi-Tasking To A Whole New Level
MULTI-TASKING TO A WHOLE NEW LEVEL! This mum proves you really can do it all…and all at once!
Gorgeous mum-of-two Leah, shows that you can squeeze in a nutritious breakfast, a quick-work out and some one-on-one mummy and son time all before 10am!
Leah Romiti is a Healthy Mummy Motivating Mum for March.
This inspiring mum has been part of our community for just over two years.
In this time, Leah has not only transformed her body and dropped an incredible 15kg*, she has been on a mission to empower, inspire and motivate other mums in our community to take charge of their health, tackle their weight loss goals and feel a whole lot more comfortable in their skin (not to mention, she has even shared a few healthy recipes – check out her DELICIOUS And Healthier Australian Lamingtons)!
She's an absolutely amazing mum!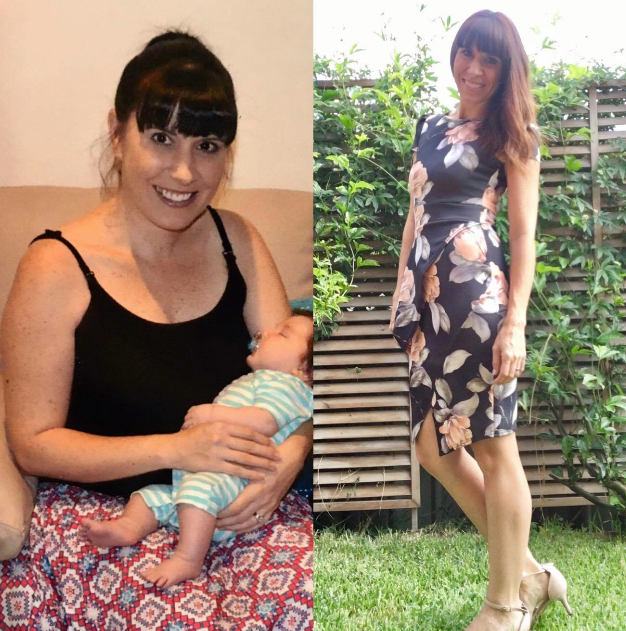 Leah's Takes Multi-Tasking To A Whole New Level
Earlier this week, Leah uploaded an absolutely incredible video in our Healthy Mummy And Lose Baby Weight Facebook Support Group! As soon as we saw it, we just KNEW we had to share it!
Leah uploaded an awesome video making a delicious Healthy Mummy smoothie. Whilst waiting for her smoothie to 'blend', this incredible mum manages to find time for some squats (using almond milk as weights) and bench push-ups!
Leah absolutely makes healthy eating and exercise look super-duper easy!
We asked this mum if she would be willing to share a little bit about her journey with us. And this is what she said… 
Leah's Incredible Story
"I am 35, married and a mum to two boys (four and a half and two years old). Before having children I weighed 65kg. During both pregnancies I gained 20kg.
A year after having my first baby, I realised I was suffering from severe anxiety and PND.
It was extremely hard for me to admit that I wasn't on top of everything. After receiving amazing support from my doctor, family and friends I felt a lot stronger.
After having my second child I worried that I would go back to square one with my anxiety so I decided I needed to do something just for me to keep me on track."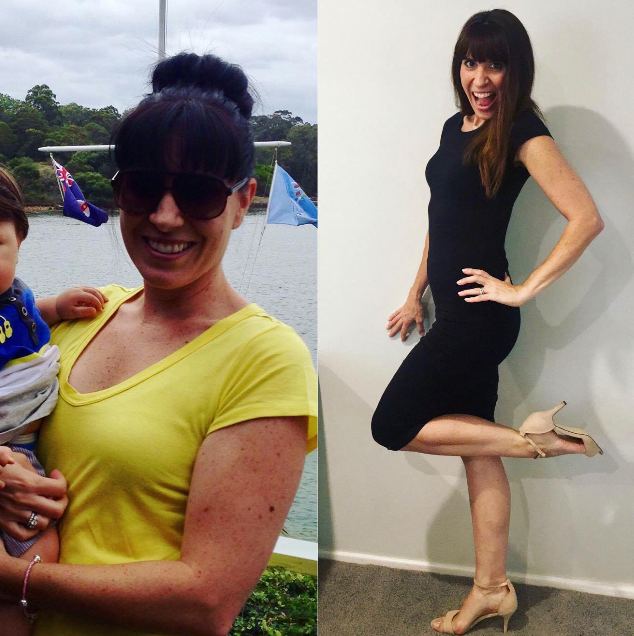 Discovering The Healthy Mummy
When a friend informed Leah about The Healthy Mummy, this mum new knew she was on to something good.
Leah says, "That's when a good friend told me about The Healthy Mummy. I began my Healthy Mummy journey when my youngest was five months old. I was 75 kg and I felt tired, lacked energy and constantly felt bloated. The Health Mummy seemed like the perfect thing to help me become healthy and happy.
I started the Healthy Mummy 28 Day Weight Loss Challenges in February 2015.
I 100 per cent stuck to the meal plans and exercise plans for 6 months. I steadily lost 15kg, averaging a loss of 500g-1kg per week."
Healthy Eating
Leah says, "I absolutely loved what The Healthy Mummy taught me about food.
I quickly learnt that I had been eating way too much and completely the wrong things. The biggest changes were making my portion sizes smaller and cutting out refined sugars. The meals are absolutely delicious, easy to make and the choice of meals is endless.
After losing the weight, I loved that my clothes no longer felt uncomfortable and I absolutely LOVED walking into any clothes store and being able to try things on knowing they'd fit and look good! I felt so happy, healthy and proud of myself."
You can check out our FREE recipe hub HERE.
Incredible Family Support
"My husband is my number one supporter. He eats everything I eat and loves that by discovering The Healthy Mummy, our lives have become so healthy and positive. My boys are learning how to lead healthy lives and my four year old always tells me that he loves that I'm a Healthy Mummy.
I am now 59kg, and I have maintained my weight for 18 months. I have two Healthy Mummy smoothies per day and I absolutely love them."
For more information on our smoothies download our information fact sheet here. You can also download the smoothie label and ingredient list here.
Leah continues; "Everyday I squat when my smoothie is blitzing! I love fitting in exercise whenever and wherever I am.
My boys regularly join me and I love that I am a role model for them. I am fit, healthy, happy and strong because of The Healthy Mummy.
I have recently started participating in parkrun and my next goal is to take part in a mini women's only triathlon at The Regatta Centre, Penrith."
Absolutely incredible! Thank you Leah for sharing your incredible story AND for allowing our team to share your awesome video with the rest of our community. 
We are so very glad you received the support you need to get through those tougher times – and that The Healthy Mummy was able to help your regain your confidence – after all, that's why we exist!
PLEASE NOTE: If you or someone you know is struggling, then remember you are not alone. Have a look at our story on what every mum who has experienced PND needs to hear as well as our post natal depression archives for ways to get the help you deserve. Also, here are well known support services:
PANDA National Helpline www.panda.org.au – 1300 726 306
Beyond Blue www.beyondblue.org.au 1300 224 636
Inspired To Tackle Your Own Health And Fitness?
If you are inspired by Leah's AMAZING transformation and want to take charge of your health (not to mention, become a master of multi-tasking), then be sure to check out our 28 Day Weight Loss Challenge!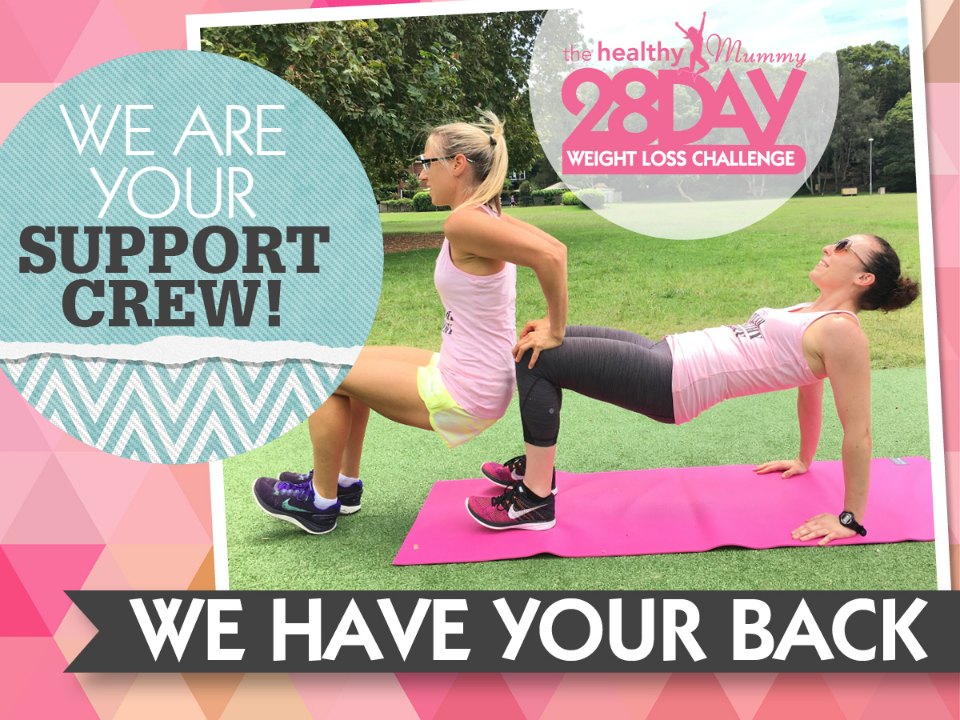 Think of the challenge as the best value personal trainer, dietician, meal planner, chef and motivational coach that you have access to every day – without the high cost and all created JUST FOR MUMS.
Every month is DIFFERENT with over 100 NEW recipes added each month. EVERY MONTH you receive NEW 28 Days of FAMILY FRIENDLY customisable meal plans, daily exercise plans and daily support.
The March round of the 28 Day Weight Loss Challenge is the BUDGET round – with ALL meals for the ENTIRE day UNDER $10 – take part here and lose weight PLUS save money!
To find out more OR to join, click here.