This mum gave birth on her bedroom floor and shared it live with more than 62,000 people!
Mum broadcasts her birth LIVE to 62,000 Facebook followers
Vlogger Sarah Cantwell decided to live stream the entire labour of her second child on Facebook to share with her followers.
"I knew that I wanted to have a home birth and as I had quite a good labour with my first daughter, I felt confident that things would go well and I would be able to have a peaceful home birth," Sarah tells The Healthy Mummy.
"I thought it would be nice to be able to share a positive birth experience. I shared weekly pregnancy updates all the way through my pregnancy and it seemed like a good way to record labour as it was happening."
In a series of clips, the second-time mum can be seen on all fours on her bedroom floor while having contractions.
Sarah – who is from the U.K. – can also be seen giving birth to her daughter Maeve with the help of a midwife and her husband Nick by her side.
The couple's older daughter Rosalie, two, was sound asleep next door in her bedroom while Sarah gave birth.
Talking of the whole birthing experience being shared live, Sarah says: "It was the perfect birth".
'It Was A Positive Experience'
Sarah tells us that she didn't get to read any of the comments from her followers until after her baby was born.
"It all happened very fast and unfortunately, I didn't have an opportunity to read any of the comments until after," she says.
"They would have been a wonderful support if I had been able to though. The reaction has been very positive with lots of lovely comments.
"I have had a few messages from pregnant mums thanking me for sharing such a positive birth experience, as they had been suffering anxiety ahead of their own births and this has helped ease that."
You can follow the Sarah's journey through her website Rosey Home, as well as her Facebook and Instagram pages.
Thanks so much for sharing your awesome story with us, Sarah! We're so pleased it was such a positive experience.
Meanwhile, this first-time father filmed daughter's birth and the footage is incredible!
For more incredible birth pictures check out this mum who photographed her own birth!
The Healthy Mummy Pregnancy Pack
Did you know the Healthy Mummy has a Pregnancy Pack?
This pack contacts a Pregnancy Smoothie and Eating & Exercise Book which have been specially formulated to help women reach additional calorie and nutrient needs.
The Pregnancy Smoothie is designed to complement, not replace, your prenatal vitamin intake.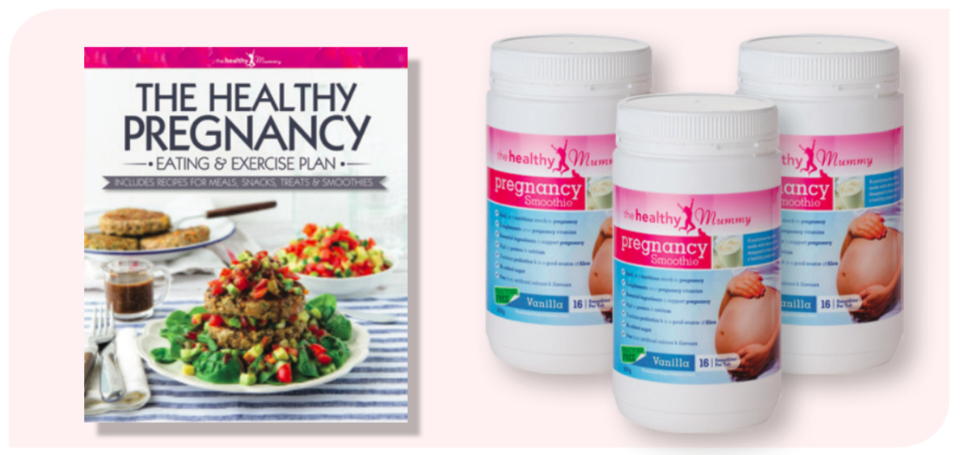 Our nutritionists ensured that the vitamins and minerals in the smoothie are at a low level so there is no risk of doubling up on any pregnancy vitamins.
It is ideal as a high-protein, high-calcium snack in pregnancy. You can download the Pregnancy Smoothie Label here.