In May 2015, New York artist Hein Koh shared a picture of her winning at parenting.  Breastfeeding not one, but TWO babies simultaneously while working away on her laptop.  Now that's multitasking at it's best. (Did you know our Healthy Mummy Smoothies are breastfeeding friendly?)
She proves that women really can do it all.  She found a way to keep her art career alive after having twins, helping her become an even better artist.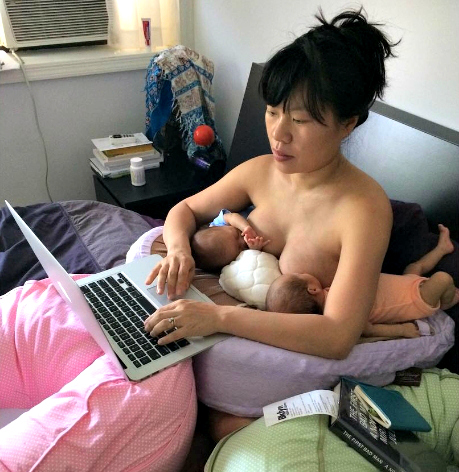 Explaining in a Facebook post that has since gone viral, Koh says she didn't want to lose the momentum she had been building prior to having a family, so found a way to keep it going. In a time before her twins, Hein was unsure if a family was on the cards, saying "I think most artists, particularly female artists, feel this way, because we are in a profession that is all-consuming so it is hard for us to imagine dividing that time and attention between work and family,".
Becoming a mother has helped Hein to be more efficient with her time, effectively multitasking like a boss.  She easily prioritises her tasks, ensuring she can be the best Mother and artist. She does make it look easy, but let me assure you, it wasn't all da Vinci and Picasso's.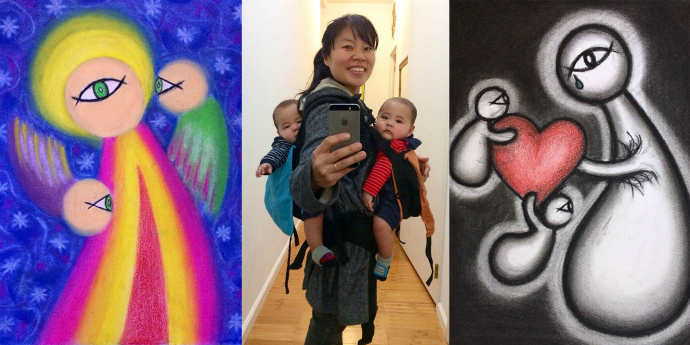 The six year struggle
Hein and her husband, James Horowitz, were in a six year struggle of trying to conceive, in which Hein kept changing her mind if she wanted kids or not. They discovered a year in to trying to conceive there were medical obstacles to overcome, but in 2014, they chose the IVF path. In May 2015 they welcomed twins Amelia (Ami) Beatrix and Oneida (Oni) Clementine, now 16 months, into their lives.
Hein grew up with art around her and realised after college that she couldn't live without it. She describes being terrified of the prospect of juggling motherhood and a career, but explains to her surprise, she has never been more busy in her career than she has been since giving birth.
Having a support network certainly helps
Koh has a fantastic support network around her with an assistant and a part-time nanny who comes every morning and one full day a week. We love and encourage Hein's honesty about the help she receives. Living a busy life in Brooklyn, NY, she knows she can't do it all.
"I've pieced together a schedule that allows me to spend time with the kids for at least a few hours every day, but also have at least a few hours to myself to work in my studio or do other things that I need to do," she notes. "Childcare is a privilege, and unfortunately many moms and artists don't have that. That being said, I understand how fortunate I am and I don't waste time."
Thank you Hein Koh, for helping to normalise having a family and a career.
For more advice and information on breastfeeding click HERE.
Find out about out about our breastfeeding friendly smoothies here