Mum falls pregnant with triplets one week after giving birth
You may have heard of Irish Twins (siblings born less than a year apart). But how about Irish Quadruplets? Welsh couple Becky Johns and Jason Evans have experienced quite the miracle by having not one, but three babies born in less than one year after welcoming their daughter.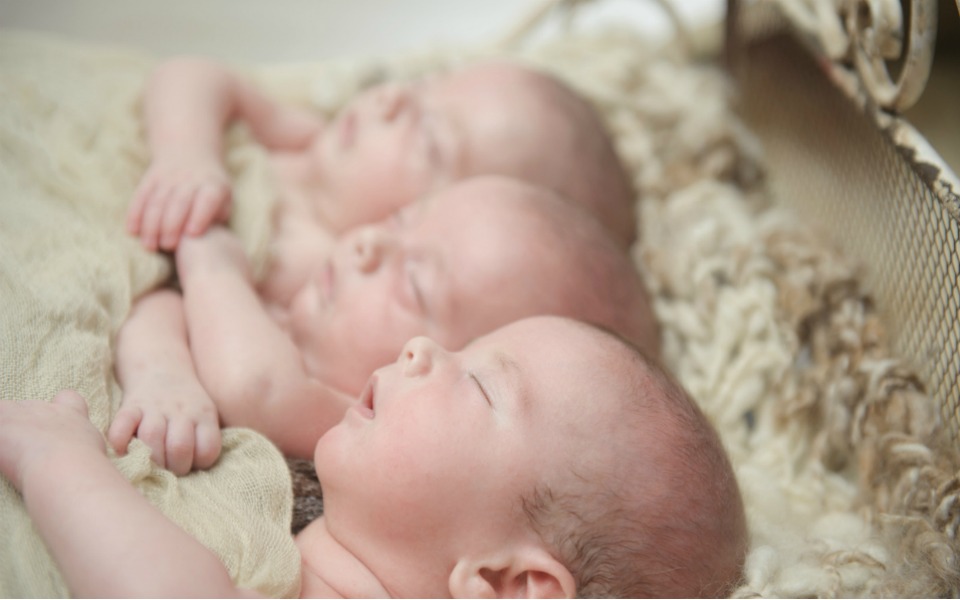 Four babies in less than one year
For Becky and Jason, having a sibling for their daughter, Mya, was always in the cards. And, the sooner the better! The couple started trying just one week after giving birth and soon discovered they were pregnant again. However, even the couple, who always planned on having children close in age, were shocked to discover how quickly it happened.
The couple were even more baffled to hear not one, but three heartbeats at their first ultrasound appointment.
Triple the sibling love
Naturally conceived triplets are rare to begin with, but Becky's babies were even more so in that they each came from a separate egg, meaning three separate placentas.
While caring for her newborn daughter and getting into a sleeping and feeding routine, Becky also went through the motions of pregnancy once again. And, being pregnant with triplets while totting around an infant couldn't have been a walk in the park!
"I was so huge by that time I could barely move and doctors wanted to get them out in case I went into labour early," Becky said. "I'd been carrying around nearly 15 pounds of babies. I couldn't believe it."
Welcome Ryan, Phoebe and Raya
The supermum welcomed three more babies to the family via c-section at the beginning of last year.
Becky and Jason, who also have an older daughter, Kayla, named their new additions Ryan, Phoebe and Raya and the triplets are all healthy, happy and entering the wonderful world of toddlerhood.
And, while life in the Johns/Evans household is certainly chaotic with three daughters and two sons (four of which are under two), the blessed couple got what they always wanted – siblings close in age for Mya to grow up with.
Incredible stuff!!!!
For more crazy-cool birth stories click HERE.